I recently went to BarCampAfricaUK here in London. For those of you who don't know what a BarCamp is, it's generally a gathering of people around a topic, where all the attendees can contribute by hosting a talk, or by actively getting involved in a discussion. There is no formal structure, you turn up, you see what's happening, who is there and pick what you want to join in with.
It's taken off a lot in previous years and there was even a BarCampNigeria in Lagos earlier this year. The theme of BarCampAfrica was as you guessed…Africa. I will say that I am part of this growing trend that really wonders if we will ever move past this habit of referring to the continent with its 1 billion inhabitants as one country, but anyway..I digress.
It was a fantastic day, most of the talks I went to were interesting, it was educational, quite inspiring, but like most one day things, it wasn't practical. It's hard to find something practical to do that grounds everyone on the subject of Africa, but it's still worthwhile to get active and engaged minds into a space to talk, collaborate and explore. You never know, a good idea may have been born that day and we'll hear about it sometime soon!
The talks included Blogging from Africa, One Laptop Per Child and Sugar Labs, Living Buildings (really interesting, the link is to her TED talk), Young African Innovators Competition and Ending Poverty with Open Hardware to name just a few. It's this breadth of content I found inspiring; people thinking creatively around challenges, not just throw money at poor people and their problems.
One particular talk really caught my attention; Dr Frederick Wamala is a Ugandan working for the British Government in some top-secret capacity (he had to caveat that everything is his own opinion…oh what secrets he could tell!). He specialises in data security and he wanted to talk about the potential for economic development with the arrival of superfast broadband, but the flip side of the emerging Hacker's Paradise.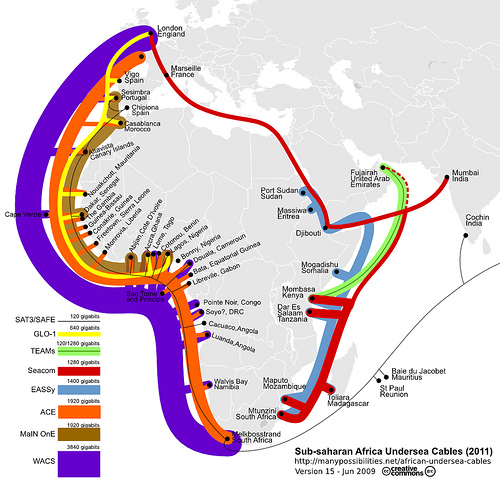 So, as recently as 3 years ago, a hacker would not have wasted their time in Africa, if you get a connection, it drops so quickly you just can't be bothered. And this access issue applied both within and outside the continent. Besides, where is the money in it? Well, fast forward to this year and the arrival of SeaCom cable to South Africa and the East African Marine system which connects East Africa to the fast speeds and suddenly, hackers have a clean line to the continent.
On the positive, the broadband speeds mean being able to provide outsourcing services for other countries. A Data warehouse would be comparatively cheap compared to placing it in western countries and he pointed to the example of Ghana already storing hospital records for the US (I wonder how common this knowledge is as I can't find a link anywhere!).
Now, to the negative. Earlier this year the ANC website was hacked and someone placed Penis enlargement and porn on their homepage. Also this year, the foreign office website of Tanzania was hacked by a 17 year old who replaced the President's face with a cartoon. That young man has been given a 25yr jail sentence, as the President didn't find it as funny as anyone else would have.
What's even more worrying about these is the fact that in neither case did they know they had been hacked. It took the ANC two weeks to discover and rectify the issue…..and we're talking about the ruling party in South Africa, arguably the most developed country on the continent?!
So should you and I be worried? Yes. Not only will it be possible to hack into a website with a steady connection, but there are no clear laws on use and security of personal data in any African country according to Dr Wamala. If it is cheaper for a company to put your personal information in Africa because they don't have to protect it as vigorously as they do in the west, well then trust that at some point they will. When it comes to profit versus security, you can be sure profit will win.
And if you think this isn't an issue for Nigerians be wary. I would bet money on the fact that as soon as these cases start to come to light, the hackers will be perceived to be Nigerians whether the reality reflects it or not. There are some stereotypes and badges that once applied, never wear off.
When the Nigerian government all stop arguing about who gets to play president and hiding money in useless branding exercises, they may well find themselves the last to put in place sufficient legislation to protect itself from harm.