There is much to cope with when you are the wife of a sick and/or dying president. There is even more to cope with if said husband has now been evicted from a better working hospital in Saudi Arabia and is now back in the government house, causing commotion and/or being some sort of nuisance to the rule of law that has vested political authority albeit in acting capacity in the Vice-President for the time being. As a woman in the unenviable position of balancing loyalty to a dying man, taking care of said man and his political capital, and keeping sane within a barrage of flak from the citizenry, there must be much to cope with. If we could step back a little from personal disagreement with her personality (which we don't know much about, except hearsay) and what the government represents, could we perhaps find in Turai Yar'adua a woman of substance who's just being a loyal wife to a dying husband? I wondered.

Prompted by a friend's tweet yesterday, expressing admiration for the wife of Nigeria's sickly president, I seconded the idea that she must possess some deft political sleight of hand, or at least a very strong survival instinct that must deserve either sympathy or admiration. Nothing doing, I hit on an idea of something creative, a project to generate discussion, or at least put the woman into proper perspective, mostly in my own thoughts and in the thoughts of the country's citizens. A few minutes later, I "discovered" her twitter account. There were two of them actually. The first and truly authentic twitter account of the first lady is @turaiyaradua. But I also found @yaraduaturai, and I immediately doubted that it had anything to do with her. Location: Nigeria. Bio: Wife, Mother, First lady, still.

If there was ever a name generating so much mixed, but mostly pejorative reaction from much of the Nigerian populace, I realized within the first one hour of discovering the twitter identity that it could only have been @YaraduaTurai, and maybe for a good reason. Her husband who at this moment does not have much constitutional recognition beyond being just a citizen has been moved into the State House and is being a source of palpable tension and stress for the legally recognized Acting President (the former Vice President) Jonathan. Who controls the military and other state security service at the moment? It should be the Acting President since he's the one recognized by the lawmaking houses in the country. But there is much doubt as to whether he able to exercise such a power while the "first" family lives with him in the villa, even preventing him from sitting in the president's ceremonial chair.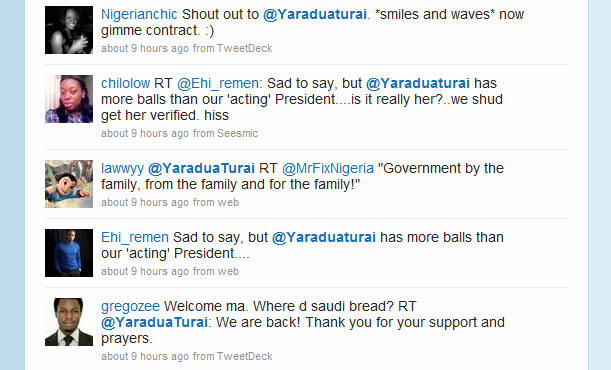 I was shocked, like many others from Nigeria around the world when the newspaper reported thcrat state security services went to raid his office yesterday, purpurted on the orders of the first lady. Could this be true? How could it be? She doesn't even have constitutional power to act. The man that was elected is too sick to make such a decision. Or too sane to make such a decision even if he wasn't sick. The Veepee still deserves a level of respect that makes him immune from such harassment. Or do I live in a different bubble of common sense? A friend agrees that the newspapers are just being too militant, or at best blowing things out of proportion. Unfortunately, they have got everyone thinking alike, and Mrs Yar'adua has been cast in the shadow of a power-hungry villain.

Anyway, @YaraduaTurai's first tweet read "We are back. Thank you for your support and prayers" – an almost neutral yet positive message if there was one, yet it quickly became controversial. Within minutes, there were countless retweets, some with more venom than others, but each message mixed with mischief and a disrespectful disinterest. The rest were mostly skeptical of the identity of the person behind the twitter account, yet everyone seemed cautious in one way or the other. It was clear that she wasn't exactly a popular person within citizens, and people would give anything to have them out of the State House to anywhere else in the country. And for a good reason. By evening, the twitter account had got following, and citizens couldn't wait to throw darts at whom they felt represented the repression and retrogression of the old government.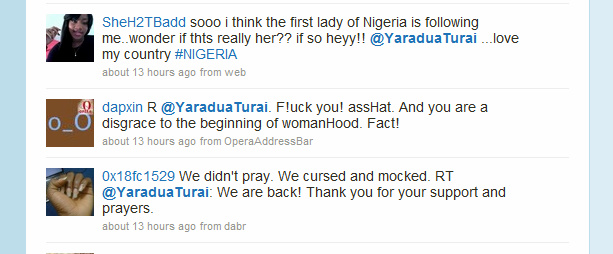 But in-between the increasing word-of-mouth increase in popularity of the twitter account within 5hours, Twitter must have lost their sense of humour maybe because of the user's aggressive following, and the account was promptly suspended. By then, "she" had followed over five hundred people, myself included, and she was being followed by a growing number of curious yet cautious Nigerians, but her short reign on the electronic platform had come to an abrupt end, sadly, unlike her supposed hold on the Nigerian government at the moment.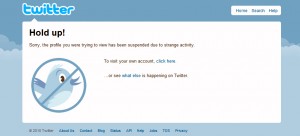 I came off from this experience being a little sad at our impatience and willingness to quickly judge personalties from a distance. There was also the inevitable realization of the media's power to create and destroy. Unlike this blogger's thoughts, I do hope that it doesn't take 92days until her twitter fan page is brought back from the life-support machine. From the short lifespan of the project, I also realized the power of free speech even in the face of symbols of power. Twitter may be a least personal means of communication, but it has empowered citizens to confront the perceived symbols of their oppression.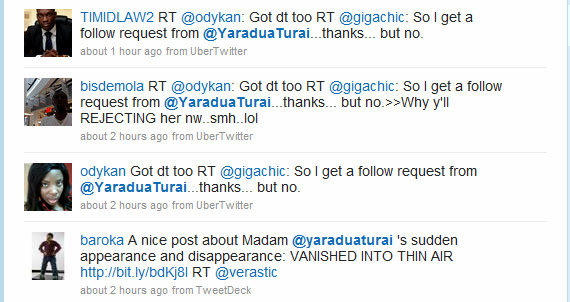 I am still saying a prayer for Nigeria. May all be well in the end.