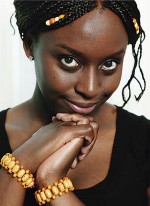 The New Yorker released their list of 20 favorite writers under 40.
I'm not sure what importance to give this list, as I've never been a huge fan of the gilded, slightly esoteric and irrelevant publication, but Chimamanda made it, so I guess that's a good thing. Although I am also slightly skeptical of writers cosigned by the mainstream American literary establishment, so I am admittedly a little wary of anyone on this list.
I was actually surprised that wonderboy Junot Diaz wasn't on it, but maybe he's already 40.
Read more on writing, art and life at AlligatorLegsBlog.