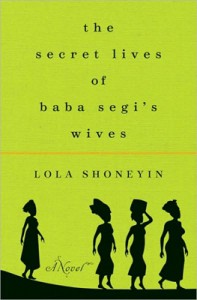 Temie Giwa
My life is littered with great books. I tend to remember the important events of my life with the books I was reading at the time. The summer vacation from college when I switched my major from corporate law to international development, I read Nelson Mandela's "Long walk to freedom". Last year's adventure all over Europe was my version of Elizabeth Gilbert's "Eat, pray, love". The week I fell in love with magical realism, it was Marquez's "Hundred years of solitude". Any decision I ever made was clear only after the spirits of the bewitching world of great literature spoke to me. But with all this I have never once hugged a book after finishing it. If it were not due to the urgency to share this magic with the beautiful man who gave me the book, I would not have stopped clutching it to my chest like a lover. Lola Soneyin's the Secret lives of Baba Segi's wives is truly magical that I could not leave it and had to finish it in one evening.
Baba Segi is a husband to four startlingly fascinating and colorful women. Each of them carried with her to their husband's house a full life filled with secret yearnings and the inevitable strikes of fate. They were all so achingly human. Never evil or wholly good, just like the rest of us. With each delectable string of poetry that Lola wove, one falls in love with each of them. The bumbling benefactor whose weakness created the tenuous family structure but whose complete love for his children was touching. The first wife, Iya Segi's early life had not been easy and was colored by a secret need that was taboo for her time. She was also unrelenting in her control and manipulation of her family. One just wants to hug Iya Tope tightly and never let her go if only to keep her safe from the unyielding hands of fate. Iya Femi who is so comical in her fanaticism that she is unable to see herself clearly and finally our Bolanle, whose nature is in all of us. However, the most sympathetic characters were the little children caught in the middle of all this. One just knows their lives will never be the same.
Lola Soneyin's naughtiness is decadent and pleasing. One grins and squirms when she tells us of intimate things and laughs as she expertly describes Baba Segi's world. Her prose floats through the senses and settles like poetry in your brain. Her world is filled with colorful art so surprising but also completely inevitable. At the end of this rollercoaster, she gives you a resolution that makes you pray your joy for her. Lola, may you live well. Bolanle's lessons in the end serve as a catalyst for anyone struck in a rut to look at their lives more closely and find the courage to step back into the swing of things.
I wonder what this book has done to me. I wonder what ways Lola Soneyin has changed the course of my life but I can say this I am excited to find out. Read this book and I guarantee that you will be pleased. I am off to buy 3 more copies to be sent to each of my sisters.