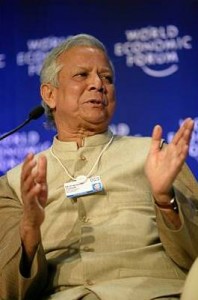 The following was cross-posted at my blog Red Earth
Earlier this month the Bangladesh government removed Mohammed Yunus as the head of the micro finance lender, Grameen Bank (GB). The reason given by the government for Yunus' removal is that in Bangladeshi law, company heads have to retire at 60 and he is 70.  However most people believe this a political move by the Prime Minister, Sheikh Hasina, to remove Yunus who in 2007 announced plans to set up his own political party and clean up political life in Bangladesh, which is notoriously corrupt.  Even though he dropped the idea within a couple of months, many politicians in Bangladesh, including Sheikh Hasina, still see him as a potential political threat. In fact, many believe this is Sheikh Hasina's retaliation for his brief foray into politics.
Yunus' removal has won him sympathy from the Bangladeshi public and captured world attention, including that of renowned economist Prof Jagdish Bhagwati.  In a recent article for Project Syndicate titled Grameen vs. Bangladesh, Prof Bhagwati raised some important points on the feud between Yunus and the government of Bangladesh. However, one cannot but notice the several errors and many distortions of information in the article. Let me explain.
1. Prof Bhagwati purports that GB is supported by foreign capital infusions. This is simply not true. In 1995, GB made the decision to stop receiving foreign donor funds but it officially stopped receiving foreign funds in 1998, the year when the last installment of donor fund was received. The bank survives solely on its growing deposit to run and expand its credit programme. Today, GB is a net investor in Bangladesh with its total deposit at $1.4 billion and impacting the lives of over 8 million Bangladeshis.
2.  The charge of malfeasance by the Norwegian government against Yunus and GB was dropped.   A documentary by a Danish filmmaker Tom Heinemann claimed Prof Yunus and his associates diverted nearly $100m of Norwegian aid money to Grameen Kalyan, which was not involved in micro-credit. However, the investigation that followed showed that no Norwegian money was missing or unaccounted for. In fact, the Norwegian government has repeatedly stressed that there is no indication that Norwegian funds have been used for unintended purposes, or that GB has engaged in corrupt practices or embezzled funds.
Domestically, GB has never required government bailouts or even interventions in soliciting external resources. Annual audits have shown that GB is well managed, its financial dealings in good order and above board. The government has never received any complaints from the majority owners – mostly poor women who own 75% of the shares of the Bank – that the bank was being mismanaged or that their resources were being misused. Yet, Prof Bhagwati has failed to acknowledge this point and would rather resort to innuendos and rumormongering.
3. Prof Yunus has never claimed he is the pioneer of the micro-credit scheme. What is he credited for is the institutionalization and global recognition of micro-credit. GB believes that credit should be accepted as a human right, and as a result, built a system where one who does not possess anything gets the highest priority in getting access to loans with installment options. This idea of collateral-less credit increased GB's customer base to 8.3m borrowers and led to global recognition of microfinance as a tool for poverty reduction and social development.
4. In continuing with the distortion, Bhagwati discounts the Bangladeshi's steady economic growth. The latest IMF reports on Bangladesh shows a country with steady economic growth at 5.9 percent despite global economic downturn. The problem with growth-obsessed economist such as Bhagwati is that they tend to ignore social development and equity, which Bangladesh has been doing exceedingly well over the past couple of years.  Bangladesh's Human Development Index (HDI) are much better than most South Asian countries and it has even outshone India in many social indicators. Many renowned economist such as Amartya Sen, who developed the UN HDI and also a Noble laureate, constantly cite Bangladesh as a success story in social and human development thanks to the works of Grameen Bank among other factors.
I have a huge admiration for Prof Bhagwati mainly because like him, I am an advocate of free trade and globalization even though I believe that not all western economic policies appropriate for the developing world. It is such a shame that renowned academic like him would behave in such a disgraceful manner towards a fellow colleague. He has violated professional ethics by deliberately distorting information, as this is clearly not a case of scholarly disagreement. Public intellectual such as Bhagwati are supposed to uphold just production and dissemination of ideas in public discourse and not engage in deliberate untruths. It is truly sad that in this particular case Bhagwati was not able to rise above his prejudice and corrupted interest.