The ramifications of the last electoral process in Nigeria has already been analyzed on this website and many "others". We have mourned and buried the dead while waiting for the CPC and the PDP to stop their predictable post-election posturing. Lost in all this excitement was a survey carried out by the National Bureau of Statistics with cooperation with domestic agencies and major international partners. The survey collected data from 2,200 businesses and successfully singled out the most pressing "impediments to economic activity" in Nigeria.
I know this is where you roll your eyes and mutter something in tune of why Nigerians would need the United Nations, DFID and Governmental agencies to find out what even the youngest Nigerian knows already.
But hear me out. Statistics can only strengthen the case.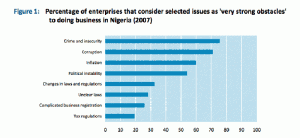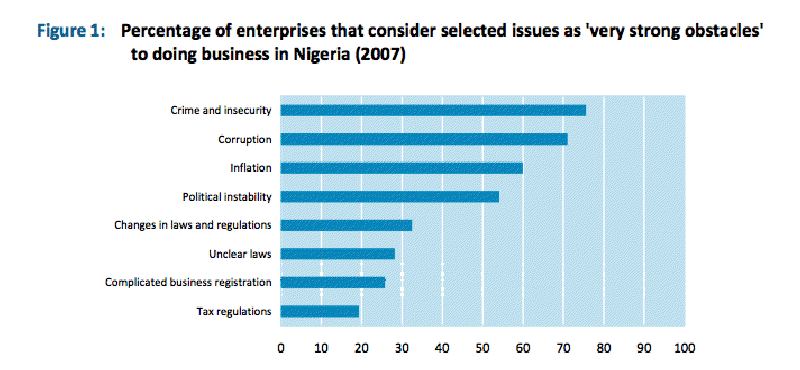 The results confirm all of the anecdotal knowledge about what it is that ails this country.  For example "75% and 71% of businesspersons interviewed respectively expressed that crime and corruption represent very serious obstacles to doing business in Nigeria". This we all know. Even a market woman on the street will give a strong treatise on how corruption affects her business. However some of the results might surprise some. Only 38 per cent of the respondents of the survey believed the EFCC to be an honest agency. The very low approval rating of the organization central to Nigeria's fight against corruption and crime is a strongly damning indictment for the commission. One that the leadership of the organization should pay strong attention to.
The report also showed that 1 out of 3 enterprises had to pay a bribe to public officials when carrying out certain administrative procedures. Further, companies that admitted to paying these bribes did so at least twice within a month. Almost 50% of the respondents paid bribes more than 4 times within the period. The average price of each bribe unit was estimated at US $400.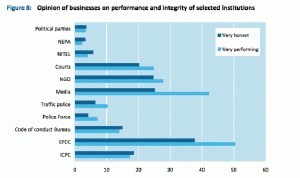 The major public agencies were also rated by the amount of bribes they received and below is a rudimentary breakdown. Police personnel were alleged to have requested and received 58% of all bribes, followed by employees of PHCN and the Water board at 39%, then the Revenue Officials clocked in at 26% and finally Customs at 25%.
While the Judicial branch of the government got very positive reviews from those businesses who have had to use the system, (84% reported that they will use it again) there were still a few cases of bribery reported. The Judiciary received the smallest percentage of bribes, however, it chargers the biggest amount estimated at $87 median.
| | |
| --- | --- |
| Agency | Bribe % |
| Police/Law Enforcement | 58% |
| PHCN/WATER BOARD | 39% (Combined) |
| Revenue Officials | 36% |
| Customs | 25% |
My review of the report is by no means exhaustive and I urge everyone reading to download the summary of the report here. I must also point out that there are obvious errors associated with a survey of this type. However, there are obvious anecdotal evidences that when added to these numbers paint a strong picture of what ails businesses in Nigeria. These are damning numbers and I hope the new government starting after the N150 million "swear in party" will pay attention to these results.
A tool it can use to clean house is the interesting app called Bribespot. As described on its website, it is a tool that  "allows you to see how much corruption is going on around. Using your Smartphone (or a website) you can report locations where bribes are requested/paid, indicate the size of a bribe and area of government affected by it". The NBS might be able to use it to collect even more data. This might just change everything in Nigeria.