ONE: It has been a week since the UN bomb blast in Abuja. The dead have been buried and tears have been wiped.  These are the four victims that have made the news. Felicia Nkwoukwu, the voice of the United Nations, mother and wife of 35 years. Ingrid Midtgaard, the young Norwegian lawyer. Ayo, the jovial UN worker and finally young Rahma Abdullahi, may you all always be remembered.
TWO: Last week, 5 days of rain led to a flood that wiped out more than one hundred lives and millions of naira in products. Ibadan still reels from this man helped disaster. While Ibadan was flooding, NigeriaSat-2 and NigeriaSat-X; built to spot such disasters was busy with other more pressing assignments.  Apparently the satellites were busy with the superiorly picturesque Auckland, New Zealand.
THREE: More than 12 people died in Jos last Monday in a revenge attack by the Christian faction of the city. A group of Christians attacked a Muslim sect on its way to Eid el-fitri Sallah prayers citing the attacks that killed many last Christmas. More than 50 cars were burnt along with their human owners. A revenge attack may have already happened. Yesterday a lone nut killed a christian family of 8. Will it ever stop?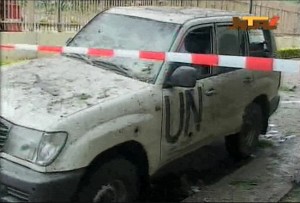 FOUR: Ignoring his country's many religious tinged crises, Pastor Enoch Adeboye, the General Overseer of the Redeemed Christian Church of God busied himself with the urgent Middle Eastern conflict between Israel and Palestine. He held two separate meetings with the Prime Minister and President of Israel last week. While no one can blame the good pastor for setting his hope for heavenly glory in other parts, recent events has shown the need for religious dialogue in our country. What a bright idea to take on an age-old issue in another man's country rather that a local one that requires more urgent attention. His rewards are certainly in heaven.
FIVE: More than 35 Nigerians died from the highly preventable cholera disease last week. Cholera is a disease of the poorest people in the world. It is transmitted through water soiled by human waste. The regularity of these outbreaks is simply heartbreaking.
SIX: It was reported last week that the brand new government of Libya has been dangerously targeting black Africans and especially Nigerians for allegedly serving as foreign mercenaries hired by former President Gaddafi. While such actions are not particularly new, one wonders if the struggle against a dictator has not taught them to avoid the very behavior they so bravely fought against.
SEVEN: A short report on the growing threat of Nigeria's huge economic disparity is here.
EIGHT: This video provides a snapshot of the new Nigerian branch of gospel called prosperity gospel. Prosperity gospel preaches that the sole purpose of Jesus' death on the cross is to make his followers rich. It is curious how Jesus teachings that the poor will inherit his kingdom missed these faithful followers of the gospel.
NINE: Is GEJ capable of dealing with the rampant security threats in the country, this POLL asks?
TEN: The Nigerian Super Eagles met the Barea of Madagascar yesterday and came home victorious. 2-0 was the final score as Nigeria continues with her struggle to qualify for the African Nations Cup. We wish the Super Eagles luck.