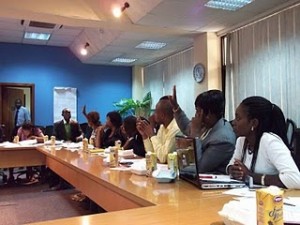 A fictional talk given by a male accountant in his thirties
So how are you settling into your work? Well it can't be too difficult when you have fine, fine boys and girls to be scoping all day, eh? You better enjoy this your service year, O. I remember when I was a corper…wow…I was picking up a new babe from work like once a week.
Oh, I certainly had an official girlfriend during that time as well, and all the other girls knew it. But what can I say, the ladies love me. Hahaha. But seriously, you can't blame me too much. Do you know what girls do to men? Did you know I never slept with my first girlfriend? I just went around holding her hand during my first year until one of my friends told me she was sleeping with everyone I knew except me! Now I don't care if I'm runsing three babes at once because I know that they are all doing the same thing anyway.
And I'm even trying sef, since it's not like I pay for toto. I know guys in this very office who get all these young graduates to come and "visit" them and when they're done, they drop like fifty or seventy thousand. It's an epidemic. You can't trust any of these babes. That's why in Abuja, you don't see women walking around the streets during the day; they're like vampires sleeping in daytime and then when it gets to like midnight, you see them filling up all the clubs.
Come, I've got to go. Yemi just entered and I don't want to talk. Later.
Conversation with a female graduate at the same firm
Good morning. How are you?
I would have been fine if I didn't see that guy first thing in the morning. That old fool was asking me to go out for drinks with him, but I know that he's slept with at least five of the corpers here. And he's so shameless about it; if a girl openly complains that she needs money for something, he'll be hovering over her desk the next moment.
I don't know why men behave like that sometimes. Of course women cheat, too, but not as much as men.
Well…yeah, so that is sometimes the case. I mean the advice you'll get is that if a guy thinks that you have a boyfriend then he won't take you for granted: he'll chase you hard instead of assuming that you have no other options but him. It's a bit of insurance to just have a boyfriend-in-name in your pocket until you find the real boyfriend you want.
I guess so, too…yeah, there are a few girls who sleep around with men just for money. I'm really opposed to that; you might as well just go and become a prostitute if that's the way you're going to afford new phones and handbags. But honestly, the amount of money that some of these Alhajis throw around can make you think twice. Either you take the time to start your own business and wait for a few years before you start profiting really well, or just close your eyes and let a few guys screw you. Either way you get the money you want.
I can see why some girls decide to do it.