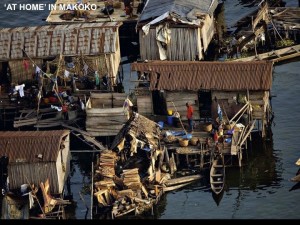 There are many things that I love about the word 'intelligence'. At first thoughts, it always leads me to think about espionage: Le Carrè's works, Bond, Christopher Nolan's Inception and many more exciting, alluring things that one generally relates to intelligence. Think multi-lingual, well-built men and women, extremely fit and able to defeat limits of heights, speed, time and language.
I also love the concept of intelligence. I have to. my entire PhD is based around Practical Intelligence and a conceptual understanding of how intelligence is exhibited in many different spheres of life. Well, one of these is collective intelligence.
Now, I shan't bore you with the definitions of collective intelligence. The pictures in the link below will tell the story. But what I find captivating is that there are sometimes phenomena/ways of lives that are around us but we do not understand them, and because we do not understand them, we cannot appreciate what they mean to us in totality. Again, perhaps it is just me, but I find the whole concept of architecture and planning in developing cities very engaging, not least because I live in Lagos, a high-density mega-city renowned for its traffic jams and all the chaos that comes from living in a city with over 20million dwellers that commute to the same location at the same time everyday – referring to it 'disorganized chaos' does not even do it justice.
Yet within such 'chaos', or apparent disorganization, the system works. Somehow it does, and nowhere is this more exemplified than in Makoko, Lagos' water community. Kunlé Adeyemi of NLÉ works is doing some very interesting work in this community and I am enthusiastic. Not only does the community provide 33% of Lagos' fish supply and a high proportion of its timber, but it is also the city's cheapest dwellings. I find it fascinating that the houses are independently built on water, and the mode of transportation is by canoe. I mean think about it, you want to visit your neighbor 4 streets away, and so you 'canoe' away, which for Makoko's residents must be as normal as getting into a car for those of us that are land-based. But then I think of what they cannot do. They cannot really take a walk down the street, but then, maybe this isn't necessary to them or even considered as a 'cannot'. Perhaps, to this community, taking a walk down the street is as alien as it is for me to go visit my friend via a canoe.
Now my mind boggles at the logistics of this – where do they park the canoes, how do they decide when to build, how to build, how to place the stilts in, I mean in Lagos, you hear of houses on land collapsing, so what technologies are in place to their structures stable? How do they make the most of sunlight? Electricity? How do they cook? Do they have 'mansions'? Are there GRAs within the community? What about schools? What is their life goal, career opportunity? What are their thoughts on happiness, existence and life? Basically, how does one live on water permanently, in a developing country? It seems so far away, but yet it is so close, espeically at the realization that this is a community about 10minutes drive from where I live!
The fact that this community is existent after 100years shows that there must be a way around this. A form of collective intelligence that goes into how the residents co-habit successfully, how they build, how they plan their dwellings. I find it interesting and exciting. Excited to learn more about it, to understand it, and know how this intelligence can be replicated across the city in terms of intelligent and effective urban planning.
This is intelligence.
Kunlé Adeyemi's work (http://www.nleworks.com)
Link to pictures: https://www.facebook.com/#!/media/set/?set=a.242661189127241.61672.153947934665234&type=3