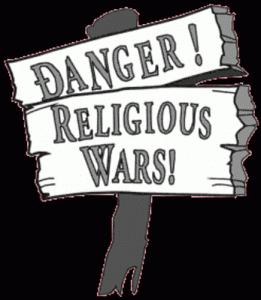 Horror has come to stay in Nigeria. Or perhaps I am wrong. Perhaps this new phenomenon of horrific afternoons wondering why so many must die has been a fabric of Nigerian lives for a long time; we are only starting to pay attention.  After all, the Nigerian road systems claims more life in a year than Boko Haram has claimed since it began its terror campaign. Motherhood systematically and routinely kills more Nigerian women. Yet the thought of this elusive network of people who seemingly have nothing to lose but willing to die to kill many more Nigerians is bizarre in our social history.
Our new reality seems to call urgently for a cultural conversation before we spark another rift in inter-tribal relations. Who is a Nigerian? What does Nigeria look like now? What are our allegiances to this loose collection of pseudo-independent regions? What is the role of religion in our civic and public lives? What are the standard we must hold ourselves to?
This war is a religious war.
We must have no doubt about it. However, I must point out that it is not religious in a way that suggests that Boko Haram targets Christians and other religions and excludes Muslims from their terrorism. This war is meant to determine the future of Islam in the Nigerian context. All religions must go through this phase of reformation and self-determination, and Islam, while young, is no different. This struggle traditionally kills more faithfuls of the particular religion than outsiders. While Boko Haram and their terror campaign are irrevocably religious, we cannot ignore the fact that the group has killed more Muslim than Christians so far.
A picture emerges with recent attacks. This struggle is between the old and new generations of Nigerian Muslims, between strict Islam and progressive Islam, between establishment and independence. The Boko Haram group has consistently stated its goals. On the outside it is based on their view of their religion. They believe that their God has called them to create a new north much different from what that region has morphed to in recent years. They are willing to get this new world by using terror and mayhem. They have a vision of their region and religion and are willing to die and kill for this vision.
I believe a way to combat their menace is to present a different picture of Northern Nigeria. A compelling vision of  religious and civic life that might be different from what Boko Haram wants.  Each Terror attack is a chance to ask questions, answers to which might help to recreate a new north. We must find out what it means to be a moderate Muslim Nigerian and how to create a simultaneous rich civic life in the same region. The Boko Haram set have been clear about their demands, they have told us all what they want. Now it is time to ask the other North what they think of their demands! Do they want strict sharia laws implemented in their region? Or do they want a progressive but faith filled existence.
It is a shift and a fight between the Northern religious establishment and the new strident faithfuls, the weak Nigerian state is simply caught in the middle. So it is that time for the North to defend itself. It is time for prominent moderate Muslims, that other North, to tell us through public dialogue what the future of their religion will be in Nigeria. How do the rest of Nigeria fit into this vision?
Let the conversation begin.