By Anja Choon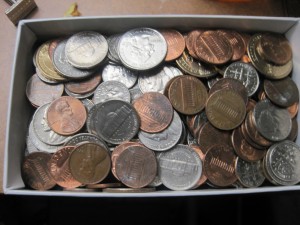 When Atidé[1], who is called Eddy by his school mates in his small town near Edinburgh, visited Yorùbáland during Easter vacation, he was told that his uncle had lost his job a couple of days ago. When he asked what the senior man had done wrong so that his boss had fired him, he only received blank stares. "Your uncle is a great man; he worked the whole day for his boss and he is smart, indeed he is!" they said, "Don't you see that this is the work of ìyá àgbà[2] who wants to destroy our whole family?" Atidé was confused, "Why should grandma do such a thing?" "Ayé is envying your uncle's wealth"[3], his youngest aunt tried to explain to him in different words, but again he did not understand. Therefore she decided to tell him straightforwardly what the cause of all this trouble was, "Some cruel woman used evil powers against your uncle." Then, looking a bit frightened, she grabbed the cross she wore around her neck and glanced to the door as if she was expecting somebody entering. At the same time everybody else suddenly and in a big rush left the room. Atidé and his aunt were the only ones to remain. A couple of minutes later he asked, "You think it was àjé[4]?" His aunt seemed to have some problems speaking because when she opened her mouth this time, no sound came out, but she finally managed to nod in response[5]. Atidé thought about this answer and, since he had learned in school that witches were only ordinary women who were just unlucky to be blamed for somebody's misfortune, he could not but wonder about what he just had discovered. " … but, ìyá", he dared to question his aunt, "witches don't exist. Maybe the boss just did not like bàbá[6]?" The response of his father's sister came with a disapproving shake of the head, "Áà-á![7] Your parents didn't teach you anything over there in London!" and she sent him to go with his uncle to the babaláwo[8] so that he finally would learn something. In fact, she did not even let him stay as long as to get his shoes, but instead made him leave immediately and barefooted. As he walked to her brother's room, he heard her chanting in the parlour.[9]
The uncle was a big, bold and very friendly man, always wearing a colourful robe and a matching cap. He told his nephew that he was planning to see the babaláwo in a couple of minutes and indeed, two hours later, the two left the compound. Atidé by now wore some shoes he had borrowed from one of his cousins, and the two headed southwards. While they were trekking to the babaláwo's place, his uncle told him that he already had been to his church and asked the Pastor to pray for him [10], but that now he didn't want to wait anymore. Therefore a stronger power was needed. He continued telling him other stories, of how the babaláwo had helped him or somebody else of the family. "You know, when my oldest daughter got sick when she was just a few days old, I went to the babaláwo and he gave me some oògùn[11] for her. I also gave her some medicine I had gotten from the òyìnbó[12] doctor and together with the other one, it healed her in an instant."[13] Atidé strolled alongside his senior relative and listened fascinated. "Do you remember as well, when you had this big exam last year and I told your father not to worry? Do you know why I knew, you would come out with flying colours?", he asked the boy. "Yes, because I am a clever kid!" "Well, that too, but see the babaláwo here in the village had thrown the òpèlè[14] for you and, after listening to his words, I knew everything would turn out fine." His nephew nodded, after all, hadn't the uncle been right about the result of his examination?
A short time later, they entered the ilé oògùn[15]. Atidé grumbled a bit since his uncle had ordered him to take off his shoes before stepping inside. "Don't be disgraceful," the senior man advised him a bit harsh, "If the babaláwo wasn't an old family friend, then probably we would be entering with our backs first or not at all!"[16] Sitting in front of them was an elderly man, who smiled in a friendly way at his guests. "E káàbò![17]" the babaláwo greeted. "E kúùròlé o[18], aborúboyè[19]!" they greeted in return, first the uncle and after a short pause of silence his nephew repeating the words. "E jókòó![20]" the babaláwo asked them to sit down with him on a mat and started the consultation by giving his client a coin. The boy watched fascinated how the piece of metal changed hands and how the uncle started to speak to it, holding it to his mouth and murmuring silently so that nobody else could possible understand the words[21]. As he finished the babaláwo picked up something from the floor that reminded Atidé of a necklace made out of a string, eight shells and some other ornaments. The fact that it had no clip in order to close it behind the neck, made Atidé wonder what it really was. The babaláwo held that item up in to the air with his right hand. Then suddenly he threw it on the ground. For a long time, so it seemed to Atidé, he stared at the chain, before he started to speak. He told a story[22] in Yorùbá. The boy, who did not know much of this language, had trouble following the tale, but what he understood was the following: "Once upon a time, in a remote village, the people elected a king. When the babaláwo was consulted [23], he gave the surprising answer that only a stranger, arriving with a goat and two chicken would be suitable to be the next oba. The village was shocked, but finally everybody agreed to wait for the promised stranger for a full month. Towards the end of this period, when all the important, and in fact the unimportant ones as well, were already seeing their chance within reach, a man arrived in the village. He led a goat and carried two chickens in a cage that he wanted to sacrifice for the local deity following a recommendation of his own babaláwo. When he entered the sight of the village people, they surprised him by kneeling or throwing themselves on the ground before him. This habit to welcome a stranger seemed very odd to him. He continued his way to the babaláwo and everywhere he passed by, the people showed the same kind of respect. He thought, they must have heard of my reason to come here though he still found the behaviour weird and exaggerated. His journey ended at the shrine where the babaláwo already had been waiting for him and now disclosed him the reason for the high respect he had been given. So the stranger with the goat and the two chickens became the ew óba of the village and indeed he fulfilled his job in a excellent way and was liked by all the people."[24] Following a short pause after the narration of this story, the babaláwo gave the uncle some instruction for a ritual that the later was advised to perform at home. It consisted of oògùn[25] as well as some incantation. Again, Atidé was not able to understand the whole. A couple of times he managed to catch the phrase "E bá mi wásé"[26], which was about the only he managed to understand. When the consultation was over, he asked his uncle puzzled about the outcome and the later answered in a very optimistic mood, "Soon, you'll see it, I am going to have a new employment, and this job will be even better than the last one."
Atidé didn't actually believe him, but he thought, "What harm could it possible do?", and nodded again, but two weeks later nothing yet had changed.[27] The only thing that was different now was that the first wife of his father's elder brother, with whom he stayed, did not let him play with the children of her younger co-wife[28] anymore. Atidé had always fooled around with the three tall boys and their cute baby sister. Only sometimes he had joined the games of the first-wife's only child, Rèmílékun Ojútelégàn[29]. Knowing that Rèmílékun Ojútelégàn had passed away only a few weeks ago, he wondered if this was the reason why his aunt kept such a strict eye on him. Nobody knew of what he had died, especially since he had been such a strong kid due to his mother's excellent care, and maybe she feared now that the same might happen to her nephew. On the other hand, his aunt had never liked seeing him hanging around her co-wife's children too much. She had always preferred that he played with her son who -and Atidé still wondered why- had not been liked very much by his half-brothers.[30]
Days afterwards, he was to find out the reason behind his aunt's order, overhearing a conversation when everybody probably thought that he was already deep asleep. He heard the furious voice of his aunt agitating against her younger co-wife. Puzzled, he noticed that she called her "grandmother", till he remembered that this was just another label for a witch. Then he heard that his other aunt actually just was being blamed for her husband's misfortune as well as for the barrenness of his first wife and the mysterious death of her only child.[31] At once Atidé was wide awake and almost without his own will stepped towards her protection, "That's not true! Ìyá Adébólá[32] is a very kind woman; she would never do anything like that!" but he was just a child, so nobody paid him attention in this matter
A couple of weeks later, Atidé returned to England and nobody had mentioned the topic again before his departure, but his parents who called home every once in a while told him what happened next in his uncle's compound. In this way it was, Atidé got to know that his aunt, the one who had been accused of witchcraft by her senior co-wife, actually had left. Atidé did not know whether it was because the family had driven her out or because she could not stand the nagging of the other woman anymore. Anyway, shortly afterwards, his uncle's first wife become pregnant again and even before one could see her belly grow, her husband had succeeded being employed in an important position. Atidé was not sure whether to take it as a coincidence or as the proof of ìyá Adébólá's guilt. Nevertheless from that day on he cherished a habit he had learned from his experience with the babaláwo and to which he still hold on many years later, when his uncle led his company's strand in Ìbàdàn, and it was this one: When ever Atidé had a problem he opened his purse, took out some money and told it all to the queen who with her golden smile seemed to get him through all the trouble life was giving him.
Bibliography
Awolalu, J.O. (1979) Yoruba Beliefs and Sacrificial Rites. London, Longman.
Barber, Karin and Akin Oyetade (1999) Yorùbá wuyì. London: Hakuna Matata Press.
Simpson, G.E. (1980) Yoruba Religion & Medicine in Ibadan. Ibadan: Ibadan University Press.
Endnotes
[1] Atidé is a Yorùbá name meaning "we have arrived, we are here". [2] Ìyá àgbà is Yorùbá word that refers to a witch but without actually saying the word àjé (witch). Its literal meaning is "grandmother". [3] Ayé means "world" and is another way to mention a witch without addressing her directly. [4] Àjé is the Yorùbá word for "witch". The belief in witches at the time of the story (about 1980) is very strong among the Yorùbá, in fact among Africans in general. Any misfortune events might be explained by witchcraft, including problems at work (Awolalu, p. 81, l. 3-9). Though "Islam, Christianity and Western education" teach differently, they were not able to diminish this idea, and people of different background still accept it as true (Awolalu, p. 84, l. 21-26). [5] The word àjé is generally avoided in order not to attract the anger of a witch, which could have overheard the conversation (Simpson, p. 75, l. 27-28). [6] Ìyá is the Yorùbá word for mother and bàbá for father but they are actually used for any senior relative not only the parents. [7] Áà-á is an exclamation of disapproval. [8] Often the babaláwo is a diviner, priest and healer in one person (Awolalu, p. 73, l. 2-16). [9] It is believed "that witches overhear even private discussions about them and thus may be angered" (Awolalu, p. 75, l. 27-28). Therefore Atidé's aunt though she is Christian now fears the revenge of the witch who already has brought ill fortune to the family by causing the man of the house to lose his job. [10] Even Yorùbás who believe in Christianity seek the help of a babaláwo trying to use all possible assistance for their problem. [11] Oògùn is the Yorùbá word for medicine. It is only used for native medicine though, which is a combination of the "power in the medicinal preparation with some other power which is invoked and without which the medicine will be worthless" (Awolalu, p. 74, l. 7-20). [12] Òyìnbó is the Yorùbá word for "foreigner". [13] The belief that the patient won't recover without the traditional medicine is very strong. Therefore, despite the fact that they might be "taking advantage of the improved medical facilities", Yorùbá tend to use traditional medicine as a complement of the treatment they are getting from the western medicine. Furthermore, sometimes when a patient can't be helped in a hospital, even doctors send them "home for treatment in the 'native way'" (Awolalu, p. 89, l. 17-36). [14] Ó pèlè is a Yorùbá divination method that is mentioned and explained later in the story. [15] Ilé oògùn is the Yorùbá word describing the place where the babaláwo is working. [16] Kólá Túbòsun, a third year B.A. Linguistics student at the University of Ìbàdàn, told me that clients of the babaláwo usually are asked to remove their shoes and that some "eccentric" ones even ask them to enter with their back first. [17] E káàbò is a greeting used to welcome guests or family members returning home. [18] E kúùròlé is a greeting used during the early evening. Sometimes o is added to make it sound more melodiously. [19] Aborúboyè is an address used when speaking with a babaláwo. About the respect a babaláwo usually experiences, Awolalu writes: "While the good medicine man is loved and respected by all lovers of things beautiful, the wicked and bad medicine man is feared and hated by all" (Awolalu, p. 74, l. 27-29). [20] E jókòó is a way to offer somebody a seat. Literally it means "sit down!" [21] The client tells his problem to a coin, but does not tell it to the babaláwo. Therefore the divination is either done without the diviner knowing the cause for it being needed or he is acquainted with it anyhow, either through being well informed about his client or by getting the answers directly from the deities. [22] This is now the òpèlè divination method referred to earlier in the story. The side the shells on which the shell fall, tells the babaláwo more or less what he has to narrate to his client. Since they are many different combinations and the babaláwo has to be able to recite the correct verses for each of them, this work demands a very good memory. [23] Before any import event, as for example the election of an oba, Yorùbá like to consult the oracle god, Ó  rúnmìlà (Simpson, p. 73, l. 4-9). [24] The story being told to Atidé's uncle is made up by myself though it is possible that one like this one actually exists. [25] The oògùn could be made out of the following materials: "tail feathers of a parrot, feather of a agbe (woodcock), feather of àlùkò (another species of woodcock), hair of an albino, hair of a new-baby, and sand from the sea and from O sun (a large river)." They then would be mixed with native soap and the client be advised to bath wit it (Simpson, p. 87, l. 1-5). [26] This method is described by Awolalu as an example of an incantation. It is used by a person seeking a job and the belief is that who ever follows the step, meaning using the oògùn and the right words will "surely secure a job". The sentence Atidé was able to understand is "E bá mi wásé." which means "help me look for a job". It is repeated a couple of times in the incantation (Awolalu, p. 71, l. 5-9). [27] When using any preparation from the babaláwo, one has to observe certain rules and taboos. If one does not, for example by visiting a "dirty place" like the latrine although having been instructed not to, the preparation will lose its power (Abolawu, p. 73, l. 35-29). This time, since it involves an incantation, it is also important that one says the right words in the right order. Any alteration would render it uselessness. If there is a set of action to be carried out, they have to be followed exactly, too (Awolalu, p. 78, l. 18-21). Therefore the lack of success could be blamed to the uncle who might have done a mistake during the ceremony. [28] Some Yorùbá men, even Christians, live in polygamy. [29] Rèmílékun is a Yorùbá name meaning "(God) has stopped my crying". The meaning of the boy's other name, Ojútelégàn, is "the scorner has been put to shame", these names have been kindly suggested by Túbòsun after I had described him the circumstances of this character's birth. The names reflect the long yearning of his mother for a child and the scorn she received from her environment due to her childlessness. It also shows her joy and pride when she finally gives birth to this boy. [30] The competition between children of the same father but different mother usually is very high while children of the same mother stick together. [31] Anybody who behaves differently from the accepted norms could be accused of witchcraft, especially when his or her behaviour is regarded as a threat to the society. On the other hand, sometimes a denunciation of witchcraft is a "result of jealousy". Such an accusations might even happen within a family for example when the children of a co-wife prosper better than one's own, especially in this case since the cause for the death of the first wife's only son was not (yet) discovered. (Awolalu, p. 87, l. 23-27). [32] Adébólá is a Yorùbá name meaning "we have come to meet wealth".
____________________________
Anja Choon is a PhD student in Field Linguistics at the School of Oriental and African Studies. She also works as a research assistant in the ICE Nigeria Project at the Westfälische Wilhems – Universität. The story "Why Atide is Talking to a Coin" was written in 2003 as an assignment for the Yoruba Language and Culture class at the University of Birmingham. Anja loves the Yoruba language and hopes to speak it fluently one day.