By Temie Giwa
Be like the road itself, a long slithering tar in the sun.
Burn the midnight ointment in the wick of questing.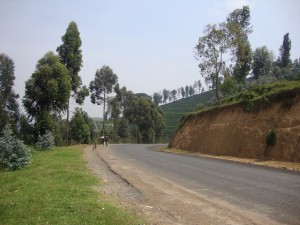 It is all in the road. Rwanda's renaissance all lay on top of her sprawling roads zigzagging through the edges and horror of genocide to create an amazing infrastructure that is set to create a Rwandan decade. The road that brought me to Kigali started all the way from Mbarara, a southwestern town in Uganda, 2 hours from the border separating both countries. The road before the shantytown that separates glorious Rwanda from the pearl of Africa was bumpy, dusty and uneven, just like the country I was leaving behind, where I had called home for 7 months. For now, let us return to Rwanda and her roads.
As soon as the jaguar like bus made its way into the border of Rwanda, the differences in both countries became clear. The smooth roads brought comfort as the traveller's eyes are gently roused to the majesty of Rwanda's countryside. The hills rose and fell with each mile, watching over the roads with dispassionate grace. The sun, oh the sun, sat far behind a mountain, the glow of her departure setting in multicolored eeriness over the weary mountains. The natural beauty of this country is at best eerie when one compares this to the horror it is trying valiantly to overcome. Rwanda is beautiful, the phrase slipped past many tongues in the bus as we made our way into the heart of Kigali.
Climb and soothe, blaze the earth into caverns of seething sights,
And fade with night like a receding haze at the edge of reason.
In 1994, more than 1 million Rwandans were stabbed, hacked and raped to death in a blood soaked orgy that lasted for more than a month. Millions were killed because of their artificial ethnicity and stunned the world into complete inaction. Rwanda, like they say, went to hell for 100 days. Mothers were forced to shoot their Tutsi children; fathers were forced to watch as their daughters were violated before the impending slow death. Young children smashed against walls that forever hold their innocent screams in folds of clay. The world watched and remained silent. However, the civil war that brought Rwanda to its knees also gave this country the grace and will to fight hades back into his cave. Rwanda is back and it's gleaming like the true diamond that it is.
Be like the road. Bend on carcasses of mangled resistances.
Shoot through the valleys of dearth, and patiently find.
The mornings after the genocidal rampage ended, the now sleek roads of Kigali were soaked in blood and intestines sprawled across deserted cars and homes with open doorways. The people's monument to their horror, the Genocide memorial center, tells all these tales in graphic pictures that turns stomach and rows of skulls silently sitting underneath transparent Plexiglas.  Were those not heads that once moved to music? Mouths that laughed with delicious pleasure now hung open in gaping judgment to what Rwandans did to themselves. Eye sockets tell you how you let this happen. World, you let this happen.
Glide in the fresh breath of daybreak on rock hills and caves,
And dance with dusk amidst forests pregnant with sigh lenses.
So months later, the hero of this story, Paul Kagame, a Tutsi himself, did what is so rare and can only be compared to the absolute grace of that other African Hero, the Madiba. General Kagame stopped the revenge that the world expected. He went back into the history of his people and found a way to teach forgiveness while driving accountability into the fabric of Rwanda's new dawn. He taught his people to look forward but never to forget what happened. He led. Underneath these gleaming roads, lay skulls that sacrificed themselves in a blazing inferno that engulfed this country. They died, but not in vain. For them, this new Rwanda was created. Their bloods, oil to keep the fire of rebirth from burning down. Days later, I made my way south to Kibuye, a province even more beautiful and imposing than the casual grace of Kigali. Kibuye hosts majestic mountains rising from the sea, tarred roads lifting into mountain peaks and falling gracefully into the valleys of Lake Kivu. The wounded core of this country is soothed by the gentle waves of the transparent lake.
Dare along the courses of delights across a far unending street.
Be like the road itself, eternally trudging like light restless feet.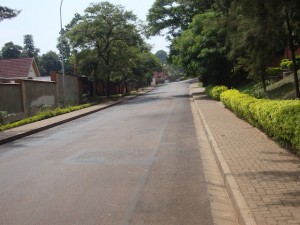 I will not tell you about the coffee sales to Costco and Starbucks that transfers huge percentages of revenue to the pockets of Rwandan farmers, the 6% annual economic growth, the law and order, the universal health insurance plan, the creativity and acute brilliance in public policy. But I will tell you what this country taught me. Rwanda taught me of redemption, that even when things fall apart, humans can recreate new histories off of the mistake of their past, that horrors can be healed but not forgotten, that vengeance is preventable and that the Rwandan renaissance is truly the hope of Africa. This is a lesson for South Sudan, as the newest country on earth dips its fingers into the hell that is revenge and also for my first country, Nigeria, as it searches desperately for lasting peace.
Above all, I learnt that even when you have been stuck and hurt by life's many letdowns that you can start again, and do better this time. That history is only a teacher if you are willing to learn its strident lessons.
If Rwanda can do it with such grace, well then, so can I.
____

Temie Giwa has a BA in Political Science and Masters in Health Management. She lives and works in Ruhiira, Uganda.
Be like the Road itself.  A poem by Kola Tubosun for the Sentinel Magazine. http://www.sentinelnigeria.org/issue3/poetry/kola-tubosun.htm