Last week, Temie Giwa's Road to Kigali re-imagined African life as a series of journeys, with a welcome tribute to my poem Be Like The Road. Rwanda's return to normalcy from the post-genocide period of the early 90s comes back to us through the writer's eyes and poetic tribute. It was preceded by Olumide Abimbola's morose telling of the mind of a turbulent child in The Lizard. The piercing imagination of these writers take us beyond the physical into the corridors of imagination as an agent of social engagement.
This week, I present to you Kudirat, the short story by Ayodele Olofintuade in which the writer takes us to the world of sex, power and politics. A purely imagined presentation no less, than say Chika Unigwe's On Black Sister's Street, we catch an often retold glimpse into motivations, thoughts and little complexities. Ayodele is not new to social intervention. Her first children's book Eno's Story takes on the insanity of the witch-hunting culture in South-South Nigeria. I recommend the book for reading in every primary school all over the country. An equally fascinating meeting of cultures takes place in Anja Choon's Why Atide is Talking to a Coin.
The poetry portal of this LitMag has so far delighted me. From Benson Eluma visceral take on Obscurity which highlights a certain stoic pain, to his note to Claire in which the mischief of rebellion meets the curiosity of affection. Kolade Ajayi's three poems remind me of the workshop materials that I came across during evening sessions at the Ibadan Poetry Club: lyrical, personal, and experimental. There is also a review of Teju Cole's Open City in which Adebiyi Adesolape brings his lexical dexterity to bear on a task that demanded the depth of perception as well as a full-vested understanding of all the dimensions of the novel's premise. It makes for fascinating reading.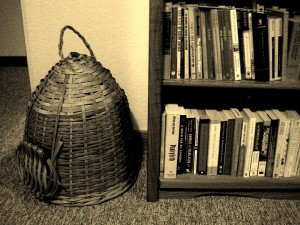 This week, I present to you two new works of poetry. Dami Ajayi's Romansidar Skits poke around the boundaries of soliloquy. A poet talks his way around the complexities of his own mind and curiosities. Tosin Gbogi is the second poet debuting this week. In his four poems, he takes on politics through short bursts of words in which syllable beats push into memory questions and ideas as much as does the barely hidden intent of the writer. If poetry is the food of thought, write on. Enjoy the offerings.
And so this week begins. For these and the other work so far published the NT LitMag, click here. Send all submissions to litmag@nigerianstalk.org, and follow us on twitter at http://twitter.com/ntlitmag