by Dami Ajayi
I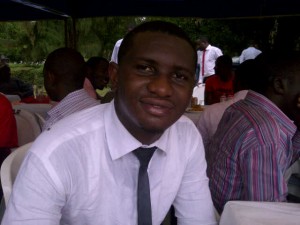 03.00 am
Come away from me,
Lofty thoughts that bother
Sanity and doubt,
Come away from me,
Right away!
And when I'm beside myself
I eavesdrop on my inner man
And another man,
Their voices crest and fall
In strange tones,
I listen hard but I can't
Comprehend.
Is it wrong to intellectualize this?
To seek miracles in quotidian
life.
Is it wrong to oblige this urge
To embrace the arms of
The boisterous Atlantic?
Is it wrong
To rouse oneself
With hashish kisses,
To ejaculate into vats of intellection?
II
Sixteen Hours Later
I have been clean six days,
Haven't been human for five,
Fitzgerald's pain
He says of those that drink,
How drinks drink themselves
Till you stink.
My shrink and I
Share cigarettes.
Science prescribes
Five minutes madness daily
As elixir for sanity,
Like Paul for Timothy,  a little wine
But my desire diminishes my rations.
And my burning insides
Is cold turkey, side salad.
Who is for dessert?
III
An Aside
Your Elliot-ness,
Therapy was when you
Slowly took off your clothes,
When your rheumy eyes
Took mine off.
We have fought off many things:
Prufrock's ghost, Asthma, Liquor,
Love. The time has come to
Fight again.
Self.
IV
03.00am
Wee hours of the morning,
When night on guard has slept
My demons wake me for a walk.
We sneak into the Devil's Playground
And mount the roller coaster and frolic
With danger
My shrink says these thoughts
Are not mine.
Freud is for dinner,
Cigarettes are for dessert.
__________________________
Dami Ajayi is a medical doctor. He has been published in Saraba, Mapletree Literary Supplement, Ann Arbor Review, Sentinel Magazine, African-Writing Online and elsewhere. His debut collection  of poems, Clinical Blues, is due out in November 2012.