This week's offerings, short, traverse a realm of experimentations.
In Teju Cole's Kadara Kekeke, the writer's pithy twitter-based news-based literature take on new outlooks in the clothes of its local tongue. A recent twitter quasi-protest to bring Yoruba into the global arena of the social media platform has tweeters from Nigeria writing in Yoruba for one day. More on that successful protest here. A short lingual fist of thought raised within the cacophony of an unintended language groupthink of today's styles, here's something new. We will have twitter in Yoruba in a couple of months. Whether people who speak the language use it as often as they use the English version is not the question. The one-day protest proved that they would. A bigger victory, however, is the prospects of new means of expression whose conspicuous absence in public discourse has hitherto convinced users and consumers of its weakness, irrelevance, and pending extinction.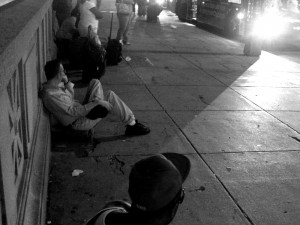 As for the rest, I present you Two (love) Poems for a distant lover. It is not tagged, but each address the subliminal delights and pains of a distant, sometimes removed, love. Then, an essay by Benson Eluma crowns that with his own perspective on Love and Demons. When poets write about trees, or about water, what part of what we read is an imposition of sexual love? What part is the twisted perversion of the writer's idealistic sublimation? Benson asks.  Take a look for a journey through the lines of Soyinka, Eliot, Osundare and Okigbo. It is a travel in the corridors of creative thought, language, intent, and style.
Speaking of style, then there is Adaeze Ibechuckwu. Notwithstanding being the longest of the lot, I read her piece of fiction with the best of ease. Her short fiction is titled Drowning in Ashes. A fledgling writer no less, the writer takes us through a small maze of ideas sprinkled through a straightforward story of family and loss. In the denouement of the sad story is stark reality. There is also pedagogy involved, not altogether subtle, but not tacky enough to disqualify the writer from the line-up of this week's offering in which love, language and longing take on life's quotidian rote. In the end, we stand refreshed, and that is the whole point.
Enjoy.