by Benson Eluma 
MANY A FINE poem is inspired by that complex of feelings called love. To make no bones about my subject, the love I speak of is simply the sexual kind. Not the mindless love throbbing in the heart of the soldier as he bayonets his way through a thicket of enemies, anthem mingling with battle cry on his lips—the soldier of whom Brecht says: 'When he receives an order, he gets a hard on, and when he drives his lance into the enemy's guts, he comes.' The love I speak of is not the spurious love we are enjoined to have for our country, for as Samuel Johnson long ago advised: 'Patriotism is the last refuge of a scoundrel.' Or the nebulous, ineffable love which moves the cloistered saint or dervish to fast and mortify his flesh, feeding only on psalms and holy hymns for weeks on end. For me, those are the other demons. And if you wish you may number in that class sibling love, parental love, filial love, marital love and all those other loves we impose on ourselves as moral obligations. I, who am so fond of such things, would list friendship and charity as other demons too. So what are we left with? The chief of them all—sexual love. Nowadays nobody tells their daughters and sons that it is moral and obligatory. Nevertheless, it survives all onslaughts, from the pulpit to HIV/AIDS, because it is the primal imperative that makes possible all our other demons. And it comes in all sorts of persuasions and preferences to cater to our diverse tastes. Let us this day raise our voices in salutation to sexual love. Vivamus atque amemus.
In fact, sexual passion seems the archetype all our other loves ape or borrow from. I mean archetype in the Jungian sense, for sexual love is a leitmotiv recurring in many dreams and myths of the proper way to love God or country. And, of course, we have seen instances where poets go about the matter the other way round, metaphorizing the beloved as godhead, as nature, as the very earth on which they stand, as the air and water that sustain life. In the poetry of Senghor matters come to a head. The items in his metaphors often coalesce into an inseparable identity. Perhaps this explains why he is a favourite with readers of 'African poetry'. Each time we read those poems are we joining him in making love to both his country and his succession of wives? Was Senghor, whose sense of political grandeur is the stuff of legend, also suffering from satyriasis such that it took the entirety of Senegalese, nay, African womanhood to afford him orgasmic access? We require protection when we enter into the poems of Senghor.
And I also think we require similar protection with some of the love poems of Osundare. You are never quite sure who or what you may be coupling with¾woman, river, idea, or the 'infinite past and liquid futures'? As for Christopher Okigbo, the disguise is to exclude 'Lament of the Lavender Mist' from Labyrinths. Yet the poet-protagonist, however briefly, embraces his succubus in a half-lit encounter on the sunbeaten beach, all the while telling us that he is merely waiting there naked for Mother Idoto in a ceremony of purification. Grown are the ears of the secret. I use protection whenever I read 'Watermaid' because I have an idea of what Okigbo could trick me into. Mother Idoto indeed!
Or maybe I get myself into these quandaries by mixing things up too much. At least I have refrained from those trusty coping strategies—amnesia and myth-making. Take the way the verses of the Song of Solomon have come to be headlined in some Bible translations—'The church glorieth in Christ', 'The church's love of Christ', etc. Lies, lies, bloody lies in the house of the Lord! I think the Christian conscience, which denies Solomon his deserved laurels for writing superb erotica, can learn a thing or two from Islamic scholars who praise Imru al-Qays, the erotic poet of Jahiliyya, for the beautiful things he did with Arabic when he told of how he stole away from the tribal enclosure at night with thin-waisted Unaizah, 'her breasts shining polished like a mirror', to do certain feverish things upon the sands of the Arabian desert.
Let's not flinch from the raw thing, from Ofeimun's 'animal presence' and his 'chagrined battery'. Instead of the courtly, near-squeamish poetry of a Philip Sidney or the high-minded evasions of an Elizabeth Barrett Browning—both of whom should be read because of what they did with the sonnet—I prefer love poems that admit to bodily greed, as in Soyinka's confession:
the ever-eager thought is chaste
at the ruin of your cornstalk waist.
We know with what part of his anatomy the poet has been thinking his eager thought. Here is the agony of gonads sweetened and mellowed by fulfillment. Otherwise, one resorts to violence with the forthrightness of Dennis Brutus:
Let not this plunder be misconstrued:
This is the body's expression of need.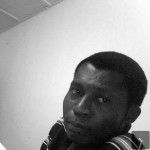 Subtlety may be a virtue in many other things, but, pray, was Eliot vulgar when he told his public of 'The breathing in unison/Of lovers whose bodies smell of each other'? A scientific statement on the fragrance of lovemaking—I swear! I will conjure and keep the fire burning tonight. I pray everyone finds the lyrics that work the magic for them too. Let the verses you love possess you completely, and exorcise the rest as so many other demons.
________________
Benson writes in from Ibadan, Nigeria