A Long Way Home
To Tee
Delight is your name, my rebel,
Far away from the reach of flailing arms
In the winds of these scorching times.
Home lives in you, darling belle,
A soothing smile in the dark village farms
Where hope's broken bell chimes.
There you are in the distant rubble,
A gem in the rough of a thousand charms.
Come to me, a grace from beyond the rhymes.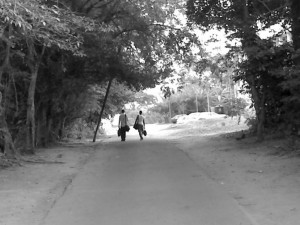 Haunts
Memories never leave.
The wind around familiar places
breaks with the shapes
of long-lost pleasant reveries.

The night weaves words,
and haunts of many things past;
favourite things new in the maze
of recollection, or regrets.

So, the somber mind cleaves
to the soft joy of surrender.
In wine, truth, a whisper,
and old words to soothe again.

Whenever the heart heaves
for the best of good times past,
words will return to this silence,
and the grace of remembrance.

There it is then, no reprieve.
Life remains, and love. I believe.