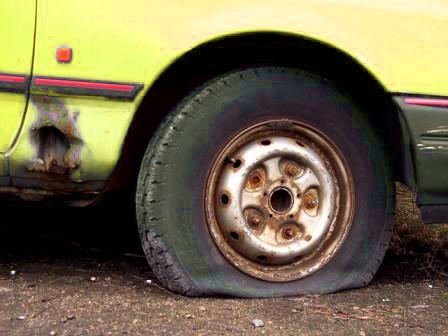 It doesn't matter who you are, what you do, or how much money you have…in Lagos, everybody has problems. Moving up the socio-economic ladder has no bearing on this principle, for each rung you climb up to, you simply trade your old problems in for new ones.
Take for instance, the difference between having a car and not. Being car-less in Lagos is very uncool, you have to contend with reckless drivers, rude conductors, and millions more like you, some sweaty, some smelly, trying to find their way to wherever.
Having a car on the other hand comes with it's own problems. Between cut-throat fuel prices and the accelerated wear and tear occassioned by Nigerian roads, the costs of keeping the car on the road are not for the faint of heart. Don't forget, owning a car also means that when you're stuck in traffic, you're truly stuck, there's no abandoning your car for an Okada ride. But of all the bad things that can happen to a Nigerian motorist, from experience, I am positive that having it conk out on the road has to be the worst.
In the experience I'm referring to, I was sitting in the back my friend's car on the way back from work on Victoria Island to Yaba. You should know that our "friendship" was a serendipitous fallout of the recently concluded fuel subsidy removal saga. I was standing at the bus stop contemplating the circuitous and now expensive commute back home, when he drove past in his Camry, calling "Yaba!". Since then, I part with N400 daily, in exchange for getting driven to and from work in relative comfort. The money goes to "subsidise" my friend's fuel budget. He is still looking for two more regular passengers, by the way.
So we were enroute to Yaba from the Island, when according to my friend, the car began to decelerate of its own accord, and he only just managed to pull over to the side of the road before it came to a dead stop close to end of the ramp that leads up to the 3rd Mainland bridge, off Herbert Macualay way. What could have happened? My friend stepped out and popped the hood to investigate. After 15 minutes and a number of frantic phone calls to his regular mechanic, he hadn't figured out what it was. The mechanic's workshop was at Maryland, and no, he couldn't come to have a look, too far, sorry.
By this time, the area boys were already upon us. They had been circling us vulture-like for the better part of those 15 minutes, and with every minute that passed, they grew bolder. Eventually, one of them, whose jeans were sagging just low enough to reveal a fringe of browning pubic hair, ventured to ask us what the trouble was. My friend replied with a curt "nothing". But the tout, unfazed, only shrugged and resumed circling with their characteristic swaggering gait. The longer the wait, the more rewarding the spoils…and he knew they didn't have long to wait. It was getting to 6pm, and with the impending onset of night, a stalled car sitting on a bridge was a sitting duck to be taken advantage off by area boys and Police alike.
Yes, Police. Our "friends".
I've watched enough foreign movies to know about emergency call boxes that are placed at regular intervals on the highway. About highway patrol units that will be sure to find you and assist, especially if your car trouble might begin to constitute a traffic hazard to other road users. About a simple three digit number that puts the rescue mechanisms of the state at your disposal and summons help to wherever you are.
But this is Nigeria.
I've heard countless stories of people getting harried and extorted by law enforcement while they're still trying to sort out their stalled vehicles. Already, a lone union tout whose affiliation I couldn't make out had asked us in growling tones if we didn't know that we were parked on the highway.  Like we meant to park there. It was only a matter of time before some random LASTMA official would discover us and begin to ask us for our particulars.
My friend and I were keenly aware of this and soon came to terms with the desperate circumstance. We had scarcely turned to engage them before the area boys sprung to our aid. One assured us that no one would challenge us, they were in charge, and not even the police would give us trouble while we were under their protection. Another, who would have us believe him to be an auto-electrician, promptly began poking under the car's hood with instruments that had materialised as suddenly as his declaration of expertise. Yet another assumed the duties of traffic warden and began to direct oncoming vehicles away from our position. The rest looked on, hoping that their presence on the scene would be enough to assure them that night's smoke money. To his credit, the area electrician discovered what was wrong (something to do with a broken timing belt), but pronounced that it could not be fixed that day. In the end, our car was pushed into a nearby motorpark that doubles as squalid accommodation for some people…they first balked at having a strange car parked in their abode, but were quickly shushed by the area boys.
We didn't like the idea of leaving our car with these people, even for one night. But it couldn't be helped. The area electrician assured us that he would look after it personally. Excluding monies given to the other park boys, he was expecting N5,000 for his trouble.  As we walked to the Bus Stop to catch a Danfo, my friend told me that the money he'd have spent if he'd called a government tow-truck (assuming we could find one) was much more than the money he'd given the area boys.
So what do you do when your car breaks down in Lagos? Surely, it can't be a crime for one's vehicle to develop a fault in traffic. Has anyone noticed if there are public services that assist stranded motorists? Or at the very least, shouldn't we expect sympathy from law enforcement and traffic monitoring agencies?
[image: Flickr/
iwouldstay
]