by Emmanuel Iduma
Do we agree that 'revolution' is the wrong word for the events of last January? Do we agree that the events were too ordinary to herald change?
Karen Press begins Monument to the South African Republic rather bleakly:
The long dry grass collects our history
and every few years burns it off
in a frenzy of memory.
Conscious of how disorienting this could be, like the feeling that comes with having a blank space in place of the sun, she concludes as follows:
But just beyond the borderline of thirsty eucalyptus trees
it grows again, long and soft and ready to catch
someone's cigarette, some beer bottle splinter
smouldering there after a raucous night of farewells
and burn fast, and lay itself down as ash over the past.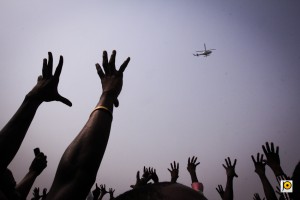 Yet, it is easy to be concerned with, even to find evidence of, how history is burnt off in a 'frenzy' of memory. Although in the last stanza we find the eucalyptus trees growing again, a metaphorical space in which we can fit our recent history, there is still the ash that lays itself over our past – the glossing over of antecedence, the ordinariness of life-defining moments. I am thinking specifically of the Occupy Nigeria protests. Two months ago, we felt history was being made; and now, it seems that that history has been frenzied. Could we speculate, albeit melancholically, on the meaning of our short-lived defiance, especially how that orgasmic period could prove foundational to a re-imagined social order? Could we move past being frozen in helpless recollection of a revolution in which we put out our hearts, opened our conscience to the sun?
The question that is asked, and which would be an answer to all our fears of impotence, is, what really happened? Clearly, between our excitement and anger lay a crack in which the core of our emotions was sieved. Somewhere between our carnival and an unprecedented number of raised fists, the unreported protest occurred. What protest could that be?
To ascertain that we might need to take a look at our needing. It comes to that, after all, the reality that what occurred was not necessarily a spontaneous reaction to an unpopular policy – or dissidence in the face of our President's quavering lips. It comes to the point of need.
We should begin where Talita Soares began: "We need a revolution."  The speculation is that this is not simply one-off, that what we did and what we are doing is ingrained beyond the shoreline of our souls. To this end, "We need a revolution because this system is not a system where people can live the way they are meant to live; because even those who are on the favored side of it are not able to find true fulfillment — this is not a system created by or for the people, but a system created by the untamed power of money alone."
We see clearly, therefore, that this is not simply win-lose, whether or not Labour gets us back to 65 Naira. The mistake was to feel saddened by the abrupt end of it all, the short-lived clenching of our fists. The mistake is to be ensnared by an ending, to be lured into the trap of a straight-line. The mistake is not to conceive of this movement as a circle, an ongoing speculation on our forward movement. And the ultimate mistake is to ascribe inhumanity to those who beguile us, those mountebanks, and think that we fight this battle for ourselves alone – the oppressed 99% – and not the privileged 1%. This battle is bigger than any one, for is it not wise to contemplate that an absolute is always greater than the sum of all relatives? This is a battle of creating a system way bigger than us, for the coming generation, and even bigger than them. We recognize the need for a systemic overhaul, the need for an outcry that is as introspective as it is furious. For this is a needing that defies a single event. Soares words are "…we need to be lucid in our passion, and passionate in our lucidity." Those words should be written on a board and hung in the frames of our hearts.
If the events of January were an ordinary matter we would have no authentic personal experiences to share. The validation of the perpetual continuum of our protest comes from this authenticity – this willingness to speak about, and to ourselves about what was directly experienced. Hearsay did not suffice. We had to be right there, every platform becoming our Tahrir Square. And do not suppose this has to do with being in Ojota or carrying placards. On their own terms those actions were important. But the child at home, whose future was being debated, could speak about the anger in his father's eyes. There must have been a girl whose hair was not woven into braids, since her mother went over to the neighbour's house to hold a discussion with fellow mums. These are not random possibilities, this is not simply a mass-produced occurrence. Everyone was in the mix. And that simple truth becomes the basis on which we argue about the extraordinary continuum of this matter.
And if another point is needed, what about the fact that we are questioning power, and that this cannot be contained in a frozen frenzied moment? To quote Foucault, this "…consists of using this resistance as a chemical catalyst so as to bring to light power relations, locate their position, and find out their point of application and the methods used." Herein lies a significant approach to our needing – the struggle of placing action upon action, negating the way power is applied with the way power ought to be applied, being lucid in our demand for a proper rendering of democratic service. For instance, there are those who contemplate that the way out is to occupy the National Assembly, emphasizing how taking the lawmaking route can assure our desired destination.
In essence, we should construe the exercise of power as a way in which certain actions may structure the field of other possible actions – In Foucault's words, "…the relationship between adversaries in society may, at every moment, give place to the putting into operation of mechanisms of power." We must see ourselves, since we seek to bring to light power relations, as negotiators for other forms of actions derived from well-utilized power. We cannot afford to argue without logic – we must provide a solid basis for the change we want to see. Goodbye to abstraction; clarity is here!
"What could, what should, be done with all the time that lay before us, open and unshaped, feather-light in its freedom and lead-heavy in its uncertainty?" asks Pascal Mercier in Night Train to Lisbon. The same question has been spoken to us, a question that implies a past ('done', 'lay') and yet a future ('before us'). It is a question that hands to us a feverish present in a platter of historicity.
In receiving the platter, garnished with the events of last January, we are entrusted with the extraordinariness of a matter. We refuse to think of this as an ordinary matter. No, it is not.
—
Emmanuel Iduma is the author of Farad, a novel to be released by Parresia in April. He is Managing Editor of Saraba Magazine and Editor of 3bute.com. He lives and works in Lagos.