Living on the campus of the University of Ibadan as a student in the early 2000s, there were three venues of socialization: There were classrooms, there was the Staff Club (and other places of relaxation, including an open shed in the Students' Union Building where professors, artists, poets, and other creative students sat to drink, smoke, and share ideas about the progress of things around the campus or the country). A third and ultimately most fulfilling place of creative and spiritual nourishment was the university Arts Theatre, located at a central intersection between the school's administration buildings, halls of residence, and the medical centre.
Out of all these three venues, the Arts Theatre provided a most cerebral boon. There were dance shows, mimes, theatre productions of very famous plays by students and sometimes by travelling troupes from out of town. The first major production that fascinated me was titled Many Colours Make a Thunder King, written by Femi Osofisan, and directed by Sola Foshudo. I saw Tartuffe, Man Talk Woman Talk, Everyman, Midnight Hotel, Twelfth Night and a host of other classic plays for the very first time at the theatre. The theatre itself has a fascinating history. The first Nigerian director of the Department of Theatre Arts which hosts the theatre went on to become Africa's first Nobel Prize winner in Literature.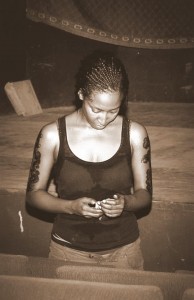 This background is fascinating for my memory lane, but not as important to the crux of this editorial as one would think. This is is a heartfelt tribute to one of the most fascinating people I met in the University of Ibadan. She was a dancer, a thespian, and a poet – my friend Ify Agwu Omalicha. I knew her then simply as Ify Agwu, slender but very energetic dancer with a charming smile. A university is a small place, especially for creative nerds limited to just about three venues of socialization, so to see Ify dance was to experience nirvana. Who was she? A dancer, an actor with an infectious energy and a passion that moved you no matter where you sat with a view of the stage. I am attempting the impossible here: trying to describe within the limits of words and memory subliminal poetry-in-motion which great thespians embody and create to hypnotizing results on a live stage. I won't succeed. I should probably just say this: watching the production of one of such cases (like Speaking Back – a production of the words of Tony Marino's feminist poetry) is an almost out-of-body experience. They exceed the limit of words. Watch them, agile active young men and women on the lighted stage chanting with all the strength of their sensuality and life. Look at Ify Agwu there at the corner with the intensity of a goddess in a trance.
It has been over a decade since my first theatre audition in the University Arts Theatre, a little-sized young man traipsing the stage reciting one famous monologue in Wole Soyinka's The Lion and the Jewel. One of the judges, the famous Dapo Adelugba cleared his throat and asked without mercy why I thought I could – being such a smallish-looking boy – make it as a dramatist. I became a linguist instead. Friends I made during those early years however remained committed to their craft, writing, dancing, and making a difference in a field that required every part of you. So when, two weeks ago, I got an unexpected message on Facebook that Ify Agwu had passed away, dying from a car accident on the way to Abuja, I was heartbroken. A few hours later, from the deluge of tributes from all her friends and colleagues, it was clear that it wasn't just to me that this was a personal and very grave loss. They don't come any better than Ify Agwu Omalicha, beautiful in spirit, brave and smart, with an energy that charms.
And so, this issue is totally dedicated to the memory of my departed friend and colleague, with tribute poems and other writings from other friends, colleagues, and fellow writers. What we tried to do is this issue is to mark our loss and grief with a celebration of her life and work, taking solace in the beautiful memories of our short time together with the limited potentiality of our mourning words. I present to you works from Yomi Ogunsanya (Night Too Soon), Peter Akinlabi (A Dance Unspent), Ayodele Olofintuade (Tonight I Deleted Ify Omalicha), Benson Eluma (Two Poems for Omalicha), Jumoke Verissimo (Dreaming Journeys), Odetomi Festus Olasumbo (Death), Sophia Agbasiere  (A friend's tribute), and a reprinted review of Ify Agwu's collection of poetry "Now That Dreams are Born". As the week progresses, a few more works of tribute will follow (follow us on twitter). It is the least we can do for someone whose life and personality represented the best in all of us, and whose beauty of spirit will forever inspire us to greater aspirations. Let me end with words from Mary Elizabeth Frye:
Do not stand at my grave and weep,
I am not there; I do not sleep. I am a thousand winds that blow, I am the diamond glints on snow, I am the sun on ripened grain, I am the gentle autumn rain. When you awaken in the morning's hush I am the swift uplifting rush Of quiet birds in circling flight. I am the soft star-shine at night. Do not stand at my grave and cry, I am not there; I did not die.  
Her spirit will live on in the walls of the arts theatre stage, and forever in our hearts.
____
H/T to Ropo Ewenla for help in gathering some of these tribute materials.