A while ago, I stumbled on an old email from my friend Uche Peter Umez, the prizewinning author of Sam and the Wallet and a bunch of other publications. In it were a couple of paragraphs he called Fragments from Sanskriti Kendra. Uche knows something about the beauty of words. He has won the BSU creative writing competition, been a commended winner in the Commonwealth story competition, as well as the ANA and NLNG competitions over the years. The poet and short story writer – on return from a trip to India – has penned a couple of poetic paragraphs that takes ones poetic buds on a trip of fascinating tastes. Here's a sample:
A butterfly skims over my path, as if I'm scented with pollens. I trail after it, craving harmony. It leads me to a cozy shed. She bends over the potter's wheel, sheathed in silence. Like the ceramic figurines on her shelf. Fondness radiates on her face as clay yields in her fingers. Suddenly, I see myself cupped in harmonious hands; pliable in the poetry of pots.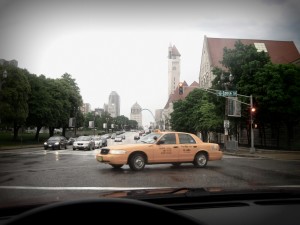 In this issue, I present the vignettes in full. Be delighted.
Other entrants for your reading pleasure include Ayodele Olofintuade's The Family Meeting, an excerpt from an upcoming novel. Those interested in fiction detailing small details of extended family life in middle class polygamous lfe in Nigeria would do well to read it. This week, Razak Malik also gives us the Farewell Song, Michael Odejinmi wrote CONVERSIfy, while there is also Soji Cole's Linger Still and Joseph Ushie's Words for Ify, all which continue in a tribute to Ify Omalicha, our departed thespian from the University of Ibadan.
Let me introduce you, finally, to my new art project: a collection of photographs centred around people, places and poses I have seen around the MidWest United States. In this new public photoblog I call The Things I See, there will be very few words, but very many pictures illustrating the complex, colourful mosaic of the country, and the little things that delight the eyes and the camera. Join me.
Have a great week ahead.