by Uche Peter Umez
Poetry of Pots
A butterfly skims over my path, as if I'm scented with pollens. I trail after it, craving harmony. It leads me to a cozy shed. She bends over the potter's wheel, sheathed in silence. Like the ceramic figurines on her shelf. Fondness radiates on her face as clay yields in her fingers. Suddenly, I see myself cupped in harmonious hands; pliable in the poetry of pots.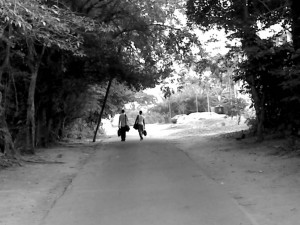 Morsels of Romance
Frangipani tickles my nostrils as I follow a footpath in Lodi's luxuriant groves. The sun cradles the majestic domes with ephemeral arms, like a mother her suckling. I stop to marvel at the lyrical symmetry of ancient monuments. A robin hops from grass tuft to grass tuft. I wander on, noting pleasing niches of couples as they nibble morsels of romance. And a sensuous poem stirs within.
Tagore's Country
It's past four in Tagore's country, the sun is Aztec gold. I'm sitting on my balcony, The Sari Shop in my lap. A green-bellied parakeet perches warily on a jacaranda tree. I glance down to see two squirrels scurrying around the tree, pausing just briefly to plant a kiss on each other's lip. I hear a coo. Two grey-plumed pigeons preen each other on my window sill; I think of love.
Rosewood Serenade
Behind the studio, a quail squawks aloud. A crow caws in reply. Peacocks flutter back home, cackling raucously. Bats surf the breezes. Lugging my easy-chair back into the bedroom, I note the sudden silence everywhere. Rosewood scent wafts through my windows from downstairs as I clamber into bed. Outside, a flutist starts to serenade the night. And my heart begins to ache.
Fragments from Chateau de Lavigny              
The mountains stare down with a dim glare               The Lake laps up the flesh like a lover
Lavender-stained breezes stir desire                           The heart turns elemental, dreams of fire
giant diamonds in the eye                                                     sinuous emerald under the sky
a Muse drips desire                                                               hugs the errant poet in fire
Beneath the undulating Alps a million lights a-shimmer
Weaving a tapestry of dreams over Geneva , and I dream of Monet
A sweep of gold and green beneath, the horizon grows lavender, mauve and saffron,
And the Chateau is magic tempered by intimacy by abundance
a duvet sky stained by teardrop clouds caresses a swell of mountains
jagged like the desires of randy youth
liquid emerald, breathing fine mist                                    over breeze-swept vineyards of Lavigny
soft dainty clouds hug mountaintops                             lazy trails of mist browse the air
while a dream encapsulates a lifetime…
_____________
Uche Peter Umez is the prizewinning author of Sam and the Wallet, and an upcoming Tim the Monkey and other Stories.