by Abimbola Adelakun
A journey is a person in itself; no two are alike…. We find that after years of struggle that we do not take a trip; a trip takes us. – John Steinbeck
_____
I have set before you an open door which no man can short.
I read the sticker pasted on one of the cracked windows of the bus twice. Just to be sure the excitement of the day had not blinded my grammatical faculties. I was right. The sticker was wrong. I looked away to other people in the Motor Park who were also waiting for the officials to get their acts together. I was quite excited at the journey, like the clichéd school boy on holiday. I was leaving home. Yes, I was leaving my ghosts behind. I'm travelling, hurray!
There was a buzz about the park. People milled around. There were travelling bags and overnight cases of all sizes and colours. Food vendors, hawkers of all wares ranging from magazines to prayers mixed with the travelers and their voices blended resulting in a mild cacophony. There were more people than buses, to be sure. There was also a display of emotion everywhere that made me want to hiss. You could tell that some of us going on this journey have never left home before the way mothers held on lovingly to their daughters and tried to give them moral support or a last minute review of the lifetime moral lessons they had indulged the poor daughters in, at least that I was thought the woman in red Ankara was saying to her daughter who looked as if she was bored and ready to be herself for once in her sorry life. There were fathers too, fewer in number though, trying to be brave, as if it was no big deal that your child was travelling hundreds of miles to where you probably had never been before, the sort of front I was perfectly sure my father would have put up if he was here. If only he was here.
I shivered. I began to notice it was cold. Others wore thick clothing or had at least a sweater on. I was regularly clothed and I wrapped my arms around myself as goose pimples shot out from every pore in my body. I wish I had not done this to myself but there was no way I would have taken that cardigan. There was a girl selling phone recharge cards under a large yellow umbrella. She was sitting on a bench whose other half part was unoccupied and I asked if I could sit with her. She nodded. Somebody else came and sat beside us. His hair was all white. He looked like he was in his late 100s even though he could not have been older than, maybe 60.
"When are these people going to get their acts together?" The man asked. "Are they not supposed to know that youth corpers would be leaving from this park today and get everything sorted out?"
Neither I nor the girl vendor responded.
"That's how they do every time," the girl vendor said after a long pause.
"This is absurd. We came here to buy tickets yesterday, we were told to be here by 6am because the bus leaves by 7 and yet, they don't even have enough buses ready!"
I glance at my watch, surprised it was 7am already.
"They told me to be here by 6.30. The man in the ticket office said if I was not here by then, I would miss the bus," I responded so that he would not feel bad if nobody paid attention to him.
"Precisely! Precisely what these bumblers told my daughter. Now, imagine!"
He went on muttering about the transport company's inefficiency and how it is an indication of the general incompetence that was ruining Nigeria. Since it was even a government-run business, he said it was also an indication that the state would run its affairs the way the run the transportation business. He complained on and on and on, irritating me in the process. I felt like hitting his head with a steering wheel. He was ruining my image of where I was going. He suddenly stopped and asked me where I was posted to.
"Abia state."
I shook my head, "No." I have never even been outside the state."Oh! My daughter is posted to Abia state too!" He nodded his head vigorously and for a minute I imagined the grey hair would fall off and be gone with the early morning cold wind. "It's a different kind of experience for her because she grew up in the UK. Have you ever been outside the country?"
"She schooled out there but I want her to be a part of the NYSC because you never can tell. One day this country might be worth returning to…," his voice trailed off.
The officials of Abia Transport Company haul people's baggage on the iron rack on top of the bus. Somebody climbed the bus and another would throw the bags at him from below. If it was too heavy, they would lift it, push it and the man on top would pull until he could pull he could drag it to the top of the vehicle. The baggage owner would stand by and watch as his load went on top of the vehicle. If the owner was a man, he assisted. If it was a woman, she screamed at them not to let the bag fall or let the luggage be muddled. We waited for the bus that would take us to Abia state. The sun began to rise slowly and the cold began to give way.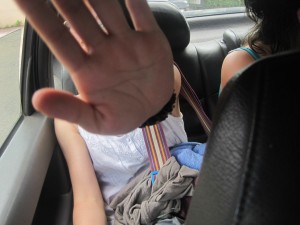 "All passengers travelling to Abia state, come to this side," a fair, skinny man announced. He had plenty of pimples on his face which had turned pink. I wondered if he had a girlfriend. He had a white sheet of paper in his hands. The bus, he pointed at one that just arrived, was solely for corpers who had been posted to Abia state. "It will take all of you straight to the village where the orientation camp is located. Anybody going into the town should wait for another bus. If you take this bus, you'll land yourself in Isi-Alangwa."
He repeated this again like an Anglican priest reciting the liturgy. By the third time, a small crowd had formed around him; all peered at him expectantly like the poor Jews who came to listen to the Sermon on the Mount. Daughters, mothers, sons and a handful of men stood up and moved close to him. The woman in red Ankara held her daughter's hand and put another arm round her shoulder.
Pink Pimples first announced that any luggage that was heavier than what the passenger could carry on the laps would be surcharged. This attracted a protest.
"These Ibos," a fair overweight girl behind me hissed as she said in Yoruba, "they love money and will do anything to get it."
I looked at her and in her eyes, I could see expectation. I took the look in her eyes to mean that she wanted me to concur and probably add to what she had said. I turned away without betraying any expression. The crowd continued to protest the extra charge but compromised when Pink Pimples told them it was in their best interest they agreed on time otherwise their children would sleep on the highway if the vehicle left the Motor Park late. It was a joker that silenced everybody's protests.
"How many hours' journey is it?" One smart father asked.
"Just pray the road is good and everything goes well. Leave the hours to God."
I moved close to Mr. Pink Pimples. The white sheet in his hands was a list of names and running my eyes through it, I saw my name was on number six or so.
"Can I go into the bus?" I ask in a near whisper and smiled at him.
"No, wait!" His voice was low enough for half of the crowd to hear him. He sounded curt even. "I am going to call you into this bus according to the list. When I call your name, you go in and choose your seat."
Being number six means five other people would have chosen five choice seats before me. I thought quickly. I wanted to sit in front where I would be able to follow the journey. It would be fruitless asking Pink Pimples for that chance. There had to be a way. Where there is a will, there is a way. Where there is a way, there is a man…
So, I changed my countenance and turned to Pink Pimples again. He still had the list and was looking in the direction of those who were hauling our loads to the top of the rack. The rest of the stuff that could not make the rack, now piled up high, had to go under the seats. He was looking at that direction and waiting for that aspect of the job to be done. I touched him on the shoulder. He looked at me. I look at him, straight in the eyes. His face made my gut wrenched but I smiled at him all the same. I am sure no woman whose affection he had not paid for could have done that.
"Can you do me a favour?" I said.
"What?" His voice was softer now.
Without taking my eyes off him for an instant, I said.
"See, this is my first time of travelling to the eastern part of Nigeria. I have prayed for this all my life and today is the day. The only problem I have now is that I can't make the front seat. I really really desire to sit in front. Can you arrange that? I know you can."
He shifted on his feet and looked uneasy as if he had been caught peeing in a swimming pool.
"Well… most of our drivers don't like to have a woman sitting in front… well… let me talk to Kalu." He walked over to where the man I assumed was Kalu was standing. They talked for a few minutes and pointed at me twice. I saw Kalu nodding.
Gotcha!
When he started reading the names, he called the first person, a young man who held his mother's hands for a while and went to the bus. He was going to choose the middle seat but his mother pointed him towards the front seat, the one by the window. The second person chose the front seat, still the one by the window. Then, Mr. Pink Pimples looked at me, pointed the other front seat to me and asked me to go and take it. A cry of protest rang out among several people. The person whose name was third on the list shouted he had been robbed. I didn't dare look back with a triumphant smile on my face. I acted deaf, mute and unfeeling all at once as I walked to the seat I had earned.
"That's the problem with Ibos," the girl who spoke earlier said in Yoruba. "Once you are one of them, they will cheat others for you."
She continued to rail and accuse all Ibos, both living, dead and unborn as the worst set of people on earth. She told everyone that she saw me told the man to get me that seat. She heard what I said even though I supposedly spoke Ibo to the man. She swore she would not agree to being cheated. Her name was number ten or so on the list and even after she had chosen her seat among the few options available, she still continued railing in Yoruba that I was probably sleeping with the men to have got that space. That jabbed me. I almost looked back and replied her but I didn't. It was simply more sensible to pretend I didn't hear her; that I do not speak Yoruba. I pretended not to have heard her instead. Even when the displaced guy had accepted his fate and had settled in a corner by the door, she continued murmuring, loud enough for us all to hear. Neither Kalu nor Pink Pimples paid her any attention. Others in the bus told her it was her to give up the murmurings but she continued saying she hated injustice and would always speak against it. I didn't bother. It was my seat and I would make sure I enjoy every part of it. The driver got into the vehicle and made to kick the engine into life. The woman in red Ankara came to the bus window where her daughter was and told the driver to give her a few minutes.
"Let us pray," she said in a voice that would not take any refusal.
We all stopped what we were doing for prayers. It reminded me of my mother. She once took Tinuke to the front of the University gate the first day she was supposed to resume school, stood there like one who had come to confront the gates of hell, whipped out her Bible from her bag and opened to the Psalms. She began to read. She read aloud and even gesticulated pointing her finger at some spiritual beings in the atmosphere, praying and speaking in loud tongues in the process. I would have loved to enter the ground but the earth itself was too embarrassed to budge. It happened to be a Monday morning and the crowd entering the university was teeming. I moved slightly away from them and pretended I was part of the crowd who were throwing sideways glances of curiosity, amusement and contempt; sometimes all mixed together. The security men knew my mother very well enough to watch from a distance. If they had tried anything funny, they would have had her to deal with when they needed to start processing their pension.
She had asked Tinuke to kneel. Tinuke shook her head.
"Kneel!" she commanded urgently so that she won't break the flow of prayer mood she was in. As I closed my eyes, I saw Tinuke knelt down. My eyes burned with embarrassment and tears flowed down my eyes. I wondered what my father would have thought if he had witnessed the scene.
"Lift up your head o ye gates," she read aloud from the Bible "and be lifted up ye everlasting doors. So that Atinuke Asabi will come in. Who is Atinuke Asabi? She is the one strong and mighty. The one mighty in battle and has defeated JAMB, WAEC and every obstacle to be here in this university. Lift up your head…"
She could never have tried that with me anyway.
"Amen!" Voices around me shouted and I remembered I was in the bus and somebody had been praying. The woman rounded off her prayers after two more lines and finally let go of her daughter's hands. The vehicle drove out of the Park slowly and got on the road. I looked in the mirror. I thought the woman was going to run after the vehicle but no, she merely stood, waving and waving until she was out of my sight.
I heaved a deep sigh of relief. In front of me, in the sky, was the golden morning sun rising from a deep place in the earth and climbing to its place in the sky. I could see we were facing the East already.
The air that blew in my face was that of sweet freedom.
Abia, here I come!
_______________________________
Abimbola Adelakun is the NLNG-nominated author of Under the Brown Rusted Roof. She sends this from Texas.