by Bolaji Olatunde
November 22, 1997.
I stared at the ceiling of my very dimly lit room – the outside lighting of the building provided the little illumination – with, I am sure, the usual blank, post coital expression which I discovered long before that cool Saturday morning that I always seemed to have on my face after indulging in marital privileges "pre-maritally" or better still, fornicating if you will. This little observation of mine was made when I was seventeen years old and precisely after my fourth or fifth 'behind closed doors encounter' with a ripe female. Which was it, fourth or fifth? Can anyone really remember the numbers of those things accurately? Curious to find out if the fact of the act was written on my face immediately I was done with "knowing" her in the biblical sense of the word, I held a hand mirror to my face to see what it really looked like at that moment. The mirror revealed that I could just have finished saying a solemn prayer or finished reading a philosophical book. I still remember the perplexed look on the face of my lust interest on that occasion as she watched me hold a mirror to my face after we had just indulged in about five minutes of coarse copulation while we were still fully dressed. Our teen apparel clung to our bodies because of the resultant sweating brought about by our activity. Our being fully clothed could be accounted for by our all too conscious awareness of the time-honoured, uncanny ability of parents to walk in on children at their most errant moments, a gift possessed in abundance by my parents, Chief and Mrs. Dina whose Lagos home played host to our 'rough and tumble' and who were at the time next door visiting the girl's parents.
Six years and several 'rough and tumble' encounters later, I shifted my gaze from the ceiling of my room in Mariere Hall, my hostel on the campus of the University of Lagos, and stared down at the rumpled hair on the crown of the female head that was resting on my chest. I quivered slightly as I was tickled by the air that she, Susan, emitted from her small nostrils; it was air that gently caressed my right nipple.
Taking the very beautiful 'Sister Susan' to bed had been a rather difficult task – a record five weeks which was rather too long for me. Girls in school gave sex so easily in those days of the reign of Nigeria's then military head of state, General Sani Abacha when poverty lived among us and made its presence felt like never before – some of them did so for as little as a small plate of rice – no joke – and boys like me from better off homes, we took advantage of the situation. It was a struggle for many to complete their degrees; it was no surprise that a large number failed or dropped out due to financial difficulties. Anyone who made it out of the school with their degrees in those days deserves a medal for that single achievement.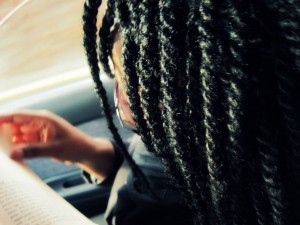 After buying her sundry gifts that she turned down, Susan refused to climb down from her NO to premarital sex stance and into the warmth of my waiting, ravenous arms. Poverty had the effect of making my countrymen more religious than they have probably ever been. Perhaps it has the same effect on societies around the world; when you want to wish away the mess around your feet, the mess in which you are rooted, you look upwards away from that mess. It was at this time the Pentecostals really began to win converts at a furious pace.
Acting on a whim one day, I bought Susan a leather-bound Bible with her name beautifully inscribed on it by an art student pal of mine. When I gave her the said Bible, I swore most insincerely that I loved her. I do not know what it was about that act that made her capitulate but after that, she did. A few days later, our 'first time' happened after a great deal of cajoling and begging. For someone who claimed 'holiness' as 'heathens' like me termed her initial prudishness, she proved herself to be more than an ardent lover. The enthusiasm that she brought to lovemaking was astounding, considering her initial stubbornness. Her noisy howling and uninhibited hand movements on my anatomy belied the fact that she was a staunch member of the 'Radicals for Christ' (not to be confused with a similar body in the United States), a campus Christian fellowship which was well-known for the ultra conservative brand of the Christian faith that it advocated. Well, she did keep some of that prudishness that first time in the sense that she insisted on having the lights turned off, no lights at all, no matter how dim. Need I say the curtains had to be drawn too? I did not mind after that though. She became another character in the dark. I had anticipated we would get down to the basics 'Adam and Eve' style; you know the word associated with itinerant pastors. I was genuinely tongue-tied and pleasantly surprised when she turned me over and, well, you know! I suspected Susan had a pre-sisterhood history which I was going to find out in due course. Although she was just in her second year in UNILAG as the University of Lagos is popularly called, it was clear after our first 'rough and tumble' session that she was a top contender for a chair at 'UNISEX', if anyone decided it was worth it to start a university for that subject.
In spite of her zeal when it came to the nitty-gritty of our, by this time, three-week romance, I found her remarkably dull and uninspiring. Several jokes and statements of mine which I considered humorously irreverent, many of which elicited deep belly laughs from her predecessors and friends of mine always seemed to have quite the opposite effect on her. After I made such remarks, she would go on to lecture – no, nag would be a better word –  me about the carnal disposition of my person and my assured place in the everlasting lake of fire if I continued to refuse to perish the thoughts of such, in her words, 'satanic jokes' before they took form in my mind. Two evenings before this fateful November day, we had a disagreement over one of such comments. She came into my room wearing a cheap, mild perfume and a badly constructed red skirt suit that set off her light complexion but hid only too well her abundant, curvaceous protuberances. I never saw her nude except in the dark but…yep…there is only so much the darkness can hide. I am fortunate in that I have good hands and an equally good brain for measuring dimensions. She looked very tired and she sat beside me in my bed immediately she came into my hostel room.
"I don't like perfumes," I told her after we exchanged greetings.
"But why?" she asked somewhat disappointedly. Perhaps she made the effort to buy a new perfume just to impress me. I remember she always wore one that was slightly less okay.
"They hide a woman's true smell. For example, there's nothing as sexy as a girl's natural smell. For example, the smell of a girl's armpits ten of fifteen minutes after a bath, I am told, is a true erection stimulant," I replied as I laughed and pinched her gently. Well, I was not told – I knew because one of my ex-girlfriends before Susan appeared in the picture would never have sex without first taking her bath, irrespective of the hour of the day. I was only half-kidding about the perfumes. There are some exceptionally good smelling perfumes, ninety five percent of the rest I just cannot seem to stand.
A frown formed and deepened with frightening intensity on her face, distorting its cute, round form.
"It's even more exciting than the smell of 'down below'," I concluded with mock seriousness. There, I may have gaffed because I had never smelt Susan's 'down below' – with her, it was strictly straight to business and she did not approve of any 'nosing' about. Like I said earlier, she was a mix of nun and a loose maid.
"Must you always say such dumb things?" she asked me querulously. "If God had not spoken to me and told me that we will be married in the future, I wouldn't even want to be around you and your unclean mind."
"Life is much more fun with what you call an unclean mind," I said trying to wear her down before she got on her high horse and rode over me.
"That's the devil's philosophy."
Feeling unappreciated and trying hard to contain my irritation. I allowed such remarks pass before; I was not going to do so this time. I looked her straight in the eye.
"You didn't say that those times we enjoyed ourselves on this very bed," I said to her as I patted the platform on which we sat. She avoided my eye and looked at the floor in embarrassment.
"That was different," she said lamely.
"How different? Look, stop judging people and more importantly, stop judging me. No matter what you think, you are just a hypocrite like everyone around you. Just relax and enjoy life. In case you don't know it, you have just one to live."
Her face knotted angrily with a combination of fury and humiliation. She picked up her bag, stormed out of the room blindly and so fast that she left her notebooks behind.
______________
Bolaji Olatunde is an accountant writing from Nigeria who has been highly commended by the BBC. These excerpts come from Bolaji's novel Straw Dogs.