by Chris Ihidero
I Don't Want to Cry 
I don't want to cry
It's just that it's hard to walk pass you daily
as you lay in the ground beneath the banana tree when
you should be in my arms
I don't want to cry
It's just that my swollen breasts need to express and
my empty tummy still bears signs of your stay and
the pains won't go away and
nine months feel all in vain
I don't want to cry
But I see your father look at me with so much love and understanding
And I cannot help but feel like I failed him, that I failed you
that I failed all of us
I don't want to cry
But you didn't come home with me from the hospital and
grandma  gave me the bad eye and grandpa sighed and
everyone says it's the water that spilled, the vessel is not broken but
all I really want is silence
I don't want to cry
It's just that tears keep rolling down my face
mixing with the milk you should be having
staining my dress
wetting these pages.
Ode to Once Upon a Time…
In every smile I saw tomorrow
In your laughter I glimpsed hereafter
I
Winged by illusion
Soaring through planes of disillusion
I drift on the sea of optimism unrestrained
You
I made a quarry whence
I fetched the stones to build my world
Like clay in a potters wheel
I'm spun in wait of form
In your forge I fabricate
Futile fantasies in fiery furnaces
Yes
I am light like dust in the air
Like guilt on a criminal conscience
Like a lie to the divine
Like a kiss on carcass
Like a bird with torn feathers
I fluttered in fragile winds
But now no more.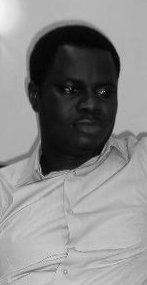 No more waiting
In vain, in pain
No gain in staying
I'm setting sail…
As I bow and bid you farewell
Do let's celebrate, will you?
Here are my tears
Where's your wineglass?
___________
Chris Ihidero is a writer and journalist from Lagos, Nigeria. He can be found on twitter at @chrisihidero.