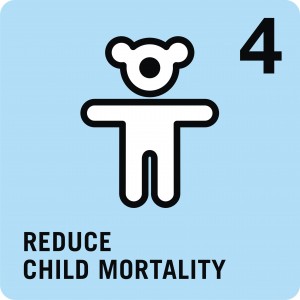 By Maimunat Adeomi
The low rate of decline is a major cause for concern. With this current rate, Nigeria is not on track in meeting UN MDG expected rate 4.5% annual decline, to reach a target of 64 per 1,000 live births in 2015.
Nigeria has one of the highest child mortality rates in the world, recent data from the United Nations sources show the under-five mortality rate in Nigeria for 2010 is 142 per 1,000 live births. Infant mortality rate is 88 per 1,000 live births, and Neonatal mortality rate, 40 per 1,000 live births, with a concurrent increase in the number of live births. Annual number of births and deaths of under-5 in thousands were 6332, 861 respectively as at 2010.However these are aggregate values and disparities exist between the rural and urban areas and among the different geopolitical zones. Also under reporting of infant deaths is a problem, especially deaths occurring in first few hours to few days of life due to inadequate vital registration systems, and cultural beliefs where mortalities are not reported or even brought to the limelight.
The low rate of decline is a major cause for concern. With this current rate, Nigeria is not on track in meeting UN MDG expected rate 4.5% annual decline, to reach a target of 64 per 1,000 live births in 2015.
The main clinical causes of under-5 mortality, which includes neonatal, post neonatal and infant mortality are malnutrition (56%), and on the premises of malnutrition are the following, malaria (25%), diarrhoeal disease (16%), measles (6%), HIV (5%), pneumonia (21%) and neonatal causes (26%); which are further broken down into its constituent factors as diarrhoeal disease (4%), birth asphyxia (26%), severe infection (23%), tetanus (10%), preterm birth (23%), congenital problems (7%), and others (6%).
So what are the main challenges in achieving MDG 4 in Nigeria? These challenges are multifaceted and range from problems of equitable and equal access and quality of health care services, to inadequate financial resources (about 70% of the population living on less than $1 a day), problems of corruption, cultural issues, and challenges of unreliable, non- reproducible data.
Spending on healthcare by the Federal government is only a small percentage of the annual budget, despite entreaties otherwise. This leads to lack of resources for a structured organisation and full implementation of interventions, and an eventual weak health care system. This is thought to be due to the "poor" status of the nation and corruption, amongst other causes. One good initiative designed to combat corruption, was the Economic and Financial Crimes Commission (EFCC), but the credibility of the commission over time seemed to be in doubt and several scandals have rocked it, making a mess of the very premises on which it was created. Corruption therefore seems to be the hydra headed monster affecting healthcare and other systems. This has led to worsening poverty, equity and equality issues in healthcare.
There remain various critical challenges in the health sector where weak infrastructure, ineffective health services due to inadequate and poorly trained health personnel, low coverage of immunization and lack of access to skilled health care continue to hamper progress as earlier mentioned.  Constitutionally, implementation of MDGs activities fall within the purview of sub-national governments, hence significant progress cannot be made unless states and local governments are committed to implementing MDGs related activities. There is therefore need for improved co-ordination within the 3 tiers of the government in the provision, and delivery of healthcare services.
Weak health data collection also adds to the plate, as the effects of interventions cannot be determined. The need to address the weak database for effective monitoring of MDGs in the country is also vital for substantial progress to be made, and also for a true picture of the current trends to be known and adequate action carried out thus.
Good governance and strong political commitment are hereby needed for the achievement of the MDGs.
The Nigeria MDG progress report of 2005 implies that with good governance and adequate funding, the goals are attainable. However, the volatility in the Northern region, persistent strikes by disgruntled health practitioners, and other factors such as corruption and misappropriation of public funds, lack of implementation of the adopted policies, and poor governance indicate that it is highly unlikely this goal will be met in 2015; thereby refuting the claim in the report. The deplorable state of health care facilities especially those in the rural areas due to inadequate staff, lack of drugs or substandard/"fake" drugs, and lack of social amenities such as electricity, portable roads and water supply further dim the prospects of reaching this goal, as in some instances going to health care facilities can be likened to the colloquial expression "from frying pan to fire", where the situation is worsened by unavailable medical personnel, delays in receiving medical attention, or poor quality of health service.
In conclusion, with only 3 years to go, it is unlikely that Nigeria will succeed in reducing child mortality by two thirds in 2015. I am no pessimist, but I believe it will take some very radical changes to make the desired change a possibility.
Each of the MDGs are related in a way, hence with improvement in one, the others are likely to follow suit, for instance, improvement in sanitation, and combating poverty have a huge role to play in reducing maternal and child mortality and incidence of malaria, HIV/AIDS. A holistic approach is hereby recommended to attain the goals, not in 2015, but sometime in the not too distant future hopefully; especially in the face of the current political and economic instability.