This week's issue features poetry by Caine-prize shortlisted writer Rotimi Babatunde, a long short fiction on 419 by writer Efe Okogu, and a quasi-faction piece by Sylva Nze Ifedigbo titled Dodan Barracks.
In the early eighties, the constant instability of the national government in Nigeria due to the shadow of military coups made childhood very peculiar for a lot of people. What Sylvia explores in the piece of almost historical fiction is the outlook of one Nigerian child during those times. I have argued elsewhere, recently also on this site, that the time is about ripe for more literary work exploring the memory of those times in our collective history. The eighties had enough hanging dormant in our subconscious minds. It could be time to let them out.
What Efe did in "Sweat and 419" is a fictive recreation of a different kind of criminal underworld. Fans of intrigue with a patience for long short fictions will find it fulfilling. It is a long time between now and Monday when work resumes again, so I strongly recommend it. It's over 5,000 words.
____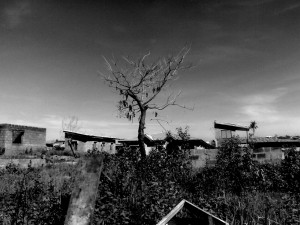 Writing is cathartic, as many readers and writers have found. So also, sometimes, is tragedy. Days of silent mimesis of pain have now given way to short stutters of still futile words: what really happened? Why should it happen? And what have we learned? Earlier in the week, there was news of a terrible plane crash in Lagos killing about 200 people, some of who were just sitting at home on a quiet Sunday morning, watching television, or having a quiet nap. The words would come, eventually, as the days blend into longer weeks without the ones we've lost. Pain, like a sore wound, will yet prick our wounded hearts for as long as we're unable to explain it with anything but slow tears and an array of question marks. Rotimi Babatunde's poem "For the Apo Six, Murdered by the Nigerian Police", submitted before the tragedy was announced, will suffice for now as the pincushion of our pain.
This issue is dedicated to those lost lives.
Photo from ktravula.tumblr.com