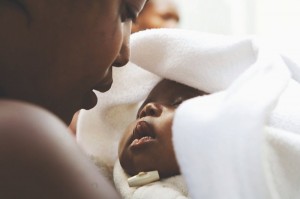 By Maimunat Adeomi
 "Every woman, whoever she is, wherever she lives, should be able to give birth without the fear she's going to lose her baby or that her baby will lose his/her mother." – Secretary of State Hillary Rodham Clinton
As a follow up to my piece about child health in Nigeria with regards MDG 4, I continue with MDG 5, maternal health as these areas are of primary concern for the Nigerian health system.
Towards the end of May 2012, I recalled a spate of maternal mortalities ranging from a 22-year-old lady to a 36-year-old woman. I heard of 3 deaths within 4-5 days, 2 occurring within a couple of hours of each other. The alleged cause of the deaths ranged from hypertension in pregnancy to "unknown".  How about the countless ones I did not hear about because I did not know the victims or anyone associated with them? I recall the situation of a relative who has had at least 3 stillbirths or premature births within a period of 7 years, all due to the same condition pre-eclampsia or more simply high blood pressure in pregnancy.   All these women both gave birth and lost their lives or their children lost their mothers!
Maternal health refers to the health of women during pregnancy, childbirth and the postpartum period. While motherhood is often a positive and fulfilling experience, however, for too many women it is associated with suffering, ill health and even death.
Maternal mortality is unacceptably high. It is reported from unconfirmed data that "every 10 minutes, a Nigerian woman dies as a result of complications of pregnancy or childbirth and hundreds of thousands more are disabled in birth related accidents every year". About 800 women die from pregnancy- or childbirth-related complications around the world every day. In 2010, 287, 000 women died during and following pregnancy and childbirth. Almost all of these deaths occurred in low-resource settings, and most could have been prevented. The current data from UN sources states that the reported maternal mortality ratio as at 2010 is 550 per 100,000 and percentage of births attended to by skilled birth attendants as 39%.
The major direct causes of maternal morbidity and mortality in Nigeria and Sub-Saharan Africa as a whole are;
Severe bleeding (mostly bleeding after childbirth)
Infections (usually after childbirth)
High blood pressure during pregnancy (pre-eclampsia and eclampsia)
Unsafe abortion.
Not news I believe a lot of us would say. These causes have not significantly changed in the last few decades it seems. So the looming question is; what needs to change to ensure improved maternal health in Nigeria?
The high number of maternal deaths in some areas of the world reflects inequities in access to health services, and highlights the gap between rich and poor. Almost all maternal deaths (99%) occur in developing countries. More than half of these deaths occur in sub-Saharan Africa and almost one third occur in South Asia.
More so, the risk of maternal mortality is highest for adolescent girls under 15 years old. Complications in pregnancy and childbirth are the leading cause of death among adolescent girls in most developing countries. A woman's lifetime risk of maternal death – the probability that a 15-year-old woman will eventually die from a maternal cause – is 1 in 3800 in developed countries, versus 1 in 150 in developing countries.
These points noted above, lend credence to the notion that a society's health is a reflection of its socioeconomic and political development.
How can women's lives be saved?
Most maternal deaths are avoidable, as the health-care solutions to prevent or manage complications are well known. All women need access to antenatal care in pregnancy, skilled care during childbirth, and care and support in the weeks after childbirth. It is particularly important that skilled health professionals attend all births and they must also have access to the necessary resources, as timely management and treatment can make the difference between life and death.
Recent progress towards MDG 5 remains uncertain. It is doubtful that Nigeria will reach the target by 2015. Maternal mortality fell by 32 per cent, from 800 deaths per 100,000 live births in 2003 (at the time one of the highest maternal mortality rates in the world) to 545 deaths per 100,000 live births in 2008. However, the proportion of births attended by a skilled health worker has remained low and threatens to hold back further progress.
Government commitment is said to be "not in doubt". An innovative Midwives Service Scheme is expected to contribute substantially to ongoing shortfalls but its impact has yet to be reflected in the data. If the scheme is expanded in proportion to the national gap in the number of midwives, this might further accelerate progress. Recently implemented policies are accelerating the achievement of the Millennium Development Goals (MDGs). These gains would however need to be based on sustained economic growth, improvements in planning and policy, and growing government investments in the social sector.
To improve maternal health, barriers that limit access to quality maternal health services must be identified and addressed at all levels of the health system. This is not limited to health systems but the overall socioeconomic and political systems that exist in the country. Only when we begin to see an improvement in the overall infrastructure in a country- with resulting health equity and social justice, reduced gap between the rich and poor, strong socio-economic development and political stability- will we begin to see the desired changes in the health of the nation.