Rotimi Babatunde is the winner of the 2012 Caine Prize for Writing, with the short story Bombay Republic. LitMag editor Kola Tubosun caught up with him recently. Here is the interview.
_______________
What (else) would you like readers to know about you that you think is not already out there?
My unpublished works and the ones I am still writing. A writer's works provide sufficient information about the writer, I believe. Few writers, if any, can walk on their hands or wiggle their ears independently of each other or eat a dozen razor blades and 10 wraps of fufu at a single sitting so there is not much intriguing about writers, anyway, beyond their texts. Ultimately, only a writer's works matter; that is why I consider them the only things necessary for readers to know about a writer.
Miroslav Holub, in his short poem titled Homer, eloquently expressed how tangential biography is to critical appreciation. Meditating on the paucity of knowledge about the man to whom the Iliad and the Odyssey are attributed, Miroslav Holub wrote:
'Like a lamb he strolls
through marine pastures,
unseen, unburied,
unexcavated, casting no
biographical shadow.'
The complete poem is available online. I entirely share its sentiments.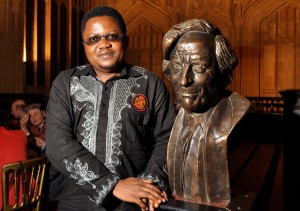 Having known you for a few years now, I am already aware of the breadth of your creative experience. Could you tell readers who don't know much, an idea of your involvement in creative writing, especially theatre?
I find many things more fascinating than crowing about my past achievements. And I have strong doubts that I am any talented in self-promotion, unfortunately, so I have little choice but to leave that task to others who can be bothered.
You have won a few awards for writing, but the Caine crowning is becoming one of the most defining. You won it for prose. Do you have any opinion on prose (and poetry) as opposed to theatre as the best, or most fulfilling, agency of creative expression? What is your own experience?
Comparing literary genres is as redundant as comparing apples and oranges; they have different merits.
The allure of poetry comes from the purity of its engagement with language, the very tool of all speech and writing. There is something about poetry which recalls the transcendental rigour of the higher forms of mathematics. Paul Valery's lifelong dedication of his razor-sharp mind to both pursuits could be seen as illustrative of that affinity.  And there is a way in which the works of poets like Villon, Basho, Hipponax, Imru al-Qais, Wang Wei, Sappho and Hafez, from antiquity, and in which the best poems of writers like Saint-John Perse, Elytis, Dylan Thomas, Trakl, Okigbo, Garcia Lorca, Wallace Stevens, Inger Christenson, Vallejo and Geoffrey Hill, from more recent times, can be seen as elegant verbal equations. Same applies, even more obviously, to the image-rich incantatory formulas of the Yoruba and the invocations of many Native American nations like the Sioux and the Cherokee. No surprise then that Ezra Pound said, 'Poetry is a sort of inspired mathematics, which gives us equations, not for abstract figures, triangles, squares, and the like, but for the human emotions.'
As for drama, what I find most fascinating is its visceral immediacy. You can't blink it away because it is happening right in front of you. And if you chicken out and flee from the theatre, the images which hit you so hard will repeatedly return to haunt you. Drama has a special capacity to nudge one towards the cathartic and the numinous, and to terrorize one into empathy with the human. Yes, I said 'terrorize'. Discomfiting the audience is a notable virtue of worthwhile drama. Truth is more often than not unpleasant, and the most powerful plays have the habit of laundering of humanity's dirty linen as public spectacles. Oedipus Rex still terrorizes, 1, 500 years or so after it was written, with a stomach-churning honesty which is as unflinching in its brutality as the beautifully savage creations of contemporary theatre artists like Sarah Kane, Calixto Bieito and Martin McDonagh.  The play's extraordinary journey through pain and horror to the overwhelming oceanic release provided by its empathetic denouement evokes similar trajectories in Soyinka's Death and the King's Horsemen, Shakespeare's mature tragedies, Aeschylus's Oresteia Trilogy, Pinter's The Birthday Party, Miller's Death of Salesman and many others.
Prose fiction is a slippery shape-shifter which is tricky to categorise because it is a jack of all trades, an unruly beast that can manifest in unbelievably protean incarnations.  Surely, only a genre as malleable as the novel can accommodate Tolstoy's majestically serene realism and Beckett's anti-novels, along with Faulkner's brilliantly convoluted creations and the fascination with surfaces of Alain Robbe-Grillet and his fellow nouveau roman practitioners, in a single basket without its definition self-destructing from internal contradictions. And I haven't even delved into how the novel can appropriate the devices of other expressive forms and still remain itself. For example Amos Oz's lovely novel The Same Sea which is substantially in verse, Nabokov's Pale Fire which is an extended critical commentary on a poem, Milorad Pavic's Dictionary of the Khazhars which presents itself as an encyclopaedia, and Günter Grass's insertions of extended stretches of dialogue in theatre script format into The Tin Drum, to mention a few.
In addition to this diverse variety of devices that the novel form offers the writer, it also allows an expansiveness which is unique among the literary genres. Tolstoy's major works, Faulkner's Yoknapatawpha County, Garcia Marquez's Macondo and Proust's roman-fleuve exemplify that potential. The scope the novel form privileges the writer with the opportunity to generate worlds that rival in detail and vastness the one said to be created by God whose hideout somewhere in outer space remains an official intergalactic secret which hopefully will be declassified soon. Beyond this, prose fiction still gives the writer leave to plunge into the depths of human consciousness and to explore its finest nuances, as in the works of Henry James.
But this generous freedom that fiction gives the writer also poses the greatest danger to anyone working in the form. Where there are many paths available, it is easy to lose your way. To write fiction successfully, it is necessary to impose on oneself a discipline as extreme as that of a writer of sonnets. The works of Flaubert and Hemingway, of Achebe and Garcia Marquez and Naipaul, to pick a few examples, demonstrate this. You will struggle to find words you can remove from their works without losing meaning in the process. And you will struggle to find redundant incidents which do not advance the narrative or provide significant new insights into the nature of the characters and their reality.
That is why I don't find it profitable comparing literary genres. Loving all of them, for their different joys, is virtuous promiscuity of the most enlightened kind.
Back to the winning story, how did the story Bombay's Republic come to you, and how long did it take from the conception to the publication? What are any other things you want to share about that experience?
In recent weeks, I have had to talk about the work's genesis so often that it has become a boring subject to me. I will simply repeat that it was part of an extended work of fiction which covers a lot of historical ground, from pre-colonial Nigeria to the present.  Bombay's Republic is just one narrative from that sequence. Please refer to other interviews I've granted for extended responses to the question.
What was it like living through the days between the announcement of the shortlist, and the announcement of the win? And between that, what were the most memorable days like?
I received the email notifying me that Bombay's Republic had been shortlisted for the Caine Prize in the cabin of an aircraft. I was about departing Lagos for London to workshop a new script at the Royal Court Theatre for a collaborative play which will be opening at London's Young Vic Theatre in a few months time. The cabin crew began the routine pre-flights safety announcements and I had to switch off my tablet computer for takeoff. The reality of having my story shortlisted was still sinking in when the plane taxied off the runway. So I found myself being transported skywards, literally and figurative, far above the clouds and forty thousand feet above sea level. The experience was simultaneously agreeable and ridiculous; the complexity of my competing emotions in that spell can be aptly captured only by writers as nuanced as Anton Chekhov, Melissa Tandiwe Myambo, Jhumpa Lahiri and Katherine Anne Porter.
There was an embargo on all information relating to being shortlisted so I couldn't freely share it until the official press release was made days later. I had to get on with other things in the interim. And that helped to create a distance between me and my story's recognition. By the time the shortlist became public knowledge, it was dead news to me; I was already busy with generating new work at the Royal Court.
A month afterwards, I had to return to London for the Caine Prize events leading to the award ceremony. I found the Caine Prize organisation efficient and its staff passionately committed to literature and ideas. Meeting the other shortlisted writers, interacting with them and painting downtown London red in their company was a truly delightful and instructive experience. In their radically individual ways they are all genuine articles, marvellous storytellers and word artists with many years of intense dedication to their craft behind them. It would be advisable for us to pay attention to future writing from those other four shortlisted writers, if only because of the high likelihood that our children and grandchildren will still be reading their works long after we are dead and stripped clean by maggots to bare skulls and bones.
I can't have this interview without talking about the short Facebook "plagiarism" distraction of a few weeks ago. I came across it on Facebook a few weeks before the win was announced.  I already responded to the issue and the pettiness of its incident in an editorial on the Nigerianstalk LitMag, so I just want to ask you a much bigger question: what is your opinion on the double-edged characteristics of the democratization of opinion? It takes nothing more than an internet connection today to become an internet "critic". Ignorance gets as much airtime as knowledge.
Like most human inventions, the internet has its benefits and its drawbacks. It was what made it easy for a semi-literate crank with a Facebook account, a modem and serious delusions of grandeur to begin calling himself a literary critic, without having any awareness of the rigour which that discipline demands. Those who are masochistic enough to continue indulging in the self-abuse of remaining friends with such a character should kindly let him know that he would be better advised to first learn how to be a proper reader before going around parading himself as a literary critic. Let's not forget that 'literary critic' is the same term used to describe such sublime intellects as Abiola Irele and Harold Bloom and Henry Louis Gates, to describe Helen Vendler and Solomon Iyasere and Terry Eagleton, so it is not a label to be bandied about loosely. Certainly, it is not a term anyone who understands its significance will subject to the travesty of using to decorate an attention-hungry hustler.
No neutral person will call his ranting during that episode a literary critique; it can only be seen as a misguided attempt at character assassination which backfired on the serial offender. That the lumpen elements fouling our literary space, a number of whom have wormed their way into positions of standing in our writers' organisations, countenanced his drivel is a sad commentary on declining standards in our educational system. However, it has to be noted that it was also with the internet that true lovers of literature, disgusted by the assault, exposed the poverty of his mind.  I have never met most of those who spoke up against him and his ilk; I can't even recognize the majority of them in a crowd. This underlines the fact that the matter was less about me or any single individual; it was not even about any prize: it was more about recovering our national literary space from those lumpen characters who had contaminated it while our vigilance was relaxed.
Some of those elements were the same ones shouting themselves hoarse about the strong language used in a few of the rebuttals. The hypocrisy of their position couldn't have been more obvious. If someone called the mother of any of them a prostitute or their fathers petty thieves, none of them would think of engaging their traducer in fine philosophical discussions about such a slur. There is no difference, in essence, between the case you referenced and those analogies. A character who is sufficiently debased to direct groundless and malicious attacks on the innocent should not expect flowers and chocolates in return.
There is no doubting those who came out triumphant from that diversionary episode and those now squirming in humiliation. When sterling individuals like Eghosa Imasuen, Benson Eluma, Tade Ipadeola, Emmanuel Iduma, Jumoke Verissimo, Ikhide Ikheloa, Dami Ajayi, Carmen McCain, Biyi Olusolape, Elnathan John, Ayodele Olofintuade, Yomi Ogunsanya, Olisakwe Evelyn Ukamaka, Zino Asalor, Ropo Ewenla, Ayodele Morocco-Clark, Deji Toye, Molara Woods and others too numerous to mention find a thesis deeply flawed and vicious, to put it mildly, then you should know there is something seriously dubious and warped about the intelligence and morality of the person who proposed the thesis. When the history of Nigerian literature is written, that discredited grumbler will not even merit a mention in the footnotes.
And that is the great thing about the internet's democratisation of expression. Megalomaniacs who abuse a common platform in pursuit of their sinister objectives cannot have the last word. The same medium which gave them voice will likewise empower superior and more honourable intellects with the means to effectively counter them.
Let's return to Ibadan, my favourite pivotal point in this larger story. What is the role of this city in the development of your creative process?
Ibadan has a special quality which makes it conducive to intellectual and artistic production. It is a big city like Lagos but, unlike Lagos which is chaos running on crack, it is sufficiently laid-back. Consequently, the city's rhythm is amenable to reflective activity. And don't forget that the city began as a war camp so Ibadan has always been a city of immigrants, a legacy which makes it welcoming to newcomers till date.  It also has a vibrant, affordable and unpretentious social life; the history of highlife, fuji, juju, gospel and many other genres of music in Nigeria cannot be written without highlighting the importance of Ibadan's bars, clubs and open-air joints to the artistic development of their major acts. And the city has long hosted the headquarters of most of Nigeria's major publishing houses.
Add to this mix the city's juxtaposition of age-long cultural traditions and contemporary urban culture,  its easy accommodation of the significant percentage of Nigeria's academic elite based in the University of Ibadan, University College Hospital (UCH) and the Bodija area alongside the artisans and petty traders living in the city's interior quarters, not to talk of the colourful and controversial characters who have illuminated the city's fascinating and occasional combustible political history, and one begins to understand why the city has been so prominent in Nigeria's literary history. The prestigious line of writers with significant connections to Ibadan stretches from illustrious names like Amos Tutuola, Wole Soyinka, Christopher Okigbo, Chinua Achebe and J.P. Clark Bekederomo in the 1950s and 60s to vibrant voices of the present like Kunle Okesipe, Niran Okewole, Benson Eluma, Ayo Olofintuade, Tade Ipadeola  and Ify Omalicha of blessed memory.
I must note, though, that the importance of famous literary cities like Cairo, Mexico City, Ibadan, Paris, New York and such physical locations to the development of a writer is being seriously challenged. The ease and speed of online communication make it possible for virtual communities and relationships to be more intimate and interactive, oftentimes, than physical ones. Some of the most stimulating discussions I have had about the literary arts and intellectual matters have been with people located thousands of miles away from me.
Do you have any particular creative influences you would like to talk about? I know you must have been told that you look like Ola Rotimi. Can I automatically put him up there in a list of your notable influences?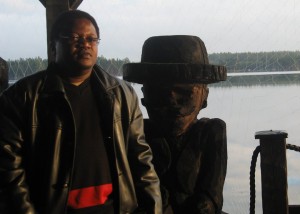 I have been told I look like a variety of entities, human and non-human. My reported resemblance to them is much exaggerated, to adapt a Mark Twain quote. The human mind is much disposed to finding correspondences in disparities.  Such correspondences often fall into the category of 'heterogeneous ideas yoked by violence together' as Samuel Johnson described the art of the Metaphysical poets. So I won't be surprised if tomorrow someone discovers my resemblance to Shrek or to the Phantom of the Opera. Or to Gollum from The Lord of the Rings. Or, over my dead body, to Mr. Burns from The Simpsons. I won't mind being compared to Bart Simpson, though.  The yellow-faced lad is one devilishly cool imp.
You asked about influences. No, Ola Rotimi is not a notable influence. I like some of his plays, especially Ovonramwen Nogbaisi which I consider a brave and commendable work, but our aesthetics preferences are markedly different. He and many writers of the old guard would probably be scandalised to the marrows by the penchant for psychological and physical violence in many of my plays, as well as by their sexual forthrightness and grittily explicit dialogue.
Let me take you into literary politics. If you have any advice to give, would you advise a new upcoming writer to spend more time with the likes of Moliere, Shakespeare, and Shaw, or with Osofisan, Rotimi and Soyinka. I'm talking theatre now. What was your own experience with influence?
I don't think it is healthy to try restricting another person to certain kinds of plays or books. One may recommend the things one likes but with humility and caution since one's man's literary meat is another one's poison. So I will say: read the kind of things you like reading. But with this important caveat: it is always profitable to test and extend your taste in reading. That can only be done by trying out the sort of books which don't usually feature in your reading fare. The vital thing is to be open-minded enough and not be flippantly dismissive of the unusual. That is because such adventures always promise a win-win outcome. If you end up not liking a book which challenges your settled literary preferences, you achieve a deeper understanding of the defining characteristics of your literary taste, and if you happen to like the work, your aesthetic horizons get widened. Continuously testing one's boundaries in any sphere of life is key to self-discovery and self-renewal.
Now that you have been deservedly lionized by a higher, wider authority, what's next for you? The other Caine Prize winner, Helon Habila, went on to write novels, first out his prize-winning entry, and later on other favourite issues. As deserved as this is, I'm sure that it didn't come as a surprise to you either. Where do we go from here?
Lionized? I don't fancy the prospect of anyone turning me into a lion, even if for the noble objective of increasing by one the population of lions which many conservationists consider an endangered species. For one, there is the danger of being shot by trophy-hunting poachers and I don't wish to have my hide becoming a commodity on the international black market for such items. And there is the added danger of being taken to a zoo and locked in a cage like Kafka's Hunger Artist, a situation I am unlikely to find very pleasant.
And, if you happen to be talking about literary lions, there is ample evidence that large feline beasts get rough treatments in imaginative literature. George Bernard Shaw's lion in Androcles is a doddering geriatric on its last legs. The lion in The Short Happy Life of Francis Macomber was shot dead with bullets whose grain Hemingway specified to precise millimetres. The Lakunles and the railway lines of Western civilisation ultimately vanquished Soyinka's randy old lion, Baroka, whose inconsequential conquest of Sidi is no bulwark, to use one of Soyinka's recurrent words, against his imminent Viagra years. And the human leopard in Bombay's Republic ends up at a station some would see as arguably unsavoury. There is also the Bengal tiger in Rajiv Joseph's play, shot dead in the Baghdad zoo by an American soldier. So I don't look forward to becoming a lion or any other big cat anytime soon. I am content with remaining a regular human being.
You inquired about what is next. There are a few works in prose fiction and drama I am working on. Then there is the Open Book Festival taking place next month in Cape Town to which I have been invited. Other programmes scheduled over the coming months include a residency at Georgetown University in Washington DC. In the immediate future though, a friend of mine is having a party tonight here in Ibadan. The party promises to be smashing and I'll be heading there soon. Strictly speaking, having fun at the party is what is next.
___________
Kola Tubosun is the editor of the NTLitMag and can be found on twitter at @baroka.