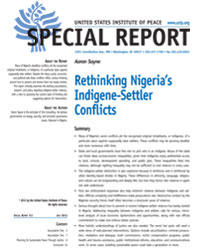 The previous week, I came across this blog post discussing a report published by the United States Institute of Peace on Nigeria's seemingly endless indigene-settler conflicts. The report gave numerous examples of conflicts, masked as ethnic or religious, but which in essence, are a struggle for resources between 'indigenes' and 'settlers'. Chief among such conflicts are the protracted crises in Plateau State and the periodically recurring ones in Kaduna State, not to mention occasional ones in places such as Warri, Delta State, and other parts of Nigeria.
However, beyond crises and bloodshed in the indigene-settler struggle, Nigerians have always discriminated against each other, some while away from their 'states of origin', others even within their own localities. These forms of discrimination change depending on the strongest defining factors, or a combination of them: in some areas, it may be ethnicity or language; in other cases, it may be religion. However, the official recognition of indigeneship is by far the most overt and terrible form of discrimination, as the piece of paper that recognizes one as an 'indigene' of an area can be the golden key that opens doors to economic, educational and political opportunities.
It is even worse considering the fact that there is no solid definition of what makes one an indigene or not. For instance, I have a close friend who is in the third generation of his family to be born in Kaduna, despite his being Ibo. Sadly, he has to keep using Imo State as his state of origin, a state which he visits only once every 5 years at best, and with which his emotional connection is weak. Even within a state, one has his/her opportunities limited unless one is in his/her own local government of origin.
Curiously enough, even the Nigerian constitution gives no definition of what makes one an indigene or not. There is only one reference to indigeneship, in which it specified that there must be a minister appointed from every state, who is an indigene of the said state [Section 147(3)]. This is besides a federal character principle that stipulates for balance in government appointments and employment among the various ethnic groups, religions and places of origin. But it also forbids discrimination against Nigerians due to their ethnic groups, places of origin, sex, religious or political opinions [Section 42(1)]. Apparently, this constitutional provision is not taken into much regard.
It is sad to note that all these 'indigene-settler', 'places of origin' and 'federal character principle' issues are a result of a deeply entrenched scarcity mind-set. It is a thinking of 'let us protect what is ours, lest others from outside come and take it' that has given rise to such policies. This thinking and policies has affected us more negatively than positively, because whereas modern societies are breaking down walls and allowing positive contributions form everyone, we are reinforcing our walls and keeping those with a lot to contribute out.
The effects, however, are not so pronounced because not everyone is involved in the production of the wealth of this country. We are an oil-producing nation, with a rentier economy in which the all-powerful center earns all the money with little input from the majority of citizens (in the form of taxes) before it then shares it out to the component units. As a result, a state can get away with having a poorly-trained civil service filled with workers who were selected solely on the basis of their place of origin, religion or ethnicity.
The strongest economies in the world have reached where they are today due to the fact, among other things, that they have a largely inclusive societies where all those who can bring something positive to the table are welcome. The stories of how the son of a Kenyan student became the American President, and of how the son of a Hungarian immigrant became the French President, do not need to be retold as proof of the inclusiveness of those societies.
So what is the way out of this scarcity mind-set and its effects? As long as our economic model where petrodollars run the country and there is no incentive to spur production so that the society and government can be the richer for it, these forms of discrimination will continue. We have to create competition between states and local governments. This should bring a much needed spirit of competitiveness into public service, which would hopefully drive out and barriers. Simply put, organizations and societies built on sentiments cannot survive competition.
This is one of the major reasons I continually advocate true fiscal federalism. It is the only form of political-economic system of government that will not only reduce the powers of the center and transfer same to the component unit, but also force the states to reform in order to live up to their responsibilities of raising enough revenue to create wealth and providing for the needs of their for their people. In the process of reformation, trivial matters such as 'indigene' and 'settler' will eventually die away.
We can continue to create laws that attempt to create an equal-opportunity society, but they will do little to deal with discrimination unless we change the conditions that create discrimination. It is only by doing so that we can truly deal with these issues, issues that should have been dealt with in ages past and which hold us back as a nation.