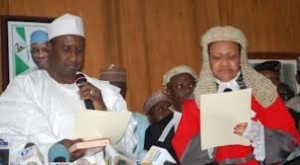 The tragic death of Governor Patrick Yakowa of Kaduna state on Saturday has brought to the fore once again the delicate balance in majority/ minority politics in Kaduna and other states in Nigeria. Like Kaduna, where barely muted distrust exists between the largely Muslim north and the substantially Christian south, states like Plateau, Gombe, Adamawa, Borno, Benue, Cross River, Taraba, Nasarawa and others also have challenges with majority/ minority politics.
In the case of Kaduna, only the elevation of Mohammed Namadi Sambo from state governor to vice president made it possible for his deputy, Yakowa to become governor of the state. This by itself raises serious concerns about our brand of politics, the concepts of majority and minority, competence in the selection of candidates and the entire electoral process itself.
Based on public service experience, if there ever was a candidate qualified to be governor of Kaduna state, that candidate was Yakowa. He rose to become a director in the federal civil service in key ministries like Water Resources and Defence, was state sole administrator of a political party, commissioner in Kaduna state for several years, federal permanent secretary and minister of solid minerals under Gen. Abdulsalam Abubakar.
After retiring as a federal permanent secretary, Yakowa became Secretary to the Kaduna state government, and upon the death of the former Kaduna state deputy governor, took over that position under then Governor Makarfi. Ordinarily, he should have stepped into his boss's shoes and become governor in 2007, but so timid was minority politics that he hardly bothered to contest the primaries.
After the political abracadabra that brought the then relatively unknown Sambo to Kaduna Government House, Patrick Yakowa was content to remain as deputy governor: That was the limits of his political aspirations, restricted as it were, not by lack of ambition, but the issue of minority and majority politics.
The questions are: what if President Yar'adua had not died? Or what if another of the numerous contenders for the position of vice president had been nominated? That would mean that Yakowa, as qualified as he was – with his far reaching contacts and many Muslim friends in Kaduna and elsewhere across Nigeria would never have become governor, though he had more experience in public administration and governance than his two predecessors in office – Senator Makarfi and Vice President Sambo combined.
When in 2011, Yakowa decided to contest the seat in his own right, the groundswell of opposition was massive. Clearly, the issue was not about his qualification, but about why a candidate from the so-called minority should govern the majority. Though eventually declared winner by INEC and the courts, there were many who believed Yakowa did not legitimately win. The violence that broke out left hundreds of people dead. Today, Muslim refugees from many parts of southern Kaduna have been unable to return home – what is left of their charred homes, that is.
And that, precisely, is the point of this piece. As long as the indemnity of identity – be it ethnic group or religion remain more important than experience and qualification in contesting public office, the kind of mediocrity that is visible in the Presidency and the federal executive council and virtually all public office in Nigeria will continue. As it were, despite many qualified people, southern Kaduna must now be wondering if they will ever produce a governor again, barring unforeseen circumstances.
In Benue state, the Tivs would probably never surrender the governorship to an Idoma no matter how qualified and experienced. This was reflected in 2007 when Mike Onoja, an Idoma with all the right contacts lost the PDP primaries to the relatively inexperienced Gabriel Suswan from the majority Tiv. If the Idomas succeed in getting Apa state, the Igedes would become the minorities in the new state and may never produce a governor. In Taraba state, only the unfortunate plane crash of Governor Suntai paved way for a minority to become acting state governor, pending Suntai's return.
Similarly, in Adamawa state, religion and ethic group remain key determinants of who gets what, where and how. In Plateau State, no member of the Muslim minority has managed to become even a jobless deputy governor. The highest elected office grudgingly conceded to them is that of deputy speaker of the State House of Assembly. Even in relatively cosmopolitan and homogeneous Ogun state, disputes exist between the Egbas and the Ijebus. In Cross River state, Ogoja people feel neglected. In Kogi, tensions exist between Igalas and Igbira.
In essence, at a time when Nigeria should be electing its best people to strategic positions, too many states and local government areas in the country remain bogged down by the politics of balancing ethnic and religious interests. Thus, competence, capacity, qualification, experience, honesty and other considerations that should determine a candidate's eligibility and electability are relegated to the background.
In the final analysis, this is a time when Kaduna, like other states battling with majority/ minority agitations should reach out to all groups to forge a consensus. This is a sombre, delicate dance that the new leadership must do in order to rebuild trust and togetherness.