by Seyi Ojenike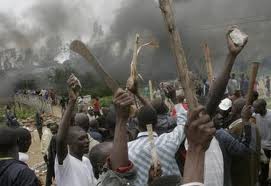 When the mist is gone,
And the stitches finished,
But wounds not healed,
My sub-conscious, painting the scene
As I quiver in fear
Of the human race.
Wake me!
Eyes flash, back
That unfolded october cold finger,
Poking my nerves.
Eyes stare in disbelief,
And a jaw sagging beneath,
My reach
I raised my voice,
Half-crying, half-cursing,
Murderers!
Beasts!
Shocked beyond the ordinary.
Out of my solitude,
Rode my voice, on echoes
Telling the wind,
Let the pain of faceless
Quench my anger.
Still no response in return,
Leaving me stuck on
Why?
A naked day of mad fire
.. silence.