By Richard Ali
Hunger
Hunger is to reach arms across the sea, there's a distance
Over which words will not keep, excepting formulae
Like fish and dream and surrender. I've seen the pale child
On the biscuit line, faith the name of its every step
Lift of veteran paddle hitting the surface, causing ripples
Then up again—I am the waiting to strike your hearth again
I'm in that waiting to be loved, a god no longer, a mere child
Sequestered from your breasts and womb
Words are rascals in the market square speaking in tongues
Bearing messages different from intended. Let arms in arms
Speak instead, of a sense of self glimpsed in your eye once
And my strange loyalty to bear witness to your rising
Love me, lover, without thinking of lines, as fish wisely live
Passportless in the flow of sea. Hunger wants to love like that
Even in the muteness of knowing words will not do. My arms
My emissaries are, not this poem—beloved, do not turn away.
Broken Radios & Blood
[For my birth city, Kano's youth—the Jubilee Square anti-FSR protesters.]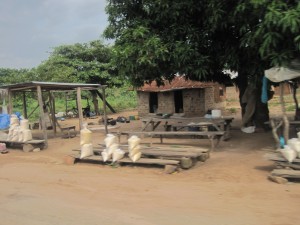 Contorted like Christ in Mary's arms, the children
Baton-charged and tear gassed make it home
Become tears—merge with image and myth
They dared to flower and were doomed, they dared
Outrageous as roses on a grey sea, were doomed
—for their white petals, their love for fragile country.
Jubilee Square is now Jerusalem bereft, strewn with
Pure water sachets, broken radios, unclaimed mats, blood
The curtain is rent now; the country—rests in peace.
The Locust Jig
We'll dance a jig around you
We'll dance a jig around you
Doesn't matter what you say
We'll dance a jig around you
Nigeria jig to confuse issues
This jig we'll dance around you
Will dramatize our outrage,
A gothic jig, our christ-like-ness
Our daggers will be our stronger feathers
We'll stab your body, never your heart
This jig is an SSS jig, a sad Abacha jig
– Say this, shut up. . . or else!
We'll dance a jig of doctored phrases
Incantations bend down boutiqued
It's a borrowed jig, why think it through?
We are a plague, our jig is cool.
Our jig is a product of our times
For locusts will have none of eagles
Academe must become collegiate
You dissent? We'll dance you crazy.
At the end of day there's more of us
Outstrip the fields, pin you to earth:
Outrage is fact, sentiment is praxis.
We locusts will die. You must pay.
We'll dance our jig around you
We'll dance our jig around you
All that matters is the hour's forage
We'll dance our death jig – around you.
_________________________
Richard Ali, a Nigerian lawyer, edits The Sentinel Nigeria Magazine and is presently Publicity Secretary of the Association of Nigerian Authors. His debut collection of poems, "Divan of the Four Winds" is due in 2013.