The writer (and current winner of the Nigerian Prize for Literature) Chika Unigwe was at a Secondary School in Lagos about a week ago, on invitation, to talk to literature students about the process and vocation of writing. On the way out of the venue, one student who had not got a chance to ask questions during the programme ran up to her on the way to the reception, and asked whether she placed any moral or ethical limits on herself while writing. The student was about 14 years old. The writer must have been quiet for a microsecond before replying "Yes, some limits." The student, satisfied or not by the content of the answer, left happy at least that this famous writer had taken the time to give him a response.
But it was a trick question.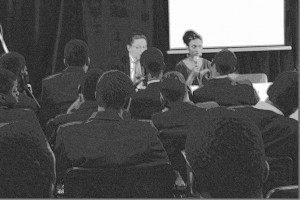 As Chika said to me a few seconds afterwards, "That was not the most writerly answer," and I understood that immediately as a relevant dilemma of a writer who also doubles as a parent of four children. In this instance, she was also talking to students in a school whose philosophy is the based on catholic teachings and doctrine. For an impressionable child of fourteen, do the risks not outweigh the benefits if they are told that to become a writer one has to let go of all moral and ethical reasoning and limits? What exactly are the benefits of reiterating that (however perpetually present) reality that writing is first a duty to one's role as a medium of stories and then to norms? This is not a new debate. Since time immemorial, I presume, to just a couple of years ago when Chimamanda Adichie's Purple Hibiscus challenged the limits on individual liberty by making the Catholic Church an early target, it has always been asked whether artists should merely create while divorcing themselves of a personal involvement or whether the artist herself is an extension of his/her societal conditioning and rebellion.
What makes a "responsible" writer anyway? The willingness to follow one's creative and professional instincts, and the ability to know what is relevant for whichever occasion? At fourteen, I had never met many professional writers, but the questions that dominated my mind were not as much as the ethical and moral limits of creativity, but the possibilities available to anyone whose interests reside in the use of words to effect change. What is more important, I would ask, the act of writing itself, or the writer's own life and professional involvement in the issues that make writing necessary in the first place? From the examples of Soyinka, the artist's personal involvement is as much of an important part as is his creative genius to create work that continues the intervention and calcifies it for future generations. In Shakespeare's case, all we know point mainly to his artistic genius. Could a brilliant and relevant writer have succeeded by running against the virtues of society? Well, Hitler did one with Mein Kampf, but we don't usually count it as one of the best works of the century although it's certainly one of the most relevant.
If a child were to be told at that age however, that there needs be no ethical limits to what and how to write, how would that have affected the outcome? Is it better to first conform, and then rebel, then find oneself, or to first rebel from the start, then eventually come around as is usually the case? I don't know. I know however that I was an impressionable kid at 14, and I believed almost everything I was told (only to vigorously test their validity and discard those that fail the test).
The most relevant fact, I guess, is that writers are humans too, and that whether they intend it or not, their works reflect society, not necessarily to condition it. Maybe, like "retweets are not endorsements", they are merely vessels of the muse of creative documentation (though not however immune from relevant rebuttal, or retribution, from those on the other side of its sting). And when the truth in fiction offends the reader merely to the degree highlighted by their own religious, moral, or ethical conditioning, it shall be up to them to react, adjust, avoid, or retort. And the battle continues. In the end, the answer Chika gave to the curious student was the most appropriate one (and I suspect, also the truth), but I find it particularly fascinating, the constant struggle between human responsibility and writerly expectations, especially whenever they clash.
Many thanks to Chika Unigwe for the visit.
This second issue of our LitMag for 2013 features fiction by Obinna Udenwe and Emmanuel Iduma, and poetry by Yemi Soneye, Richard Ali, and Omohan Ebhodaghe. Enjoy!
Photos from ktravula.tumblr.com, and elsewhere.