by Emmanuel Iduma
 This didn't happen every day. A man and a woman were sitting by themselves beside a gutter.Her head was resting on his shoulders; his arm drew her close to himself like he had paid for her body and soul. Their belongings were collected in polythene bags that seemed to contain all the mundane things of this world. Yet in the manner they held themselves, not even those possessions – collected randomly and faithfully – seemed to matter. Before they came to that point when they were blind to existing separately, they lived independent, vagrant lives. They lived on the street, not demanding the attention of the world they didn't participate in.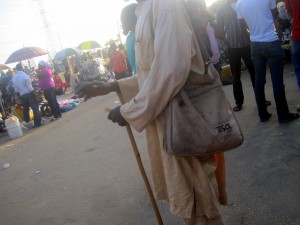 The woman collected mostly used sheets, and the street had that in abundance. Some of these sheets were tracts thrown away by pedestrians offered the kingdom of heaven by preacher-men, or rumpled sheets used to wrap roasted plantain thrown by men from the windows of their jeeps. But the day came when she found an empty notebook with a name on it – Joe Goodluck, Primary 2A. A schoolboy had walked past with his bag unzipped. And when the book fell she went for it, her discoloured teeth showing a smile of satisfaction. That day she sat with her head on a rubbish bin, a pen in her hands, and she began to scribble on the schoolboy's book.
On the man's part, he was a collector of discarded fabric, and he operated on the same street the woman did. Discarded fabric was not as easy as sheets to gather, but he fared well.On bad days he gathered an average of four fabrics. Sometimes he collected handkerchiefs that fell from the back-pockets of quick-walking young men with appointments to catch, or on some occasions he picked head gears blown away by the wind when some women were driven by daredevil motorcyclists. Once he was lucky and found a bag of used clothes. He didn't care if anyone watched while he stuffed the clothes in a large polythene bag. He didn't try on any of those clothes, content with wearing the same clothes he wore six months ago when he chose the street as his home.
When their vagrant lives merged into one, the man and woman found a home behind an abandoned kiosk close to the street. There, the absence of people provided sufficient shade. Yet they formed a low fence with their polythene bags. With the makeshift fence, they found the freedom to explore their bodies as though the busy street and its activity did not exist. The woman shared with the man what she'd scribbled – poems that filled the schoolboy's book. The man couldn't read those poems, not merely because his interest was in fabric not in paper, but because the poems were written in alphabets only the writer understood. Yet, the reading of those incomprehensible poems often aroused him, such that on many occasions after she was done, their embrace would be ecstatic, like the moment before sex.
The day they'd met, she had seen a white handkerchief and thought it was a discarded sheet. He'd seen it and known what it was. Both of them reached for it at the same time. She was faster than him, so she grabbed it first, and ran towards her place, where she kept her polythene bags. He followed her as quickly as he could, furious. When he was at her place, she was examining the handkerchief. It occurred to her that it was not a sheet, and she had no use for it, so she handed it to him. He felt drawn to her immediately she returned the handkerchief. He looked around and saw her polythene bags. Clearly, he reasoned, she was different from the crowd, a person like he was.
___________________
Emmanuel Iduma is the co-publisher of Saraba Magazine