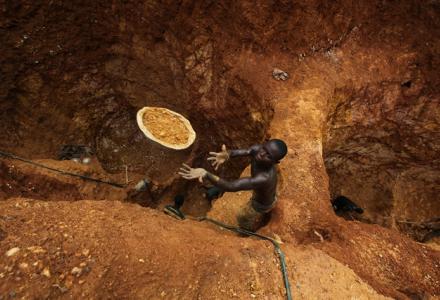 By Oluwatobi Odetola
A low rumble in the dust of the North has morphed into a mighty roar into our national consciousness. Better late than never, some would say. Since March 2010, over four hundred people, mostly children, have died from the adverse effects of gold mining in Zamfara state. The humanitarian agency, Medecins Sans Frontieres (MSF), has already provided treatment to over two thousand affected children with much more awaiting treatment. Worst hit has been the rural community of Bagega, an already impoverished village with about 8, 000 inhabitants. No thanks to the activities of artisanal gold mining in the area, the air, water and land of this community – which has no access to electricity, healthcare and education – have been polluted by lead, a heavy metal that is toxic to anything that has life.
Lead poisoning also known as Plumbism, causes damage to virtually all organs, especially the heart, bones, intestines, kidneys and nervous system. Lead is toxic to people of all ages but its effects are most pronounced in children as evidenced by one family in Bagega that has lost eleven – yes, eleven – children to this environmental disaster. The children that survive would have to battle long-term complications such as infertility, kidney failure, hypertension, learning and physical disabilities, antisocial behaviour etc.
Since 2010, efforts have been made to put an end to this unnecessary loss of lives. The Zamfara state government banned mining activities in residential areas. Unfortunately, enforcement, as is the case in these parts, has been non-existent. The most proactive organisation fighting against this horror has been the tireless MSF joined by other advocacy groups and individuals. Commencement of treatment of the thousands affected has being held up by the unavailability of funds that was promised by the federal government last May for remediation – a process of ridding the environment of the lead particles – without which treatment would be an exercise in futility. However, with unprecedented pressure put on the Presidency by activists and some politicians, President Goodluck Jonathan has ordered the immediate release of funds ($4 million) for the remediation process.
This is a step in the right direction albeit we cannot scream eureka yet considering the bureaucratic hassles and snail speed associated with execution of projects by the government. This is an exceptional matter requiring urgency and should be handled as such unless we want to ensure a bleak future for thousands of children and their families. Northern Nigeria is already overflowing with people suffering from disabilities due to preventable causes especially Polio and Meningitis. To add a horde of children with physical and mental impairment to this ever-expanding pool of potential beggars would be a huge tragedy.
These children already live about 20 miles from healthcare services, electricity and tarred roads and to watch them run around being chased by lead dust would take the callousness of this nation to a completely new level. We would be shooting ourselves in the foot to watch on unperturbed as the children of Bagega and other affected villages lose the use of their limbs, ears and brains to a complication of their parents' struggle to ensure survival. There isn't so much more harm than we could do to our national cause than to allow this crisis to churn out hundreds of children who cannot be educated or have limited capacity to work in a region that already has about ten million beggars, about 30% being children.  This problem is put in better perspective when the North's health, educational and socio-economic challenges are factored in.
The ban on mining in residential areas must be enforced with safety protocols instituted at the mining sites to prevent miners from transporting lead dust to homes. Central to providing a long-lasting solution would be improving the socio-economic conditions of the community. Schools must be built; roads constructed, electricity however epileptic, provided. Many that have abandoned the farms for the killer goldmines must be encouraged to return by provision of credit and other support facilities. It is time the parents of Bagega are no longer forced to choose between poverty and the death of their children.
While these are being done, the corrupt bureaucratic machinery of government must take a break for the important remediation process to commence. The children of Bagega must get a fair shot at contributing to national development. Words without action would not suffice this time.