by Nonso Uzozie
    The breakable plate dropped from Yinka's hand as she heard the loud explosion.
 It was too loud and earth-vibrating. She knew it was another explosion because it was the only thing on the nation's air. The only thing in the front pages of the dailies and television screens: horrible scenes and strange, heartbreaking captions, about how many people died in explosion. But she had not been so close to explosion, and didn't know it was this loud and shocking and dreadful.
Now trembling, she rushed out of the kitchen, into the sitting room, wiping her hands on her apron. "They don strike again o," Okin, the neighbours' gate man shouted.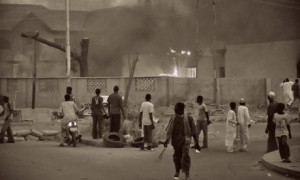 Yinka couldn't tell if the next thing she heard was real explosion or something that exploded in her head. She rushed to the window and parted the white curtains. She could see clouds of smoke in the air, towards the Catholic Church. Her mind quickly ran to her husband and her two children; Yemi and Bola, who were in St. Theresa's for Christmas service. She felt a sharp movement on her chest, and then down to her stomach and to her abdomen. Something balmy and wet was already going down her thighs, before she knew her abdomen was heavy with waste. The smoke could not allow her to see the church.
She saw people coming out in large number, crowding the road, women and young men. Everyone was staring ahead – towards the church. Then another group of people ran down from the church road, and in a few minutes the road was blocked by crowd and cars. Everybody was in confusion when they heard a man saying "They have bombed the church! They have bombed the church! This one is terrible!"
The man was putting a pair of shorts and a white singlet, sweating, with his red eyes. He was rolling on the ground crying "My wife and a new baby are there". And no one seemed to care about stopping him.
"This is a bloody Christmas!" another man shouted.
The smoke in the air was still thick when Yinka joined the crowd in the street and her ear was not deceiving her as she moved quickly down the road.
"There was explosion in the catholic church" a woman with her hands on her head told her, as though she did ask her.
She still hoped her husband and the children were safe; some people must survive and they would be among them. They must be, because they had to, she assured herself.
The smoke in the air and the crowd reminded her of what happened to her in Lagos, in 1993, after the annulment of the election, when she ran into young angry mob at Ojota who burnt her car with her daughter locked inside. She had watched her car and her little girl, Popoola burn down and couldn't do more than yelling and because Lagos was on fire and 'on the run', and everybody was on his heels, nobody helped her.
Now, she could see herself between Ojota and Madala, as they swirled round in smoke and confused crowd. It was like a dream and a reality. She heard the voices of her children and husband crying at St. Theresa's Parish and her late daughter Popoola, crying inside her blue Passat in Ojota. She knew with the noise piercing her brain and the fear in her that something had suddenly gone wrong with her brain. She began to run, finding her way through the confused crowd and she heard nothing as she ran, but her head cracking inside. She ran until she heard her heart pounding against her chest, and until she could not run. And the last thing she saw before she fell were cars burnt beyond recognition, in blurrily, faintly shapes.
She found herself on a strange road crowded with people; old and young. They shuffled slowly in an organized queue, in a way that showed they had one mission or were going to unknown destination. Yinka was the last on the queue until some seconds when two young men joined the line. She now noticed that everyone on the line was weeping and calling for justice. And she began to cry. She did not know why she was crying, but she could not stop crying. There were more people joining the line, she heard voices.
'You are crying like a baby', one voice said.
'You are doing the same.'
'What else is better here if not to cry?'
'This is not the best way to say good bye to my wife and my only child.'
'But I have my whole family in this line.'
In the next minute, she was at home in the sitting room, weeping with her husband and two children, while Madala smelled of blood. Stew was burning in the kitchen, water was overflowing in the kitchen sink, a male voice was shouting outside "Nigeria has seen the deadliest day – bloody Christmas! This is unfair- bloody Christmas!'
They watched a neighbour, Mama Oge, as she came in with Yinka's apron and head tie which she kept on the table before she went into the kitchen to put off the tap and to put down the burnt stew. She was about going when another neighbour entered.
"Which hospital did you say she is?"
"She is dead. She died before we could get to St. Mary's hospital." She cried as they left. And as they shut the door, Yinka turned and joined her husband and children as they passed through the wall to unknown. She heard the voice before she left.
Bloody Christmas! Bloody Christmas!!
________________
Nonso Uzozie is a stage director and a playwright. He attended PEFTI, Lagos, and Caritas University, Enugu. His works have been published in Naija Stories, Halftribe,  Author-me .com, and Nigerian Pilot.