by Ikhide Ikheloa
For you … I have this note that says call me tomorrow
Tomorrow never comes because I never call you
Today never ends because you never call me.
I.
Another summer escapes into our dreams' pool
slinks, sizzles, spent, drowns wet kids' hopes.
Hooray, another alien season dies in Babylon.
Our wallet shoos off ice cream trucks;
We won't miss the ice cream man
As America wails last rites to summer,
fallen leaves become brown buglers of fall.
II
Our son whispers his goodbye to summer.
In the sweet cadence of a child.
He says I shall miss you summer
Comeback let's go to the pool
I'll ride my new bike to the pool
Will you read me a bedtime story
So I can go to sleep also?
III.
The rains flog our land without mercy.
And under the rogues' rusting lamp post
Mama's bucket drowns termites for our dinner.
What the rains reject, the stomach embraces.
In the season of the rain goddess
Boll weevils and termites unite without shame,
proud smiths, guards of a living hell.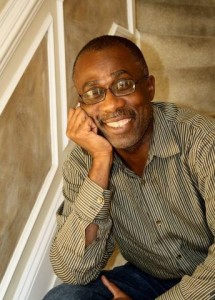 IV.
We sit waiting under the lamp-post,
waiting for you to play with us.
And as our mind's eye spies grandma
On the little path that sells hope,
our heart races our dreams to a time
when joy danced with us under moons
that hid children from a living hell.
V.
The biking trail takes us to places.
We go racing and racing and racing,
waving to deer, foxes and chirpy spirits.
We come to places in the hills
where the earth flees from under us.
And we go down merrily shrieking away
until Earth traps us in her warmth.
VI.
We welcome fall's mournful Taps for summer.
Our town-crier wails the rebirth of winter.
My leaf, child of the iroko tree
holds me waiting for the parade of
winter, hungry python ready to swallow us.
And the trees honor a fallen summer
gnarled limbs knotted into moody wooden wolves.
VII.
The leaves are falling in our America.
And our thoughts wander, trail the leaves
To paths that cradle our people's bones
and hold the secrets of our past
draped in the mask and the regalia,
the past that holds our present hostage,
hungry for a home that remembers us.
________
Ikhide Ikheloa writes from Maryland, USA, and can be found at xokigbo.com. This is his first poem published online anywhere.