If what has been reported in various places online, and comments from close family members and colleagues are anything to go by, Africa's foremost novelist and author of the famous Things Fall Apart, Chinua Achebe, has passed on, at 82.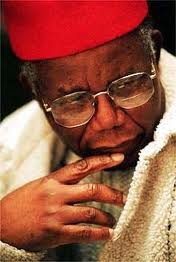 The author whose magnum opus, a novel detailing a class of the Igbo traditional culture with an invading European one, has been translated into about 50 languages, selling about 8 million copies to become "the most widely read book in modern African literature" (Wikipedia), was a distinguished professor at Brown University. His famous intervention in the debate on Joseph Conrad's Heart of Darkness is a stuff of legends and has spawned essays after essay about the portrayal of Africa, the rise of African literature and outlook, and the need of more than just a single story.  He was often called "The Father of African Literature.

Achebe's latest book, There Was a Country, describes in his characteristic lucid prose a flattering ideal country in Nigeria and Biafra before and during the Nigerian Civil War of the 60s. Its characteristically blunt references and appropriation of blame to political players in Nigeria from the different sides of the warring divide made the book an instant classic and one that generated controversies and conversations, and re-opened old wounds about the civil war and the pogroms that came with it.
He also wrote a number of other prose fictions, including  the children's book Chike and the River(1966), How the Leopard Got His Claws (with John Iroaganachi) (1972). His famous work is, of course, Things Fall Apart, which is beyond the scope of these words to describe.  African Statesman Nelson Mandela once referred to him as "the writer in whose company the prison walls came down".
He has also won many awards and honours including but not limited to the Man Booker International Prize (June, 2007). According to his obituary in the Guardian UK , Achebe won the Commonwealth poetry prize for his collection Christmas in Biafra, was a finalist for the 1987 Booker prize for his novel Anthills of the Savannah. Chair of the judges on the occasion of his winning the Man Booker International, Elaine Showalter, said he had "inaugurated the modern African novel", while her fellow judge, the South African Nobel laureate Nadine Gordimer, said his fiction was "an original synthesis of the psychological novel, the Joycean stream of consciousness, the postmodern breaking of sequence", and that Achebe was "a joy and an illumination to read". In a 1998 book review, Nadine Gordimer had referred to him as "a novelist who makes you laugh and then catch your breath in horror — a writer who has no illusions but is not disillusioned."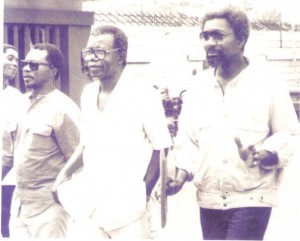 As a political player in Nigeria, his role has been (especially since the end of the Civil War) that of a disappointed observer, and statesman. In 2004 and again in 2011, he turned down "National Honours" awarded to him by the two last democratic administrations in Nigeria, citing the problems of leadership, and chaos, particularly in his home state of Anambra. In his essays and commentary on Nigeria, he has consistently claimed "the failure of leadership" as one of the biggest problem the country faces.
As much a crucial voice in literature and founding head of the Association of Nigerian Authors (ANA), Chinua Achebe also became a reverend voice for policy and political and moral intervention in Nigeria throughout his life. On March 22, 1990, he became paralyzed from the waist down – a result of a car accident in Lagos. The last public picture of him standing on his two feet was with fellow writers Wole Soyinka and J.P. Clark at (the seat of government) Dodan Baracks in the late 80s on a personal humanitarian intervention to plead for clemency on behalf of the life of accused coup plotter Mamman Vatsa, a struggling soldier-writer.
Born Albert Chínụ̀álụmọ̀gụ̀ Àchèbéin Ogidi (in the now Anambra state of Nigeria) on November 16, 1930, Chinua Achebe is survived by wife Christie, their daughters, Chinelo and Nwando, and their sons, Chidi and Ikechukwu.
Rest in peace, great ancestor: The giant Eagle on the Iroko.