by Dami Ajayi
It always begins with a song. Then memory sets in. Soon you are coursing down familiar roads, back streets, broken waters. Suddenly, you are back here again. It is the same house in the poor district of Shagari Street with busybody neighbours.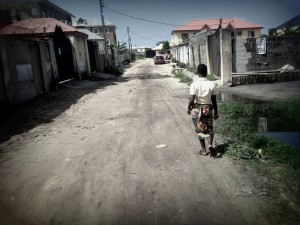 You are amongst the privileged few; you own a tokunbo car, you live in a self-contain, your white-collar job holds retirement benefits. And you worked for it; you earned it with the rigors of self-sacrifice as you suffered through university fending for yourself.
It always began with a song. Fela. Then you lit your first cigarette. Orlando. Then you took your first cup of liquor. You found your taste in forbidden substances, in the brew for the society's dregs. The foremost reason stayed with you. You wear it on a locket, your mother, a maiden image just before Father desecrated her, left her for death.
Every time the thought recourse through you, you bunch your fist and aim to drive it into faces. You could not forgive the old bastard, not even at his funeral. You could barely hold the urge to grip his cold cotton-wool stuffed nose. Let him die again.
You carried the bitterness in a pouch like bile. It stained your demeanour, left a tinge that earned the respect of men, the curiosity of ladies.
It was first trendy classmates, then desperate youth corp members, then she. You saw mother in her, didn't you? It was the same eyes, you could swear on Father's grave. It was the same smile too. Sade was a reincarnate.
Forbidden fruits never stayed out of your reach, pursuing a spouse out of the reach of your social class. Middle-class still you were. But education, you thought, was the cure to social divisions, the melting pot for unexplained inequalities.
She loved you. She treasured you. She kissed the skin between your eyebrows and still, you did not shiver out of your dream. You had to have her, by all impossible means. Orphan marries into Old money. Daughter of Millionaire Elopes. Perfect caption for tabloids.
She left the old mansion in fair clothes and followed you to Shagari Street. You turned a princess into a house-keeper. She made your meals and your bed, and you slept in it together like young cubs. You kept her nights feverish and in her days, you fled to make money.
Then life happened. The cusp of love once filled with affection was diluted with reality's tragedies. Tragedies you could live with. Tragedies she could live without. Then one night you returned and she had sulked back to the old mansion.
It always begins with a song. Burning Spear. You lit your first spliff. Bob Marley. Then you hit her on her return. Your bunched fist jammed into her translucent skin and called blood.
She returned but you didn't. You did not forgive her; let soothing waters of love run on your hurt. Let the aqueous mixture sublime on the bed of passion, moans, and orgasms. You put a bottle of liquor in your right, a glowing spliff in your left, a condom on your member and you fucked the world instead.
You skipped nights and days, strayed into the dregs of the city to squeeze cheap lemon-sized breasts, oblivious of her missed period, her growing belly, your seed, the baby.
When her water broke, you were nowhere to be found. You were hustling the street for forbidden substances. Sade was wailing. Baby was coming. Sade was weeping, crying out labour pains on the floor of your apartment on Shagari Street. You were lying with a jaunty dancer called Linda. Sade stopped to cry and you shivered your orgasm. Baby stopped to move and you lit another spliff.
You returned to Shagari Street and you heard about their deaths. You had desecrated her and left her for death too.
You are Father.
______________
Dami Ajayi is working on a novel.