Since returning to Nigeria from the United States in 2008, Victor Ehikhamenor has worked as a journalist, writer, graphic artist, photographer, and the creative director of 234NEXT newspaper. Of his artwork, Victor says he has "translated ancient rituals of body scarifications evident in the 16th and 17th century Nigerian bronze heads into contemporary masks…" He is also the author of a collection of humorous essays, observations on Nigeria: Excuse Me! published by Parresia Books. His latest art exhibition at the Temple Muse in Lagos, titled, Amusing the Muse just recently ended.
Victor spoke with LitMag editor Kola Tubosun
When did you start making the work in that exhibition? Which one of them is the oldest?
They are from different times, the oldest works there were made around 2009. About 50% of them were made this year.
When did the idea of the exhibition come to you?
I was approached by the curator about three months ago. Since I already had works on ground, we worked together to find a good tying theme that works well.
Why did you choose Temple Muse as the site for the exhibition?
Temple Muse chose me, I did not choose them. However when I visited the space, it was perfect for my work, especially my new style, paintforation.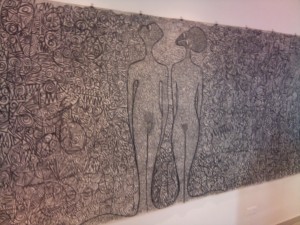 Their titles are political. I saw one titled "Coup Plotter before shower" What inspired these names?
Our past and present political reality is right here in our faces. The country saw many coups when I was growing up. I still remember I was little kid when a man ran into my father's living room and said Murtala, the head of state, had been killed.
How long have you been painting, and what is your future aspiration for the work you do?
Since I was like four. My future aspiration is to keep creating works that challenge the material I use. I also want to positively impact future generation.
I saw your name at the back of Chimamanda Adichie's Purple Hibiscus as the photographer for its famous cover art. That's fascinating.
I have designed more than 25 book covers or supplied art for covers for both local and international publishers. I am not aware of any other Nigerian artist alive who has done more.
What is it like working in Nigeria? How do you cope?
I like working in Nigeria, it is very challenging so it makes you think creatively on how to solve problems. But it can be frustrating sometimes, especially when I want to work in the middle of the night and there is no light. Also, there are no museums and the galleries are few, because when an artist is not in production mode, it helps to see what others are doing to open up his/her creative pores.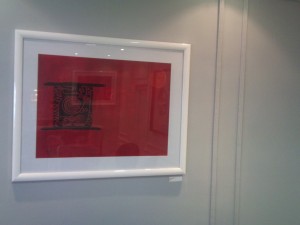 You're often in Benin City. What's the influence of that city on you, and your work?
I am from Edo state, I grew up around art works done by villagers. Most people don't know this, my grandmother was cloth weaver. I would watch her go through the entire production process of harvesting cotton from the farm, spin the cotton till it becomes thread, and fix it to the loom and start weaving. It was the most creative thing you can ever witness, using local material and technique. There were also wall paintings and installation arts, mostly in the community shrines. All these caught my attention from when I was very little. They all come to play every now when I am working. As for Benin itself, it oozes with all form of artworks, especially bronze casting. Just been in the environment energizes me in a way I can not put in words.
About Benin, what influences have you got from other known artists from that side of the country, particularly Bruce Onobrakpeya, (and the female bronze artist, Peju Layiwola?) 
I have not had any direct influence from any of the mentioned artist, although I love Bruce Onabrakpeya's work, especially his visualisation of folktales and the use of indigenous language to name his painting. I am drawn more to the works of Obiora Udechukwu, his drawings to me are just breathtaking. There are many other artists whose work teach me, not influence. Like I have mentioned, I was greatly influenced by village artists from Uwessan whose name are not written in any books nor works published in any art magazine. Most of them have gone to the great beyond.

Now that the exhibition is over, where will folks be able to find you?
I have a studio here in Lagos, with special arrangement, studio visits can be arranged.
What is next?
Maybe a book – but I have very little control over where the muse drags me sha.
On the average, how long did it take you to complete each of those paintings?
I measure time in hours, because I can be in the studio for 13 hours at a stretch or more. For proper understanding, some works take five minutes, others 5 days and some large ones 5 weeks. There are works that span months and continents in execution. It really depends on the work.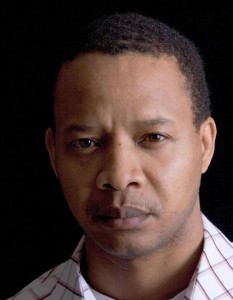 Concerning sales, how do you assess the attitude of the Nigerian art consumer. What is your experience so far?
Very encouraging. People are beginning to see the benefit of collecting art, especially now that the secondary market is in the upswing. This is the time to jump in because the world is now paying attention to Nigerian art in serious economic terms.
Thank you for your time.
I'm honoured.
________________
All paintings in the photos are courtesy of
Victor Ehikamenor
, from the exhibition 
Amusing the Muse
which took place at Temple Muse (21 Amodu Tijani, Off Sanusi Fafunwa, Victoria Island, Lagos) from April 27 to May 31, 2013. Photos by
Kola Tubosun
. Victor Ehikhamenor's portrait taken from
Miss Ojikutu's blog
.