Tope Folarin is on the shortlist of this year's Caine Prize shortlist, along with Elnathan John, Chinelo Okparanta, Abubakar Adam Ibrahim, and Pede Hollist. His short story Miracle, has been reviewed by Aaron Bady, Kinna Reads, Practically Marzipan, and many others, including this writer at KTravula. He spoke to Nigerianstalk's Editor, Kola Tubosun, a while ago.
_________________
What is your relationship with Nigeria today?
Much of my family remains in Nigeria—my cousins, grandparents and my biological mother as well. Because of this, I've maintained a deep emotional and intellectual connection to Nigeria.  For example, my first experience with art—before I even knew what art was—was with Nigerian art: the stories my mother whispered into my ear after she had tucked me in, the cassette tapes featuring Nigerian musicians that my father played over and over again. In school I studied Nigerian politics, Nigerian history, and Nigerian culture—all this culminated in my second masters degree at Oxford (in African Studies). Nigeria is an intrinsic part of who I am.  
When did you write "Miracle"?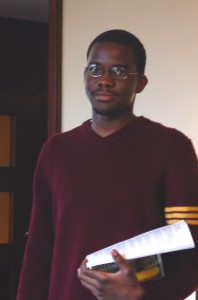 I actually began to write a version of 'Miracle' while I was at Oxford. This was back in 2006, when I was just beginning to recognize that I was a writer. Of course, at this point—and even now—I still had a great deal to learn. After tinkering with the story for a bit I put it away and decided, instead, to study craft. I spent a year and a half reading nothing but poetry, and then I spent another year and a half reading short stories. I started working on my book in 2010, and I didn't even recognize at the time that I had returned to the story I'd started to write four years before. It wasn't until last year—when I was examining a few of my failed drafts from years before—that I discovered that "Miracle" closely resembled an abandoned story.
Do you derive any form of personal satisfaction from situating the story in Texas where you live, rather than any other American state? Why not if not.
I spent most of my adolescent years in Texas, and I'm quite familiar with the Nigerian diasporic community there—especially in the Dallas/Forth Worth area. Texas has one of the largest Nigerian populations in the US, and this particular fact is crucial to my story. Indeed, some have said that this story would have been much the same if, say, it had been situated in Nigeria instead. This is simply not true. "Miracle" is specifically a story about how  immigrants go about creating home in a foreign space. In a place like Texas, where there are many Nigerians, this new 'home' is forever poised between a 'real' Nigeria (the Nigeria they left, the Nigeria they yearn for) and a mythical one (the Nigeria of their memories, the Nigeria they hope for). My story takes place in this netherworld, this not-quite place.
What was your first reaction to the Caine Prize nomination, and what has the attention to you or your work been like since then?
I was simply elated, of course. Like many other writers, I sometimes harbored doubts that my work would be taken seriously since I wasn't a member of any formalized art community. This nomination confirms my intuition—that the best thing I could do was dedicate myself wholly to the craft of storytelling.
I find it simply amazing that so many people are engaging with my story. I've been surprised, intrigued and delighted by the responses to "Miracle". It has been an instructive experience, because I've learned that few people–and I'm including myself here–read a story on its own merits. Inevitably, people bring their own experiences to the text, their own biases and ideas, and these experiences often shape their perspectives.
You said "Miracle" is from a longer story. Have you completed that story already?
Yes. "Miracle" is but one story in a collection of stories that I completed last year. My book is a novel-in-stories that charts the growth of a single character, the 'I' who is separated from the whole at the midway point of "Miracle."
On faith and disbelief, your character typifies many people in the world to whom pragmatism in the face of public pressuring beats a leap of faith. And it is not always a conscious decision but one compelled by circumstance, as we see in "Miracle" and feel sorry for the hero. What are your own personal opinions outside of the story on the experience of doubt, and the African Pentecostal experience?
Doubt is an essential component of my personal faith. I'm incredibly grateful that I was raised in the African Pentecostal tradition, because every time I went to church I witnessed a group of people who were grappling with doubt, who attempted, each Sunday, to pray a new reality into existence. My life is based on this principle of audacious faith—the idea that I can mold my own reality from the often unyielding and harsh world around me.
And finally, if you win, would you like the citation to read "Tope Folarin, a Nigerian from Texas" or "Tope Folarin, an American of Nigerian origin"?
If I were lucky enough to win, I'd love to inaugurate—or at least continue—a conversation about identity, and how we all share an essential desire to 'place' people. How about those of us who were born and raised in the diaspora? Do we require new categories? Or should we sand off those parts of ourselves that aren't instantly comprehensible to others? I've had to construct an identity for myself that is made up of bits of here and there. For that reason I suppose I am hard to categorize. But I actually quite like this about myself.
______________
The winner of the 2013 Caine Prize will be announced on July 8, in Oxford.