poems by Ikhide Ikheloa
_____________
DM
(For you, Dambudzo Marechera, for things that make no sense, because we are afraid…)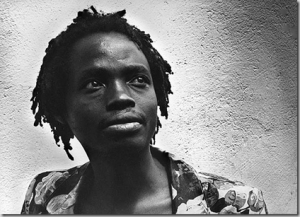 Bloody December.Ogun prowls the catacombs. And myrmidons of darkness crouch in the plastic hedges. Brown leaves are cutlasses.
Biafra waves a broken sun. Yellow. Tonight, Rex Lawson is drunk and weepy. There will be another coming. From the horns to the train's ears, cradle your loved one's heads.
Life is madness. Lunacy is the normal. We are here. We did not ask to be here. We are here. You are not here for us, because this is all about you. Narcissus.
And so…Ogun of the bloodied cutlass, do you want to talk about this winter? Screw you. Yes. Do your worst. Screw you.
Our bags are packed. We are not ready but the train is here. So, we are leaving. We are leaving because it is time for this bug to be squashed. Good night, I think. Good night.
I would like to be you, Marechera, pissing in my abductor's winds. But that would not be me, empty suit in khaki pants and loafers.
I would like to say fuck you. But then, Marechera, that would not be me. And that would not be you either. There are no stars in your expletives. Oh, Marechera…
_____________
Goulash for joy rides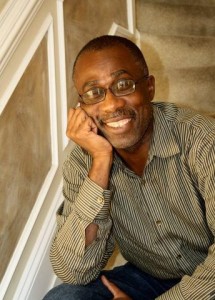 America. Washington. Not DC. PA. Hills are beacons and cars are lights. Arms akimbo, Ibadan rests in the breast-mounds of your hills, and smirks at drunken slaves.
We race through suckling joy hills. Broken teeth clamp Maryland in a happy bear hug sucking on the nipples of 18-wheelers. Roads burrow into roads paying toll to no one.
Roads shred hills into catacombs.  Trees are leaf-mountains, sardines, green honor guards of road rage. And Norman Rockwell lives, painting nostalgia for hell's angels.
At the bar, beautiful blonde man-child rises, roaring drunk. Orders drinks all around.  We decline, heads bowed for the benediction of abuse. He orders, downs five shots.
The bartender, brave and sad, has been here before; helps him mount his demons. These are broken lives, all around, cradling the wrong medicine. Welcome to hell.
She, poet, works for the gods of fast food, garnishing tasteless meals with powerful words. "Welcome to McDonalds! Do you want fries to go with that, ma'am?"
A microwave minute is an eternity. Hunger taunts the long wait to sate desire. We will gasp with horror at another deception and throw micro-shoes at your mirror.
Today is a rotisserie. Heat waves, imperial queen, at her wilting subjects. White fields of steam billow from oven-armpits, offering benediction to doomed sinners below.
And we bathe and bake in our sweat. We did not go to lunch today. We were lunch. Grilled. The weatherman says tomorrow we are leftovers for the gods' lunch.
At the bus stop. Eyes are ice picks. And a princess is a pretty monster. Pretty, hard, ice monster. Mouths are slits, breeding silt. Drip dripdrip. Feed poison ivy poison.
They see us. Invasive species.We.are.still.here. Nothing kills us. Sullen skies gather buckets for a bloodbath. And Ogun sharpens his cutlass with teeth of iron.
Deep in the catacombs, the night wears anxious trees. In ink-shades, my ancestors cower, wishing each other good night. Good night, Africa.
_____________
Ogogoro Blues: For the Ghost of Carl Gustav von Rosen
Now, it is sun down at the square. Follow the dust storm.  And you can't miss the square. The poetess with the flute chases the masquerade with her flute. Listen to this, the drummer's insistent beat, truth lands on concrete, bounces off nonchalant ears, but truth has landed.
Now, the flute taps a solo wail, points the masquerade's feet to the right address on this tired, tired, earth.  And she, veteran of all dances that wet the eyes, she is the conductor of this feast at the square.
Now, listen, listen to the air, the air is an orchestra, horns insistent, piercing the crisp silence of an evening gone to bed. Hear the air wail, the air, phoenix is a talking drum. Can you hear the air?
Now, close your eyes. 1967. Do you see him, masquerade, breathing the fumes of the anesthetic? Hold this Fanta bottle of ogogoro to lips in shock. Hold this last stick of Galleon. Does the smoke shield your rage?
Now, lean on this last wall of dreams gone awry, belt out this last solo song of the masquerade. The trumpet must travel, burrowing through bridges draped in the mourning shroud of dawn, paying toll to no one.
Now, the children they sit at your doorsteps, ears hoping for the footsteps that will never walk this way again, never. And the children, they sit at your doorsteps, ears hoping for the return of the trumpet that sells ogogoro in empty Fanta bottles.
_____________
Taps for summer: Seven seasons, alien seasons (Previously published here in March 2013)
For you … I have this note that says call me tomorrow
Tomorrow never comes because I never call you
Today never ends because you never call me.
I.
Another summer escapes into our dreams' pool
slinks, sizzles, spent, drowns wet kids' hopes.
Hooray, another alien season dies in Babylon.
Our wallet shoos off ice cream trucks;
We won't miss the ice cream man
As America wails last rites to summer,
fallen leaves become brown buglers of fall.
II
Our son whispers his goodbye to summer.
In the sweet cadence of a child.
He says I shall miss you summer
Comeback let's go to the pool
I'll ride my new bike to the pool
Will you read me a bedtime story
So I can go to sleep also?
III.
The rains flog our land without mercy.
And under the rogues' rusting lamp post
Mama's bucket drowns termites for our dinner.
What the rains reject, the stomach embraces.
In the season of the rain goddess
Boll weevils and termites unite without shame,
proud smiths, guards of a living hell.
IV.
We sit waiting under the lamp post,
waiting for you to play with us.
And as our mind's eye spies grandma
On the little path that sells hope,
our heart races our dreams to a time
when joy danced with us under moons
that hid children from a living hell.
V.
The biking trail takes us to places.
We go racing and racing and racing,
waving to deer, foxes and chirpy spirits.
We come to places in the hills
where the earth flees from under us.
And we go down merrily shrieking away
until Earth traps us in her warmth.
VI.
We welcome fall's mournful Taps for summer.
Our town-crier wails the rebirth of winter.
My leaf, child of the iroko tree
holds me waiting for the parade of
winter, hungry python ready to swallow us.
And the trees honor a fallen summer
gnarled limbs knotted into moody wooden wolves.
VII.
The leaves are falling in our America.
And our thoughts wander, trail the leaves
To paths that cradle our people's bones
and hold the secrets of our past
draped in the mask and the regalia,
the past that holds our present hostage,
hungry for a home that remembers us.
_____________
Ikhide Ikheloa writes from Maryland, USA, and can be found at xokigbo.com. This is his first set of poems published online anywhere.