(A story of two old lovers meeting again after 15years)
By Ayodele Olofintuade
Do you remember the night we first met?
It was at your birthday party, you were with your girlfriend and I was there with mine
Before the night was over we were dancing together and talking like we'd known each other forever, before the month was over we'd become lovers, your girlfriend … your ex.
The sex was amazing, mind-blowing, addictive, sex which could go on for hours or just some … seconds.
You lingered over every part of my body, every nook, every cranny was studied, loved, laved, known.
It was sometimes wild, sometimes gentle.
Quickies, hours of caressing, talking, whispering, giggling, learning.
We did it everywhere, in the car, in the rain, in a room, on a roof, on the train … we couldn't keep our hands off each other.
Ah Dunmi, your gentleness, quiet confidence, intelligence and sense of humour were my undoing.
You treated me like a queen and I totally immersed my life in yours, you were my twin, my soul-mate, my sex toy.
I'll never forget the train rides we used to take, from Ilaka to Ilumina. We would ride up and down, up and down, everyday, all day.
You cuddled me to sleep, made me food to die for. You introduced me to my desires, the pleasures of taste, of touch… I lived for you buried deep within me.
I died a little each time we had to part and only came alive when you were with me.
Everybody knew us together, my grandmother loved you, my mother hated you.
Your mother hated me more.
You were everything, you were nothing, you were me, the very heartbeat, air that I breathed.
Cheesy… so cheesy… so real.
I wanted to enwomb you, I wanted you to swallow me whole, to spin your cocoon around me and wrap me up in the world of fantasy we created.
We were broke.
I remember your car, the one without headlights. We would drive out at night and tag along with cars that had headlights, we were mad.
Do you remember our trip to Eriwa?
When in a fit of madness we drove all the way from Ibadan to that town nestled within hills, for no reason.
Your car broke down, you were broke too, we didn't care, we got a mechanic to look at it and spent the last dime on us to fix it, by the time we returned to my house around 12pm, my mother had taken a policeman to your house.
Your mother hated me even more, almost as much as mine hated you.
You were the Sango to my Oya.
One afternoon, I would never forget, you came to my place and I sat innocently on your lap, my skirt spread around your hips, your hands teasing my nipples, you were buried deep within me.
That was heaven, hell on earth. No moaning, no screaming … shh … keep it on the down low.
The music, we loved music, played it all day, and on some luckier nights.
We made slow love to AZ Yet's 'Last Night' …
"…I drank your wine, as you taste mine, I kissed your lips, you felt my body slip into your soul… last night, I was inside of you, last night, while making love to you, I saw the sun, the moon, the mountains and the rivers, I saw heaven when I made sweet love to you…"
And then the break up, you broke my heart, hurt me deeply, cheated on me.
I left you.
The baby wasn't yours. He was mine, all mine!
I'll never forget the hurt in your eyes when you asked me 'Is it mine?' and I said 'No. Mine, not yours, never yours, mine!'
You broke down and cried.
Yet you loved me.
Briefly … an affair that blazed to the skies.
But the child was mine, never yours.
Mother moaned and cried.
Yours was even angrier
But …
It wasn't to be…
I moved away from home, locked you out of my life.
You got married, claimed she was the love of your life.
I died, because somewhere deep within me I knew you belonged to me, I knew you would come back to me.
You didn't.
I pushed you out of my heart, I moved on, got married, had another baby.
I'm wiser now Dumi.
The fat around my waist has thickened, my breasts full and sloppy.
I'm mother earth now, I create, words, men, I am a cre-a-tor, call me god Dumi, call me Ile, the fertile earth we walk on, call me Yemaja, the sea, call my name Dumi, roll it off your tongue.
It's not the same is it?
I struggled with my demons, I've lived twenty lifetimes, I've died, been celebrated, been derided… I've fallen and I've risen, again and again.
Sometimes I get a glimpse of you, news from friends, your name dropped from lips of strangers, on social media.
Then … nothing
I was over you, fifteen years … damn too long!
Just yesterday, we bumped into each other again.
We talked, we 'Whatsapped', we talked, we planned to meet today.
We did.
It was as if we'd never been apart.
The same gentleness, the same sense of humour, intelligence, quiet acceptance of what I am, what I can never be, quiet acceptance of where you've been, where you'll never be.
The camaraderie, comfortable silences.
Between both of us, six children.
Oh Dumi.
When we kissed, you tasted the exact same way, but it was wrong.
My nipples awakened to your touch, I grew wet, but my mind was watching from afar …
I've changed, Dumi.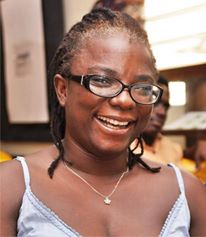 I'm no longer the girl I used to be, so many things have happened, a lot of water has passed under the bridge …
I've changed, no longer the girl I used to be.
I'm a woman now Dumi, I know myself too well …
I'm a woman now Dumi, and you're a man with a wife and four children.
I'm a woman now Dumi, and no longer swing that way …
___________
Ayodele Olofintuade is the author of Eno's Story and a shortlist for the NLNG Nigerian Prize for Literature in 2011.