DINNER TIME
Do we sometimes bask in our delusions,
And become tourists in lands that never were? -Anon.
I am not fooled
By this cool wind
In my face
I know that what I ride
Is no horse
This swing
Takes us
High and low
Forward and backward
Nowhere, fast
It'll soon be dark
Daddy wants you home
There's a tall guest
For dinner,
For you
It's in your eyes-
You'd rather stay
But you are a good girl
You should go home
For dinner
Send my regards
to Uncle Ralph
Tell of us, if you can
and of the swing
I now ride alone
Don't look back
I have no last request
I won't ask you
Not to leave me here
You've been out too long
You'd best be gone
Dinner is served
I won't walk with you
Halfway home
And watch you disappear
I won't stand, teary-eyed
Wishing you could stay
I'll drown my soul
In the odd creaks
Of my offbeat swing
I've no illusions
Of space at the oak table
Besides, I reckon
the exquisite meals
Might upset my common stomach
But please
Don't think I do not bleed
I hate myself
For getting used to wine
I cannot afford
Be kind to me
Don't make me say goodbye
I can't afford memories-
They are too big
For my little heart
So run along my dear
Don't shed a tear for me
Don't keep them waiting
I can hear Uncle Ralph calling:
Your dinner is getting cold!
BROKEN BIRDS ARE BETTER
I know a little boy
Who loved to skip about in the forest
'The thing I like about the forest, is, birds', he said
And the birds loved him
They would perch on his arm,
Encircle him, singing softly into his ears-
Delicate canaries, Ivory-breasted Pitta's,
Wandering albatrosses…
Black birds, white birds,
Brightly coloured birds
Always, he would take one home
But never a flamboyant healthy one
Never one with full plumage and sturdy feet
Always he would take, the limping one
The one with broken wings, sad eyes
He would show it love
And as soon it got better, lost the sadness in its eyes,
He would let it go
'Broken birds are better', he would whisper
When I asked him why, he shrugged, and replied,
'Broken birds are just better'
Yesterday we walked into the forest
And I noticed for the first time
As he went ahead of me,
That he walked with a slight limp
BLACK
When I sing
And mention a weaver bird or its nest
My brothers' faces contort
They want me to sing Of my glorious race
My dear continent
My beloved country
They want me to be irate over today
And clench my fists
They want me to dream of tomorrow
And of seventh heaven that should have been
They want me to blubber over yesterday
And point my finger westwards
They want me to speak of my mothers beauty
Even when I can see ugly creases on her face
They want me to hail my fathers strength
Even when I can see he is weak
They want to preach of my sisters chastity
Even when I see her in the streets at night
They say if I must sing
I should sing thus or my song will be incomplete
Free will is free
The freedom to love
And not to love…
Forgive me you whose skin is shaded like mine
For I am neither patriot nor nationalist
But traipsing along
Like all the others
Under the same sun
Hoping hopelessly
For some rain
Or snow
As the case may be.
PAINTING
We came, we saw
And conquered the barriers
To a first night of dreamed passions
You wept
For all his sins against you
And yours against yourself.
We saw, I came
(If I read the tremors right, you did too)
And painted, black on white
White on black
Black in white
You left, with the painting
Fresh, dripping with the oil of our promises:
You will return, I will be here, waiting
You wrote,
how the picture looked like us
You wanted to hang it
But couldn't find the space for it
On your complicated wall
You will return, you now write
But do not think you can bring it along
It will not fit in your heavy bag
And you can't afford excess luggage on the flight
I sigh,
I cannot force your hand
I will have to be content
with these paint stains that will not wash off
And the brushstrokes, clear
In my head.
ENCOUNTER
She saw him across the room
White shirt as always
He hadn't changed
As their eyes met
She saw questions form like cornrows
In his eyes
And one by one she wanted to plant the answers:
Yes I have put on weight
No I do not use the perfume you sent me
Yes this is my third Margarita and I have room for more
I have started smoking again
I let my hair down, I did the ponytail only because you asked
Yes I took off my braces, I don't care anymore
Yes, I no longer shave down there, I hate the ingrown hairs
Yes I have had sex since you left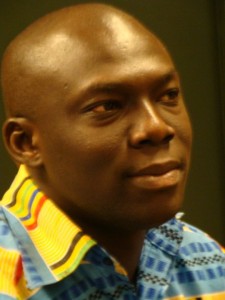 Yes it was you who left
Yes the sex is better
No, I do not wake up at night thinking of you…
She wanted to blurt out all the answers
Instead she just said 'hi'
And turned away.
_____________
Elnathan John, writer and newspaper columnist, was shortlisted for the 2013 Caine Prize. His story A Memory This Size is the title story for the 2013 Caine Prize Anthology.