In 2003, as an undergraduate in Ibadan, I'd been moved to write a series of poems under the working title Stoning the Devil to deal with my conundrum with a war that the then US president Bush was drumming for. The rationale for the title came from the metaphor of thousands of people in Mecca around that same time throwing pebbles at the image of the devil as part of their annual pilgrimage. It was supposed to be a symbolic act of exorcism as well as a spiritual battle of the forces of evil personified ahead of them. However, as a result of the number of people participating in the exercise, accidents inevitably happen. People fall and are trampled on, and sometimes even stoned along with the "devil". Many of them die in the process.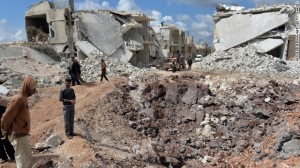 The irony of the process as well as the inevitable consequences of participating in a meaningless ritual fuelled my skepticism of that war which eventually turned out to be a ruse. Saddam had no WMDs at all and the world had been led astray by faulty intelligence (or Schadenfreude , or greed).
A few days ago, I began another series of work, this time focused on the world's conundrum on intervening in Syria. On the one hand, chemical weapons have been used. On the other, there is no 100% assurance of who used them, what the world's role in the conflict should be, or whether heavy military intervention by the world's superpower(s) would solve and not worsen the problem. I share some of them with you in this issue, as "Three Poems on Syria". As helpless as I felt ten years ago on the invasion of Iraq, there is an overwhelming sense of impotence in the face of evil that should have moved humanity to action one way or the other. Would this be another Rwanda or just another Iraq? Like the folks "stoning" the devil as a meaningless annual ritual, do we lose more than we gain by just remaining on the sidelines, or is it the other way around?
*****
Also in this issue are three equally compelling pieces. Dami Ajayi pays tribute to one of his most memorable influences in "Forgotten Heroes & Disappearing Acts", while Nnorom Azuonye serenades the world with thoughts on "Ikhide's Broken Scales", and "The Smart Draw Flowers". Finally, Kayode Odumboni tugs at willing hearts with a heart-rending short play on an event in the life of two corp members of the National Youth Service Corps in Nigeria.
*****
A thread that runs through them all is the recycling of time and tide. Nothing ever ends, and the past is never past. Enjoy.
KT
Lagos.
______
Photo source: CNN