Night
I have thought
these importunate ruins
painting your face brighter
as something sinuous,
something that is capable
of rousing a broken ghost
to the will of flesh
Looking in the mirror,
I often wind a reel of wounds
from my own face as if
from a damaged mask,
a contagion of forms
that snarls my meaning darker
on the day, like an ambivalent sign
I trace your face into
the process of the night
that we consume as mere consolation
for the unwieldy ways our bodies
flow apart
I have thought night is adept
at wiring such fictive love
at a sad pace of shadows
disembarking.
*****
A Brief History of my Stutter
I imagine my birth as under
an ancient tree on the twenty sixth day
of the month of the masquerades
I hear the rasp first,
between the first gutturals and
the hums of late afternoon
The day is stifling, duct-taped
into sunspots under the Odan tree. A mermaid moon
climbs her face, scattering
the darkness of the leafage for where
to take an aim
A tear walks the interstice
between two throats, a conniving correspondence
the sun would pledge to the denouement
of red…
What eyes part my head, peering as
into a familiar augury, speaking of locks
that travelled a legend
to fetch a kinship
I remember the browning husks
in my subsequent trance, the texture
of which I bring unto you,
a ventriloquist's most weaving act
*****
A Laying on of Hands
I remember my father
in small voices, the tortoise's;
a trickster, un-translated
in his own tale, lost in the haze
of his own metaphor
He brought tales, with ardour
of a tinker  – small creations
of a fetish loom –
I remember his name as a ginger mane,
from the other world to which
he was surely no pilgrim
The night was his invention,
a moving space of his altar-cry,
where all could recline in the psalm
of his mimicry, or in the moist machinations
of his self-gathering
Puzzles must begin as a prayer­­,
he said, mystifying call-and-response
movements, setting children out
on stilted ledges, forest of forms and cowries…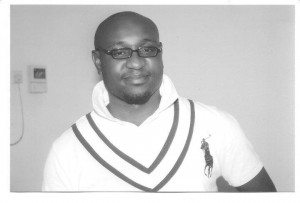 We had started with such inventiveness:
He, pulling the mask beyond the face,
I, fitting the face into the imperfection
of an unrevealing rite
____________
Peter Akinlabi was shortlisted for the 2013 Brunel Poetry Prize. He writes from Ilorin, Nigeria.