by Kayode Odumboni
"Tell me a story," I finally spluttered.
I was particularly interested in your repetition of those words. I suspected that it was not a coincidence that you had said "life is tragic" more than three times in the thirty minutes that we had spoken. You were taken aback by my request. You jerked your head and adjusted, rather nervously, on your seat. I liked that very much. I liked that I could put you on the spot. I had been mildly irritated by the self-confidence you exuded as you talked about your church magazine and the fact that you were a born-again.
"Okay. Erm, you know…," you started off jerkily. As you took your hands to your brow, still in your fit of uneasiness, I noticed the sham that I suspected you would call Afro if you were asked what style of hair you had on. Your hair was not shaped and it altogether gave away your face as a failed joke. I scoffed within.
You were just the quintessential Christian; people who were never really sure of themselves; an untidy bunch that refused to live in this world because they want to enter the kingdom of God; a pitiable lot that were mish-mashed between an illusory now and an uncertain hereafter. You were my justification for being agnostic.
I specifically asked you to tell me a story because I needed you to see your own folly, how stupidly you wallowed in self-contradictions and delusions. I needed you to see that life shouldn't be tragic for you. Weren't you born again? Couldn't you always invoke God to trivialize the tragedies of life? Couldn't God always slap off the devil whenever he chose to come near you? Wasn't God the owner of the earth and its fullness thereof, and why wouldn't He give everything you needed to you his son? I wanted you to see that it was people like me that should say "life is tragic."
But you told your story. I watched the open-and-close movements of your lips. I felt the rise-and-fall rhythm of your chest. I saw the up-and-down move of your eyes. I heard the high-and-low alternations of your cadence. And they all matched. They all rhymed with the story you told, forming a symphony that gently curled around my soul and nudged me to somewhere far within that same crammed office of mine.
I was touched but I don't know why or how. It wasn't the story you told. It wasn't because you talked about something that you thought was really tragic. Rape was not the climax of pain, as far as I was concerned- there were more pressing, more painful things. Like the realization that I studied the wrong course when I was already five years into my chosen career, and I was earning good money. It wasn't also the fact that your female character was abused by father and son; I felt irritated by her docility, in fact. Stupid girl! It also wasn't because your character's mother remains hopeless and helpless in the village and in your character's dreams. Truth: it was nothing.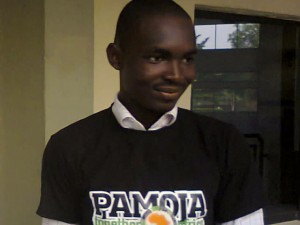 But God, I was touched.
__________
Kayode Odumboni is a student of English at the University of Lagos. His interest in writing is predicated on his interest in people generally; their lives, their hopes, their disappointments, their motives, their motivations, their dreams and their realities.