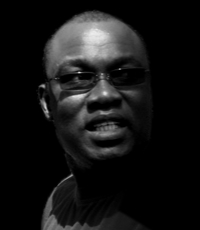 Emmanuel Sigauke is a Zimbabwean writer based in Sacramento , California where he teaches English at Cosumnes River College, and Creative Writing (on a part-time basis). He is the sole author of the new African Roar 2013 anthology of short stories. He spoke with LitMag Editor Kola Tubosun
________________
Let's start with one recurring criticism of books in this century, that – according to Ikhide Ikheloa – "there is something about hard copy print that mummifies the creativity of the writer." I share an affinity with that sentiment, having faced the prospect of tossing away some good poems I've written just because the web links in them make them unsuitable for the book form. Do you think we are limiting creativity by asking people to write for a (paper) book rather than just asking them to simply write?
Creativity has not much to do with medium of expression as such. To say the book mummifies the creativity of the writer is to oversimplify the whole process of creativity. We create, and then our creativity is put into a form, such as a book, or a website, or an electronic version. There is the product, which can take any shape, and there is the writer, still walking from or because of the product, ready to create again. Perhaps what's mummified is the work, and mummifying is not necessarily bad; it's been used for centuries to preserve.
I don't think such poems should be tossed because they don't fit the format of the book. We can have multi-media books, That's already happening in academia, for instance, where students buy print editions of books whose online companions contain links. The internet could just be an extension of the forms of media our stories or poems can be produced, so we can talk of the print version, the audio-visual version, or the electronic or online version. And they can have slight differences or bonus material, depending on the medium. Let's think more in terms of diversity of form, not necessarily the death of one form to lead to another.
Have you, or will you, consider other mutations of the book in future installments of the AR anthology? Books that have web-links, and alternative endings, for instance. Interactive story-telling mediums that advance on our current understanding of the book.
I see us continuing to embrace all forms of the book, the electronic (which is Storytime's initial form), then moving on to the print, to complement, and further validate the electronic. The book in these formats is still pretty much the standard, with a gradual (not rapid) appreciation of the electronic. I am speaking here of what I see in academia, where finally, academic publishers are now selling electronic versions of the same books that they still produce in the traditional print format.
Books with web links sound attractive, creating an interactive reading style in which the reader determines how much time they spend reading one book, whether they will spend time following links, getting distracted even, or read one story through and come back to check out the links. The interactive is always interesting. It makes the reader a collaborator in the production of stories, not a passive consumer. Such books put the reader to work by making reading an active process. But active reading is not a new phenomenon; it has always existed even before the internet.
You worked with the first African Roar anthology (the one in which my story Behind the Door appeared) in 2010. What has been the learning experience like for you working on the project, and what was new this time, especially since you were editing this alone, without a co-editor?
This definitely has been a learning experience. It has exposed me to the breadth of stories African writers can create. Most of the stories I have helped shape are quite memorable and they were successful because their authors believed in them. The project, being voluntary, has always been a form of giving back to the continent, a dream to help highlight some of the interesting writing Africa has to offer.  Another thing I have learned is that some writers believe in their stories from the get go; but others have to gain confidence, to discover what they are trying to express through the revision and editing process. Some stories have failed even after being long-listed for the anthology, while others came already with a definite shape. Working with different writers allows the editor to learn to give each story the attention it exclusively demands, to treat the stories like several children of the same family, who are different in many respects. As an editor you learn that there is no one-size-fits-all in editing stories from such a diverse group of writers.
Ivor has said that African Roar as a yearly anthology will continue. What do you personally look forward to in the future of the endeavour?
I would love to continue supporting the endeavour. I want to see the influence of African Roar continue growing to cover many more countries. I feel each year has something new to offer, and that's part of why I look forward to going through the next batch of submissions.
Which were your favourite stories in this anthology and what was the process like to choose thirteen good ones? (Do you envy Caine Prize judges?)
All the thirteen were really my favorite, considering that I selected them from a pool of over fifty. The most memorable though are "Home", "Business as Usual", "The Puppets of Maramudhu", "Transitions", all of them actually.
As regards the Caine Judges…I think theirs is a difficult process. It must be a lot of work, being responsible for selecting the best out of that many countries. I have judged a regional book competition in Northern California, and I remember that being a lot of work, reading books I was not interested in, but trying to find out what could make them win an award, but the voting process with other judges helped a lot. I respect the judging process.
A someone who works primarily in poetry (as the editor of the Cosumnes River Journal), do you find prose writing as tedious and loquacious contrast to poetry as forms of creative expressions (like I sometimes do), or are they just complementary as most believe? Most importantly, what did your experience in poetry contribute to your appreciation of the short stories in this book, and your work as the editor?
I don't work primarily in poetry. It's now a balance of fiction and poetry. The CRC Journal and well as Munyori Literary Journal are multi-genre journals, so I have been exposed to different kinds of works. But I find poetry a lot more difficult to write and to judge, so I take refuge in prose sometimes, where I have more room to explore my creative process. Working in the poetry environment elevates the creative impulse, and I can work in both environments comfortably. I have, however, abandoned one of my early genres, my former home: drama/theatre.
What is the most interesting part of living and working in America, far away from your hometown in Zimbabwe, and what are your future hopes for your own endeavour as a writer and poet?
Being able to think more clearly about Zimbabwe. But through writing I am always engaging with Zimbabwe. I write more about Zimbabwe than I do about America.  For my own writing, I have a collection being published in Zimbabwe before the end of the year. I think that will free me to explore more themes, to set my stories in the United States for a change. As a poet, I will continue to work in an environment where I have more opportunities to perform my works, or to see works in performance, and Sacramento it the place for that, as there are poetry events almost every day of the week. I am also going to contribute more on site in Zimbabwe, promoting the efforts of young writers. I think that's what they call giving back to societies that nurtured us.
With the success of a new generation of writers from Zimbabwe – Pettina Gappah, Tsisi Dangaremgba, (and the one in the limelight at the moment: NoViolet Bulawayo) among others – and with attendant attention now focused on writings from your homeland, what should we expect in the next couple of years, and what – in your own experience of the writing scene there – do you see as a most realistic future for new writing out of Zimbabwe?
These successes have re-awakened interesting voices in the Zimbabwean literarati. Re-awakened in the sense of thinking of themselves as competitive, and being capable of operating on the world stage. I sense that there is also a higher level of artistic optimism. Younger writers who have witnessed this wave of success seem more willing to take risks and let their voices heard as well, to do what Petina Gappah, Brian Chikwava, Sarah Manyika, Memory Chirere, Ignatius Mabasa, NoViolet Bulawayo, Christopher Mlalazi and others have done: these names have put Zimbabwe on the map, and most are just at the beginning, which means  we must expect more from them. On the ground in Zimbabwe, there seems to be more support of the arts, and the writers and artists are involved in numerous activities which should increase literary output. My only hope though is that the successful writers could help mentor the emerging ones to ensure that there is quality in this output. I have seen increasing numbers of submissions to the literary journal I edit, Munyori, but a lot of those can use some craft treatment. As far as the stories are concerned, I doubt that we have even scratched the surface in telling the Zimbabwean story; a lot more is in store…
But, in Zimbabwe, as elsewhere in Africa, we need to grow a strong readership, for the literature to keep flourishing since not every writer will achieve the scale of  (international) success achieved by the writers you have mentioned.
_____________
Kola Tubosun is the editor of the NTLitMag and can be found on twitter at @baroka.