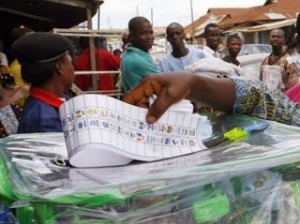 As a member of the Justice Uwais' Electoral Reform Panel, Professor Attahiru Jega was the one who said, "No doubt, the popular aspirations for credible, free, fair and popularly acceptable elections, which are a fundamental requirement for sustainable democratic development, would remain elusive unless and until we pay serious attention to electoral reforms".
Jega added, "The reforms must bring about a credible and transparent electoral process with equally credible people to supervise these. Now more than ever before is the time to begin to get things right, and to stop repeating terrible mistakes of the past. And to get things right, we must deploy the right methods and the right people to use them".
But as chairman of the Independent Electoral Commission (INEC), Jega and his INEC seem visibly determined to wreck our democracy, latest of which was the declaration of a 'winner' in what INEC actually confirmed were major shortcomings in the Anambra governorship election. Jega's refusal to heed widespread calls for fresh elections and following protests led by no other than 71 year old Gen. Muhammadu Buhari is not only an affront on our democracy, but and an act of political terrorism.
Sure, terrorism is seen from different sides by different people. In its most visible form, it is a calculated act of horror intended to kill and maim as many people as possible, usually in public to create fear and havoc. On the other hand, terrorists believe their actions are guided by the ultimate altruism: sacrificing oneself for their vision of a greater good. That the victims are usually innocent bystanders is of little consequence. That is the specialty of Boko Haram.
But there is a different kind of terrorism. This type does kill and maim innocent people, but something more fundamental; the very ideals that shape human freedom and liberty. Suicide bombings, targeted assassinations and wanton killings may temporarily achieve the short term objectives of terror groups, but do not endure.
However, when the attacks are targeted at our principles – by seeking to legitimize oppression, deception and injustice in the name of democracy, the consequences are more damaging and longer lasting. Unfortunately, INEC has become a good ambassador of this method.
If most terror groups abhor democracy and democratic systems, if they loath individual right to freedom and self determination and do everything they can to disrupt democratic processes and elections through threats, disruptions, denial of self evident truths and the emasculation of human liberty, freedom of choice, association and the right to self-determination, then INEC is just as guilty as Boko Haram.
In a way, INEC has evolved like a terror group. In 1998, the body that has existed under one name or another for decades renamed and tasked with conducting free and fair elections. However, those ideals quickly gave way killings and assassinations – not of candidates – but of our choices during elections. The results of successive elections show a trajectory of INEC moving from minor acts of indiscretion to full scale terror campaigns against Nigerian voters and the very notion of free and fair elections.
I sometimes wonder whether this is the same Jega, about whom, briefing newsmen after a Council of State meeting, Edo State Governor Adams Oshiomhole said, "The Council considered the recommendation of Professor Attahiru Jega for appointment as chairman of INEC and the council unanimously approved of it. We believe the president demonstrated courage and statesmanship in appointing someone who is not known to have any partisan political affiliation and a Nigerian that has distinguished himself in his present and past callings".
In retrospect, we should have reflected more on the words of Abiodun Aremu, when, following Jega's nomination in 2010 he said, "Jega is a straightforward person. One only hopes that he can keep that consistency of straightforwardness and some level of principles that endeared him as a frontline member of the left movement in Nigeria. We do hope that he will not go the way of some other members who have turned themselves into state actors and begin to renounce the very principles they stand for."
It is said that the first casualty of war is truth. And so it has proven to be in Jega's several wars at INEC; truth has become a casualty. Just as Boko Haram is trying to impose their worldview on others through violence, INEC and Jega have, by insisting on the sanctity of the Anambra charade, carried out a very violent attack on democracy, liberty and the right to self-determination in Nigeria.
Ultimately, all terrorist groups overreach themselves; Al-Qaida dug its grave by attacking America in 2001. I hope Jega and INEC do not make the mistake of assaulting the choice of Nigerians – whoever that may be – in 2014. What is at stake is bigger than any one of us. A repeat of Anambra may have more far-reaching consequences than this political science professor, now totally insulated from reality, can comprehend.